Paint
Masterpiece Online Drawing tool - ONLINE Drawing tools for kids. Water_color. Ghostwriter Art Studio | Demo Studio | Mozilla Developer Network. SkyBrush - example page. CloudCanvas. CanvasDraw HTML5 drawing app. SVG-edit. Penolo. Demo. Doodle.ly. Write and Draw Here! DabbleDraw - Kids can Write, Draw, and Publish!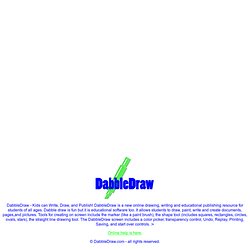 DabbleDraw is a new online drawing, writing and educational publishing resource for students of all ages. Dabble draw is fun but it is educational software too. It allows students to draw, paint, write and create documents, pages,and pictures. Tools for creating on screen include the marker (like a paint brush), the shape tool (includes squares, rectangles, circles, ovals, stars), the straight line drawing tool. 2draw.net - welcome. Vector Paint: untitled. Digital Doodle.
Digital Doodle. FindClosest. Treehouse Studio. Gartic - Canvas Sketch. Piq - online pixel art drawing app. The Doodle History. Zwibbler - Quickly scribble your ideas online. Street to Studio: The Art of Jean-Michel Basquiat, presented by JPMorganChase.
Pixuffle - Shuffle pixels to create unique compositions! Create / Sand Castles. Project: Sand Castles (untitled) One of a series of pieces experimenting with particle build up in 3-D space.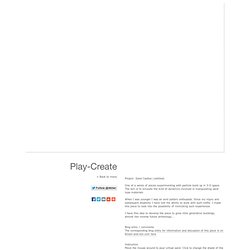 The aim is to emulate the kind of dynamics involved in manipulating sand type materials When I was younger I was an avid pottery enthusiast. Epic Exquisite Corpse. Online Sketch Pad - Scribble... Doodle... Draw. Andrew Hoyer. Click and drag within the rectangle below...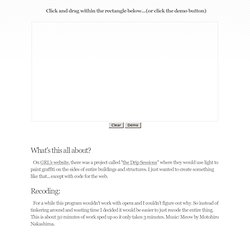 (or click the demo button) What's this all about? On GRL's website, there was a project called "the Drip Sessions" where they would use light to paint graffiti on the sides of entire buildings and structures. I just wanted to create something like that... except with code for the web. Recoding: Application. ArtPad. Chinapaint.swf (application/x-shockwave-flash Object) CloudCanvas. Create Your Own Artwork - Blue Man Group. Create Your Own Cards,eCards,Animated Greetings | Personalize your MySpace profile and layout with sparkling pictures! Demo. Diddly. Draw and Fold Over. Drawball.com. Dreezle: Paint, draw and stamp online! Edding | Wall of Fame. Flowpaint. Free Online Graphic Design Software (dtp) and Photo Editor | Fatpaint.
Java drawing app. Joan Miró. Lislis Painter. MIND ART® - Studio. MyPaint. Painter - PixaMixa.com. Painter | Slimber.com: Drawing and Painting Online. Paint - WiiPlayable. Scriblink - Your Online Whiteboard. DoodleBug - oodles of doodles. Room Lobby - the real online drawing chat with your friends! What is DoodleToo about?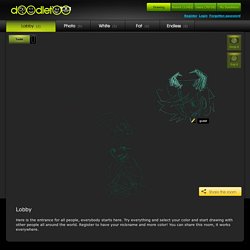 Doodletoo.com is an online drawing tool and chat room in one. Enter one of our rooms and draw your messages, ideas, moods, express yourself or post pictures to share with others! Everyone sees your pen and can join you, help you, challenge you or maybe become your friend. The whole world can now see your paintings as they are being created. SketchPad : Requires the latest java plugin. Pen And Ink __________________________________ Piq.
---