Photography
Johan Thörnqvist » Pictures from my phone. The Girl Who Loves to Levitate (14 photos) Natsumi Hayashi is a sweet-looking Japanese girl who, one day, decided to take self-portraits..of herself levitating.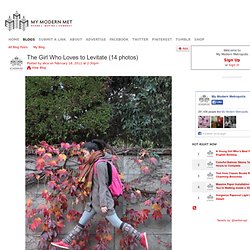 She can be spotted in and around Tokyo, equipped with her SLR and her self-timer. When she feels the moment strike, she presses the shutter button down and then, quite literally, "jumps" into place. What I love most about her shots is that they don't feel forced. - StumbleUpon. StumbleUpon. Mental_floss Blog & 11 Pencil Vs. Camera Images. Fremont-troll.jpg (600×453) Maj 1107. TreeCamping_ROW702991308.jpg (958×512)
20 Beautiful Nature Wallpapers. My God, it's full of stars" by Thomas Zimmer. Stars_2.jpg (1280×854) Extreme Instability, Scary weather and incredible shots [37 pics. Extreme Instability: Nebraska Sand Hills Monster Supercell Storm Very intense high precipitation supercell storm moves south in the Nebraska Sand Hills south of Valentine, July 13, 2009.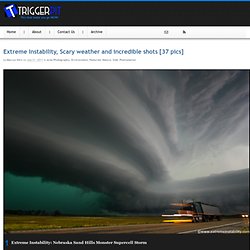 Very low, long and fat inflow cloud stretches east of the storm. Winds gusted upwards of 60+ mph into this storm. Tornado warning with the storm mentioned baseball size hail and winds in excess of 100 mph, a rare warning text indeed. As intense of a storm as it was, it only produced one short-lived small tornado. 59464_0_908x756.jpg (908×756) 40 Of The Most Powerful Photographs Ever Taken. a0015525_23254118.jpg (451×1982) Spectacular Images of the Insides of Musical Instruments.
Tree Morphing in a Concrete Jungle. Ss-bear-necessities.jpg (700×1050) - StumbleUpon. Nature's ocular diversity — 20 close-up photos of animal eyes. - StumbleUpon. - StumbleUpon. Angry-tiger.jpg (665×485)
---