Organized Religion / atheism / humanism...
Religion and the reproduction of patriarchy / gender inequality
The faithful must learn to respect those who question their beliefs | Lawrence Krauss | Science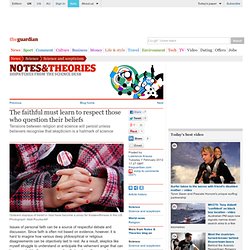 Outward displays of belief in God have become a proxy for trustworthiness in the US.
Archive
Tear Down That Wall by Christopher Hitchens February 12, 2013 Print: Slate Christopher Hitchens' 2010 article calling for the prosecution of the Catholic priests who abused children, and the men who covered it up. (5) comments Losing our Spines to Save our Necks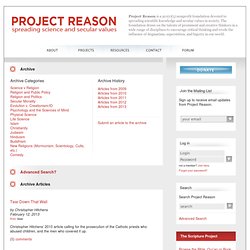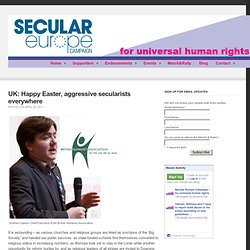 Andrew Copson, Chief Executive of the British Humanist Association. It is astounding – as various churches and religious groups are feted as lynchpins of the 'Big Society' and handed our public services, as state-funded schools find themselves converted to religious status in increasing numbers, as Bishops look set to stay in the Lords while another opportunity for reform hurtles by, and as religious leaders of all stripes are invited to Downing Street (this Wednesday) for one of the most outrageously pious government "outreach" events in recent times – that despite all this, one Cardinal Keith O'Brien felt it necessary to use his Easter sermon to tell Christians to unite "in the face of aggressive secularism to maintain our Christian heritage and culture in our great country". Once again, to ask for nothing more than a neutral civic space is to be branded "aggressive"; to contest religious privilege is to be branded "enemies".
UK: Happy Easter, aggressive secularists everywhere - Secular Europe Campaign -
David Christian: Big history - David Christian - TED
By DAVID CHRISTIAN - TED Added: Saturday, 16 April 2011 at 9:26 PM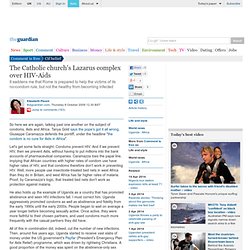 So here we are again, talking past one another on the subject of condoms, Aids and Africa.
The Catholic church's Lazarus complex over HIV-Aids | Elizabeth Pisani | Comment is free
Christian fundamentalism and HIV seem both to be on the upswing in Uganda. I've remarked before that enthusiastic support for abstinence-only programmes has undermined previously successful HIV prevention efforts in the country. But now it seems over-zealous preachers are threatening the success of treatment efforts, too. Robert Ochai, director of the trailblazing AIDS support organisation TASO, has noticed that some of group's the 23,000 treatment clients are giving up their HIV drugs because they have been "cured" by faith healers, according to a report in The Monitor. Apparently, faith healing has become big business in Uganda.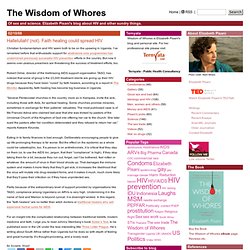 Halleluliah! (not). Faith healing could spread HIV | HIV / AIDS, science, sex, drugs
Debate-Flow-Chart.jpg (JPEG Image, 720x1031 pixels)
Godless
(Photo by H.koppdelaney ) Tim Prowse was a United Methodist pastor for almost 20 years, serving churches in Missouri and Indiana. Tim earned a B.A. from East Texas Baptist University, a Master of Divinity (M.Div) from Saint Paul School of Theology in Kansas City, Missouri, and a Doctor of Ministry (D.Min) from Chicago Theological Seminary. Acknowledging his unbelief, Tim left his faith and career in 2011.
Life Without God : An Interview with Tim Prowse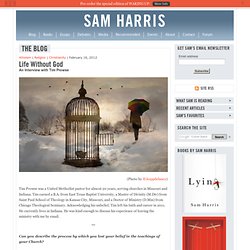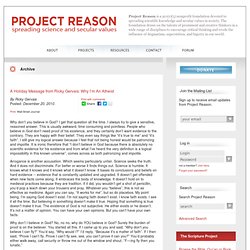 Why don't you believe in God? I get that question all the time. I always try to give a sensitive, reasoned answer. This is usually awkward, time consuming and pointless.
A Holiday Message from Ricky Gervais: Why I'm An Atheist
Column: Science and religion aren't friends
By Jerry A. Coyne