Online Bibles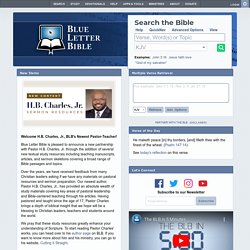 Welcome to the New Blue Letter Bible Website For over a decade we have continued to add new study resources and features without changing the overall layout of our site. Now our new version offers easier accessibility to the Bible study resources and features that you use the most. Now you can personalize study pages with your favorite Bible versions and study resources, while using our powerful tools and simpler navigation system.We realize that change can be challenging, so we've also created short video tutorials and plenty of help pages to guide you. BLB ClassicThe old site has been renamed "BLB Classic" and will remain available and updated.
Search, Read, Study... About Bible Hub Bible Hub Online Parallel Bible, search and study tools including parallel texts, cross references, Treasury of Scripture, and commentaries. This site provides quick access to topical studies, interlinears, sermons, Strong's and many more resources. Our mission is best summarized as follows: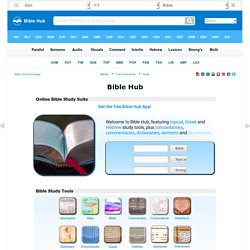 Roman Catholic Bible - Latin and English versions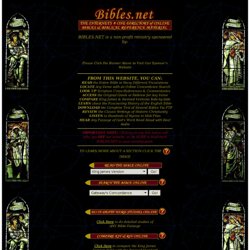 Stained Glass Images Courtesy of Paul Burgess to search your choice of the KJV or RSV or NASB or NIV or other versions for the passage you seek. You may enter the passage's chapter and verse, or you may enterkey words from any passage to locate the chapter and verse. by simply typing in any topic, (like "Faith"or"Death" or "Marriage", etc), and a list of all Bible passagesrelevant to that topic will be displayed. to do in-depthword studies.