Occupy
The fire in the soul of Occupy burns from Oakland to Quebec, Barcelona to Chicago, Wall Street to Moscow and Frankfurt… now the Zuccotti model is morphing and Occupy is undergoing a period of sustained global tactical innovation. This is all just the beginning… Tactical Briefings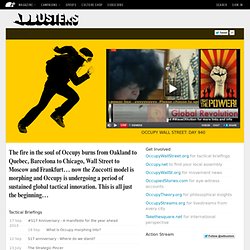 AiZpfgrCIAEwZoy.jpg:large (Image JPEG, 640x960 pixels) - Redimensionnée (90
C'est après une nuit de pluie et sous un ciel menaçant que les membres du mouvement Occupy Wall Street (Occuper Wall Street) ont entamé jeudi 29 septembre leur treizième journée passée au Zucotti Park, à quelques pas du One World Trade Center. Le système est bien rodé. En guise de mégaphones, qui sont interdits, un système de téléphone arabe à voix haute. Des manifestations (écouter les différents slogans dans la vidéo ci-dessous) et des assemblées générales deux fois par jour, le tout scrupuleusement filmé par une équipe média très équipée.
Avec les indignés de Wall Street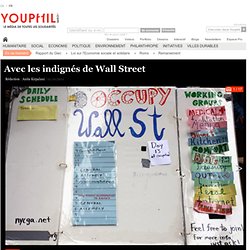 jail.jpg (Image JPEG, 500x379 pixels)
We the faculty of the City University of New York (CUNY) express our solidarity with the May Day General Strike and the efforts to create a Free University in Madison Square Park on May 1, 2012. We further support a CUNY-Wide Day of Action on May 2, 2012 to build further momentum for social equality, show the collective power of CUNY faculty, students, and staff, and demonstrate our ability to transform the City University of New York into a university that is accessible, accountable, democratic, and free for all. We are proud of CUNY's heritage as the successor to the Free Academy of the City of New York and the historic legacy of CUNY educators committed to building a truly public university free of cost for all New Yorkers.
Occupied Wsj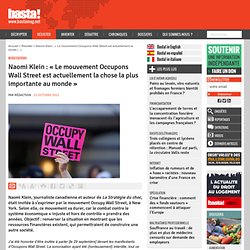 J'ai été honorée d'être invitée à parler [le 29 septembre] devant les manifestants d'Occupons Wall Street. La sonorisation ayant été (honteusement) interdite, tout ce que je disais devait être répété par des centaines de personnes, pour que tous entendent (un système de « microphone humain »). Ce que j'ai dit sur la place de la Liberté a donc été très court. Voici la version longue de ce discours [publiée initialement en anglais dans Occupy Wall Street Journal].