Occupy Wall Street etc.
Prior to the 20th century, military conflicts used to be put on hold during the winters as all parties decided the elements would do more harm than the enemy. It's no surprise then that Occupy Wall Street has taken a bit of time off the front pages of the news—but rest assured, they have been very, very busy. Citizens connected to this movement have filed a civil rights action in federal court ; held press conferences; recruited dozens of speakers such as Professors David Harvey and Angela Davis as OWS educators; cultivated relationships with labor leaders, religious leaders , and forged international connections with those similarly dispossessed around the world. They have reclaimed fertile but empty land for farming; pressed the Justice Department to fight civil rights violations and end mass incarceration. They have trained 50,000 citizens in non-violent direct action, civil disobedience, and their civil and political rights. They have forced governments to hold elections on time .
Occupy 2.0
"They have fewer people, and it's not a new story anymore that there were people protesting in the streets or sleeping in parks," said Neera Tanden, the president of the Center for American Progress , a liberal organization that has strong ties to top Democrats and has encouraged the protests. "They need to think of new ways to garner attention and connect with people around the country." Driven off the streets by local law enforcement officials, who have evicted protesters from their encampments and arrested thousands, the movement has seen a steep decline in visibility. That has left Occupy without bases of operations in the heart of many cities and has forced protesters to spend time defending themselves in court, deterring many from taking to the streets again.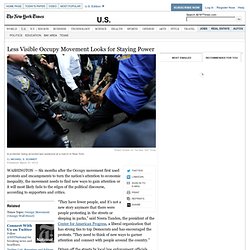 Less Visible Occupy Movement Looks for Staying Power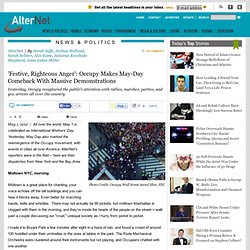 'Festive, Righteous Anger': Occupy Makes May-Day Comeback With Massive Demonstrations
Photo Credit: Occupy Wall Street Aerial Shot, NYC May 1, 2012 | Like this article? Join our email list: Stay up to date with the latest headlines via email. All over the world, May 1 is celebrated as International Workers' Day.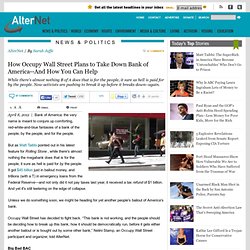 How Occupy Wall Street Plans to Take Down Bank of America--And How You Can Help
April 8, 2012 | Like this article? Join our email list:
Chicago Activists Stop Forclosure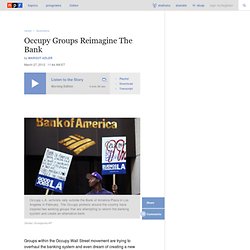 Occupy Groups Reimagine The Bank
Occupy L.A. activists rally outside the Bank of America Plaza in Los Angeles in February. The Occupy protests around the country have inspired two working groups that are attempting to reform the banking system and create an alternative bank. Damian Dovarganes / AP
Activists Target Bank of America on International Women's Day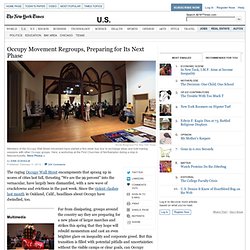 Nicole Bengiveno/The New York Times
Occupy Movement Regroups, Laying Plans for the Next Phase
'Festive, Righteous Anger': Occupy Makes May-Day Comeback With Massive Demonstrations
How is it possible that we're both working harder and finding it more difficult to make a living? Maybe the same thing is making work cheap and life expensive. It's the productivity paradox.
Squeezed Dry: Why Americans Work So Hard but Feel So Poor - Derek Thompson - Business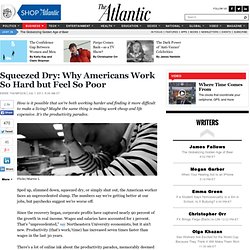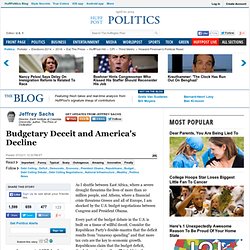 As I shuttle between East Africa, where a severe drought threatens the lives of more than 10 million people, and Athens, where a financial crisis threatens Greece and all of Europe, I am shocked by the U.S. budget negotiations between Congress and President Obama. Every part of the budget debate in the U.S. is built on a tissue of willful deceit.
Jeffrey Sachs: Budgetary Deceit and America's Decline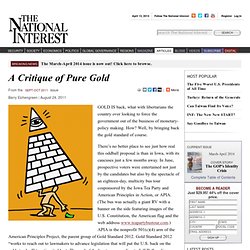 GOLD IS back, what with libertarians the country over looking to force the government out of the business of monetary-policy making. How? Well, by bringing back the gold standard of course.
A Critique of Pure Gold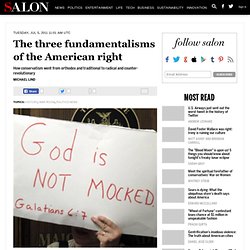 The three fundamentalisms of the American right - War Room
In contradiction to the hostility to Darwinism shared by many of its constituents, the American right is evolving rapidly before our eyes. The project of creating an American version of Burkean conservatism has collapsed. What has replaced it is best described as triple fundamentalism — a synthesis of Biblical fundamentalism, constitutional fundamentalism and market fundamentalism. Following World War II, the American right was a miscellany of marginal, embittered subcultures — anti-New Dealers, isolationists, paranoid anticommunists, anti-semites and white supremacists.
$230,000 For a Guard Dog: Why the Wealthy Are Afraid Of Violence From Below
July 29, 2011 | Like this article? Join our email list: Stay up to date with the latest headlines via email.
There is a comforting story about the debt ceiling that goes like this: Back in the 1990s, the U.S. was shrinking its national debt at a rapid pace.
Why the Debt Crisis Is Even Worse Than You Think
Inequality and its Discontents
As income inequality increased in the past quarter century in most parts of the world, it was strangely absent from mainstream economic discussions and publications. One would be hard-pressed, for example, to find many macroeconomic models that incorporated income or wealth inequality. Even in the run-up to and immediate aftermath of the 2007–2008 financial crisis, when income inequality returned to levels not seen since the Great Depression, it did not elicit much attention.
THE Martin Luther King Jr. Memorial was to be dedicated on the National Mall on Sunday — exactly 56 years after the murder of Emmett Till in Mississippi and 48 years after the historic March on Washington for Jobs and Freedom. (Because of Hurricane Irene, the ceremony has been postponed.)
Martin Luther King Jr. Would Want a Revolution, Not a Memorial
Stop Coddling the Super-Rich
The bleak face of U.S. poverty - U.S. Economy
"Bleak Portrait of Poverty Is Off the Mark, Experts Say," blared the Friday headline in the New York Times.
Barbara Ehrenreich, On Americans (Not) Getting By (Again)
Goodbye to All That: Reflections of a GOP Operative Who Left the Cult | Truthout
The Empire at Dusk - By Stephen Glain
What George Orwell Can Teach Us About OWS and Police Brutality - Conor Friedersdorf - Politics
Bill McKibben, Keystone XL, and Barack Obama
Kalle Lasn and Micah White, the Creators of Occupy Wall Street
The Fight for 'Real Democracy' at the Heart of Occupy Wall Street
The Instability of Inequality - Nouriel Roubini - Project Syndicate
Global Imbalances and Domestic Inequality - Kemal Derviş - Project Syndicate
On fairy tales about inequality
OWS and Inequality: How "expenditure cascades" are squeezing the American middle class
Daron Acemoglu on Inequality
Occupy Wall Street's lasting effect: rich vs. poor increasingly tense issue
The 'Last Place Aversion' Paradox
Why Inequality Doesn't Matter
How Inequality Damages Economies
David B. Grusky: What to Do about Inequality
John Paul Rollert: The Primal Ache
The Globalization of Protest - Joseph E. Stiglitz - Project Syndicate
There's America—and Then There's Washington - Andrew Cohen - Politics
The Left-Behinds - Michael Hirsh
My Soapbox Advice to the OWS Movement and then some
Rational Irrationality: Charting the Great Inequality Debate
Big Business Is Good for America
Occupy Wall Street and Washington's History of Financial Bailouts
Occupy Wall Street, Social Unrest and Income Inequality
The future of Occupy: Four key questions - Occupy Wall Street
Chris Hedges: Finding Freedom in Handcuffs - Chris Hedges' Columns
An Oral History of Occupy Wall Street | Politics
In Focus - The Montreal Protests, 4 Months In
Noam Chomsky Speaks to Occupy: If We Want a Chance at a Decent Future, the Movement Here and Around the World Must Grow
Democracy in Distress - Dominique Moisi - Project Syndicate
Why Activists in the US and Around the World Should be Learning from Montreal Student Strikers
We Are the 99.9%
The Future of History
Occupy Wall Street's Eviction Was a Lucky Break—Now What? - Derek Thompson - Business
Turning the Dialogue From Wealth to Values
Has a Harvard Professor Mapped Out the Next Step for Occupy Wall Street? - Alesh Houdek - Politics
A philosophy for the protesters
Leiter Reports
ger of the Week: Laurie Penny - Truthdigger of the Week
Krugman on "Austerity" and Suffering as Moralistic Purging
Why Americans Won't Do Dirty Jobs
A Message To My Generation Leigh Drogen
Adam Roberts on Civil Resistance | The Browser
samplocracy
Beholden - Guernica / A Magazine of Art & Politics
Bankers Join Billionaires to Debunk 'Imbecile' Attack on Top 1%
The Streets of 2012 - Naomi Wolf - Project Syndicate
The anti-protest bill signed by Barack Obama is a quiet attack on free speech
Occupy Isn't About Electing Democrats--It's About Exposing a Broken System
Is Occupy vacant?
Why Occupy failed
Occupational hazards
Concerning the Violent Peace-Police
Michael Lewis Interviews Himself: Boycott the Banks!
A World Divided - or Coming Together? | Oxford Research Group
The Fight Against Corruption Goes Global
We're All the 1 Percent - Charles Kenny
"The Inequality Trap" by Kemal Derviş
From The Price of Inequality: Joseph Stiglitz on the 1 Percent Problem | Politics
Here Is the Full Inequality Speech and Slideshow That Was Too Hot for TED - National Journal - Business
"The Price of Inequality" by Joseph E. Stiglitz