Virtual instruments Synths
PatternMusic Pattern Editor Tutorial. A hand possessed! New finger stimulating device will help wannabe musicians learn their favourite tunes. By Daily Mail Reporter Updated: 07:10 GMT, 23 June 2011 If you've ever tried to learn the guitar or violin, moving your fingers just right can sometimes prove difficult.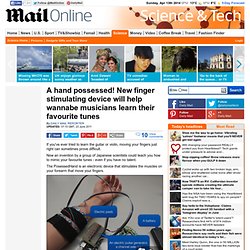 Now an invention by a group of Japanese scientists could teach you how to mimic your favourite tunes - even if you have no talent. The PosessedHand is an electronic device that stimulates the muscles on your forearm that move your fingers. HandPossessed: The Device stimulates muscles in the forearm to produce movements in the fingers and could be used by wannabe musicians. Free Music Software. Audiomodern has announced the latest in a series of free Ableton Live Racks, Rhythmic Pan.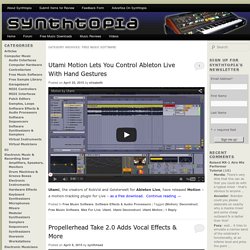 Rythmic Pan is a Live Rack with time Sync and time delay options on macro knobs. It joins Audiomodern's other free Live Racks, which include a hard snare compressor rack, a rack based on the HAAS effect (an effect for localizing sounds) and a dry/wet rack. See the Audiomodern site to download. [ INCREDIBOX ] presents [ THE INCREDIBLE POLO ] :::::: MOOG MUSIC :::::: Vintage Synth Explorer • Index page. It is currently Sat Apr 19, 2014 5:48 am View unanswered posts • View active topics General Synthesizers Discussions about anything analog, digital, MIDI, synth technology, techniques, theories and more. 9178 Topics 155986 Posts Last post What is a live synth-base... by ninja6485 Sat Apr 19, 2014 5:37 am Software Synthesizers For computer based music makers.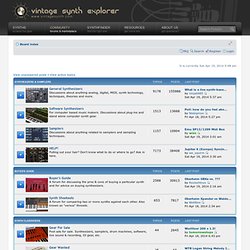 Discussions about plug-ins and stand alone computer synth gear. 1513 Topics 13668 Posts Last post Poll: how do you feel abo... by Nistegmos Fri Apr 18, 2014 5:27 pm Samplers Discussions about anything related to samplers and sampling techniques. 1157 Topics 10904 Posts Last post Emu SP12/1200 Midi Box by wiss Sat Apr 19, 2014 3:01 am HELP! Pulling out your hair? The Virtual Piano for Songwriters, Singers, Producers and aspiring musicians.
Addictive Drums Demo. Virtual Instruments, Virtual Effects, VST Plugins, Audio Units (AU), DirectX (DX), Universal Binary Compatibility - Audio Plugin News, Reviews and Community. DSK releases Strings v1.0, a freeware classic string instrument VSTi plugin.
---