Museums & Online Collections
Bodycard 0118
World Wonders Project. La France en relief - exposition Maison histoire de France. Cultural Institute – Google. HIM RIJKSMUSEUM. Sistine Chapel. Tate: British and international modern and contemporary art. VHX. Hungarian National Gallery. Explore, Play, Discover: Websites & Activities. Explore, Play, Discover: Websites, Activities & More Explore, Play, Discover: Websites, Activities & More Microscope Imaging Station What do stem cells, fruit flies, and zebrafish look like under a microscope?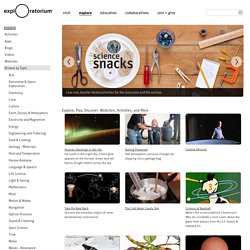 The Microscope Imaging Station creates high-resolution images and movies of the microscopic world using research-grade microscopes. Exhibition Monet 2010 - RMN - Grand Palais - Paris. Explore the British Library here. The Metropolitan Museum of Art, New York: metmuseum.org. The National Gallery, London: Western European painting 1250–1900. Collections. Guidelines for Cornell University Library Digital Collections. As part of its educational mission, Cornell University Library makes available through its reproduction services and via the World Wide Web copies of certain items from its collections.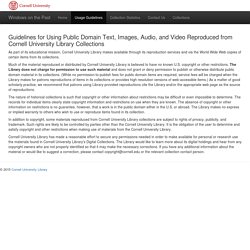 Much of the material reproduced or distributed by Cornell University Library is believed to have no known U.S. copyright or other restrictions. And does not grant or deny permission to publish or otherwise distribute public domain material in its collections. (While no permission-to-publish fees for public domain items are required, service fees will be charged when the Library makes for patrons reproductions of items in its collections or provides high resolution versions of web-accessible items.) Mark Harden's Artchive: "Artchive". Search Home - Search Yale Digital Content.
Heilbrunn Timeline of Art History | The Metropolitan Museum of Art. Icons (from the Greek eikones) are sacred images representing the saints, Christ, and the Virgin, as well as narrative scenes such as Christ's Crucifixion.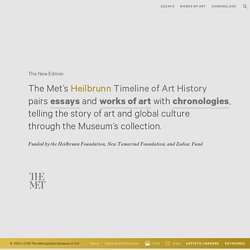 While today the term is most closely associated with wooden panel painting, in Byzantium icons could be crafted in all media, including marble, ivory, ceramic, gemstone, precious metal, enamel, textile, fresco, and mosaic. Icons ranged in size from the miniature to the monumental. Some were suspended around the neck as pendants,... More » Smarthistory: a multimedia web-book about art and art history. Virtual Museum of Canada (VMC)
---