Moto & CafeRacer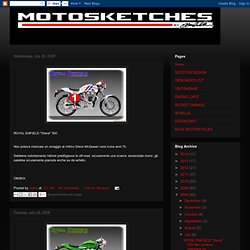 ROYAL ENFIELD " Custom Line " Il mondo della motocicletta come sappiamo bene è assai strano e variopinto. Ci sono gli assatanati della pura prestazione, gli amanti della bella meccanica, i fuoristradisti, i modaioli,i viaggiatori tritakilometri per non parlare dei "fanatici" di marca e altri ancora. Eppoi ci sono quelli innamorati di una motocicletta "antica", tutta di ferro, nata in Inghilterra molti e molti anni fa, poi emigrata in India dove è rimasta uguale a se stessa, anacronistica e sorpassata e quindi più snob e anglosassone che mai. La ROYAL ENFIELD costruisce ,oggi, moto che non erano moderne nemmeno quando sono nate, monocilindriche 350 e 500 di potenza terribilmente modesta, telaio in tubi di concezione non proprio "racing"e sospensioni .......... si vabbè.
July 2008
All images © John Lindesay Small Push start of the 250 race at French Grand Prix at Le Mans, 1979 Graeme Crosby overtakes Sedge Deste on the straight at Oran Park during the '78 '79 summer Swann Series International meeting. Rick Perry on the Team Kawasaki H2R 750. Oran Park 1979.
MotArt: Motorcycle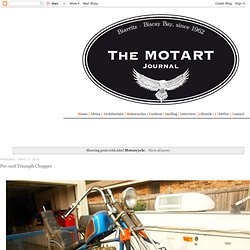 Cafe Racer TV | Season 2 Airing on Velocity!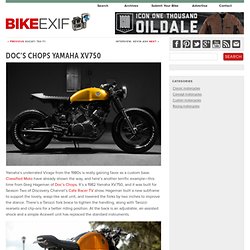 Yamaha's underrated Virago from the 1980s is really gaining favor as a custom base. Classified Moto have already shown the way, and here's another terrific example—this time from Greg Hageman of Doc's Chops. It's a 1982 Yamaha XV750, and it was built for Season Two of Discovery Channel's Cafe Racer TV show. Hageman built a new subframe to support the lovely, wasp-like seat unit, and lowered the forks by two inches to improve the stance.
Yamaha XV750
Garage Project Motorcycles
POSTED Wednesday, March 30, 2011 Blog 23 COMPLETE Here's a few shots of the new owner and her brand new KTM. Lucky girl….and if you ask us, lucky bike too. Blog 22
KTM 525 EXC | Roland Sands Design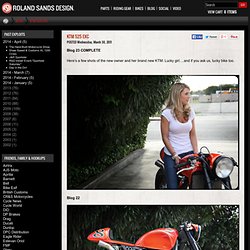 Après avoir éparpillé scientifiquement autour de toi tous les petits bidules périphériques et autres fils électriques qui t'entravaient bêtement, il t'a fallu dévisser des tas de trucs improbables et allumer quelques cierges pour accéder religieusement au machin qui se démonte avec un outil spécial. Très spécial l'outil, très rare, très cher, mais tu as un pote qui connais un type, qui... Là-dessus, Jean-Édouard passe te voir avec sa nouvelle motocyclette britannique... Six mois plus tard, le type que connaissais ton pote te prête l'outil qui à tout bien considérer n'a rien de si spécial... Tu démontes enfin le machin qui ne se démonte qu'avec l'outil spécial très rare du type que connais ton pote et tu mets à jour la pièce fautive comme prévu. Tu l'inspectes à la lumière et la déclare coupable.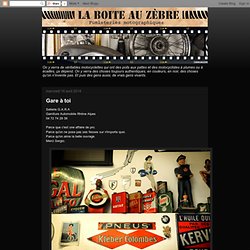 La boîte au Zèbre
Restoration Werks
Vendredi 21 septembre 5 21 /09 /Sep 13:08 Au mois d'août. L'occasion de faire un poil de mécanique, avec une jante cassée qu'il a fallu remplacer - les rayons étaient en train de passer à travers, et elle était presque coupée: Et de me promener un peu tout seul:
Le blog de Thomas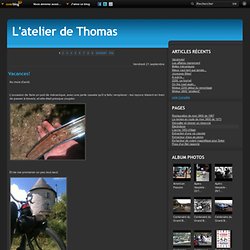 Busters Accessories - Home
S MOTOR AB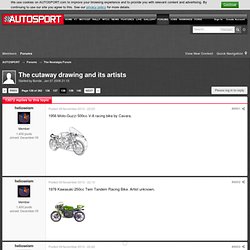 onelung, on Nov 10 2010, 10:27, said: There you go! If I was to be really picky I would say it need another 2° clockwise, but there is no guarantee that Jim drew it with 'vertical verticals'! We used to have long discussions about how to present cutaways with a bit of difference, and I remember specifically cajolling Jim into drawing the Cooper with the front wheels on full lock. I thought it worked, but Jim wasn't so sure, and although he did, I think, one more with a bit of lock, he reverted to 'straight ahead'.
The AUTOSPORT Bulletin Board > The cutaway drawing and its artists
Si d'aventure, vous assistez à une course de « classic », il y a de grandes chances que vous aller les croiser aux détours des paddocks, près de leur camion ou en train de « mécaniquer » une de leurs préparations. Si la compétition les a animés depuis plus de trente ans, c'est vers la préparation de machines de courses et de « café-racer » que Alain et Renaud se sont désormais orientés. Pour cet article, nous allons vous présenter une des dernières productions sorties des ateliers « Mombaerts », à savoir un café-racer sur base de R100RS de 1978. C'est Renaud qui nous accueille pour une présentation et un essai de cette machine.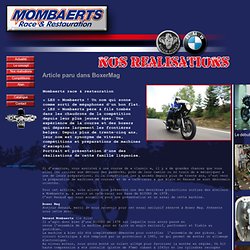 mombaerts-race
Ryca Motors - About the CS-1
Julian Farnam and his Yamaha RD400 Dirtbag Challenge build photo: Motorcyclist magazine After the last couple of articles about Ken Fontenot's Honda CB160 and Suzuki GT500 , I was thinking about how much money it takes to build a bike that looks really good. A comment on Ken's Honda build represents one point of view, downplaying the results a bit because he figured there must have been a lot of money thrown at the bike. While I'm sure that bike wasn't cheap, a lot of what went into it was time, labor and attention to detail, something anyone can afford, but few are willing to pay. On the heels of that comment, I was reading through the latest Motorcyclist magazine and came across an article on the Dirtbag Challenge (Geez guys, you couldn't come up with a better name?), an annual affair in San Francisco where builders must construct a bike for under $1000 in one month, no Harleys allowed.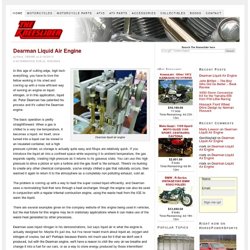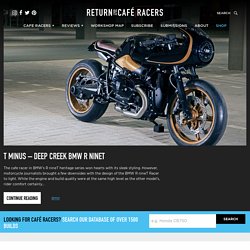 As the lines blur between the different styles of custom bike building and builders become more adventurous, it's getting much harder to simply label a custom motorcycle as a Cafe Racer, Tracker, Bobber, etcetera. While this latest build by CRO motorcycles is a self proclaimed Cafe Racer many may argue otherwise (and I'm sure a few of my Facebook followers will!) but personally I think it's evolution at work. If you want to build a period correct Cafe Racer you'd probably never consider a BMW as a donor let alone one released in the late 70's.
For the last three or four years I have been using a second hand Canon EOS400D DSLR for my photography. It's an excellent camera and I enjoyed using it hugely. I know it is nearing the end of it's life. Canon designed it for something like 40.000 photo's and it is way past that point, but still going strong! Last Friday, if they don't find a way to screw me again, I finally got the very last grade for my MSc study at the department of Physical Geography at Utrecht University.
Miob's bikes
Moto GP en direct - MotoGP - RTL Info
CAFE RACER CULTURE
BellaDonna Trackers
High Voltage
I discovered Matt Darwon through his blog Machined and we became friends quite quickly: this australian architects has started another life building great motorcycle like Vincent, Norton, Rudge, Triumph, Guzzis and this last beautyfull 900SS Ducati. You can imagine that this mix between architecture and motorcycle culture suits perfectly to us! Issue #1 is about this legendary Ducati: very high quality photography and a story by Paul d'Orleans Suscribe HERE I hope you will enjoy as I am now!
Paris Motorcycle Daily
Foutraque Garage
Twin Zone
Le Blog Moto
1979 Honda Cb650 Cafe Racer
Corpses From Hell MG