Moto & CafeRacer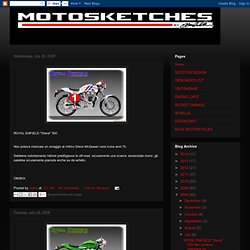 ROYAL ENFIELD " Custom Line " Il mondo della motocicletta come sappiamo bene è assai strano e variopinto. Ci sono gli assatanati della pura prestazione, gli amanti della bella meccanica, i fuoristradisti, i modaioli,i viaggiatori tritakilometri per non parlare dei "fanatici" di marca e altri ancora. Eppoi ci sono quelli innamorati di una motocicletta "antica", tutta di ferro, nata in Inghilterra molti e molti anni fa, poi emigrata in India dove è rimasta uguale a se stessa, anacronistica e sorpassata e quindi più snob e anglosassone che mai. La ROYAL ENFIELD costruisce ,oggi, moto che non erano moderne nemmeno quando sono nate, monocilindriche 350 e 500 di potenza terribilmente modesta, telaio in tubi di concezione non proprio "racing"e sospensioni .......... si vabbè.
July 2008
With its Amal GP carb (requiring a special cut out in the fuel tank), big valve head with downdraft inlet tract, rear sets, clip ons, close ratio 4 speed gear box, alloy rims and big front brake, the Thruxton was the ultimate incarnation of the might Velocette Venom and the last of the big British singles. Introduced in 1965 and named after the Thruxton 500 endurance race in honour of the racing success that Velo achieved there, it is also worth mentioning at this point that a Velocette Venom Clubman still holds the 24 hour average speed record for a motorcycle, which was set in 1964 at Montlhery under truly incredible circumstances ( read here with Paul D'Orleans for more information). Thank you to the wonderful Megadeluxe for the reminder about the fantastic machine.
MotArt: Motorcycle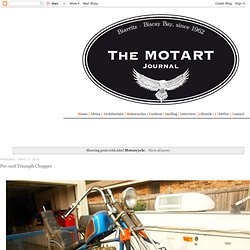 Cafe Racer TV | Season 2 Airing on Velocity!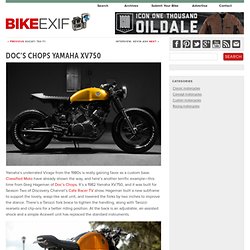 Yamaha's underrated Virago from the 1980s is really gaining favor as a custom base. Classified Moto have already shown the way, and here's another terrific example—this time from Greg Hageman of Doc's Chops . It's a 1982 Yamaha XV750, and it was built for Season Two of Discovery Channel's Cafe Racer TV show. Hageman built a new subframe to support the lovely, wasp-like seat unit, and lowered the forks by two inches to improve the stance.
Yamaha XV750
28th March 2013 Photo with 136 notes Been around a whil3 but still impressive.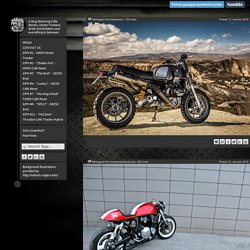 Garage Project Motorcycles
POSTED Wednesday, March 30, 2011 Blog 23 COMPLETE Here's a few shots of the new owner and her brand new KTM. Lucky girl….and if you ask us, lucky bike too. Blog 22
KTM 525 EXC | Roland Sands Design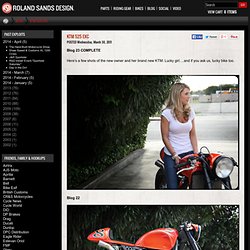 La boîte au Zèbre
Restoration Werks
Le blog de Thomas
Busters Accessories - Home
S MOTOR AB
Briton Bees Motorcyclettes & Vintage Mopeds :: Welcome to Briton Bees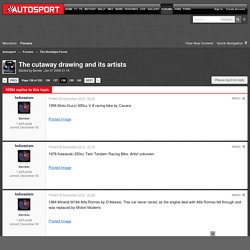 QUOTE (onelung @ Nov 9 2010, 02:18) I hope these satisfy the topic title in part... BTW, I recently got to heft a square 4 Ariel cylinder head: LOTS of weight!
The AUTOSPORT Bulletin Board > The cutaway drawing and its artists
Si d'aventure, vous assistez à une course de « classic », il y a de grandes chances que vous aller les croiser aux détours des paddocks, près de leur camion ou en train de « mécaniquer » une de leurs préparations. Si la compétition les a animés depuis plus de trente ans, c'est vers la préparation de machines de courses et de « café-racer » que Alain et Renaud se sont désormais orientés. Pour cet article, nous allons vous présenter une des dernières productions sorties des ateliers « Mombaerts », à savoir un café-racer sur base de R100RS de 1978. C'est Renaud qui nous accueille pour une présentation et un essai de cette machine.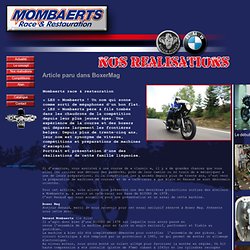 mombaerts-race
Ryca Motors - About the CS-1
Miob's bikes
Cafe Beemers
Moto GP en direct - MotoGP - RTL Info
CAFE RACER CULTURE
BellaDonna Trackers
High Voltage
Le Dépassionné
Paris Motorcycle Daily
Foutraque Garage
Twin Zone
Ottonero Cafe Racer
Le Blog Moto
1979 Honda Cb650 Cafe Racer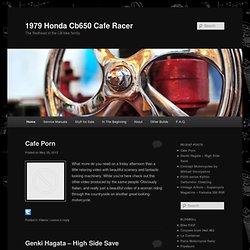 What more do you need on a friday afternoon than a little relaxing video with beautiful scenery and fantastic looking machinery. While you're here check out this other video produced by the same people. Obviously Italian, and really just a beautiful video of a woman riding through the countryside on another great looking motorcycle. Check out this video of Genki Hagata's recovery from a near high side. Him floating in the air for a few seconds is really surreal. Can only imagine what it was like for him.
Corpses From Hell MG