Aptitude [Happiness]
APTITUDE « Ecole de Parentalité
Aptitude : L'aptitude est la capacité d'un individu à réaliser une action ou mission donnée ; quand cette aptitude est remarquable, on parle de talent, voire de don.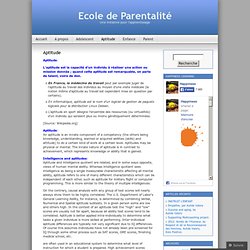 What is Aptitude Assessment? Suppose that two persons of equal intelligence have the same opportunities to learn a job or develop a skill. They attend the same on-the-job training or classes, study the same material, and practice the same length of time.
Aptitude Assessment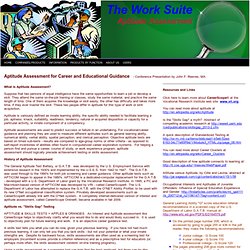 RapportGosselin%202007
Happiness is Dancing
The World Book of Happiness
The Motivation 101 Blog - Business Motivation - Jerry Kennedy
Motivational Speaker - Craig Harper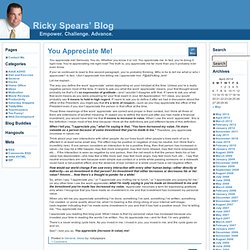 Ricky Spears' Blog
For many years, I've had a metal swing frame with an upholstered seat next to the garden pond in my back yard.
Ian's Messy Desk
Inspiration & Motivation Blog
Photo by Alexey05
Goal Setting Tips and Advice from GoalsSuccess.com
Thinking Park
thedailysaint.com
Self Help Goddess Blog
3 A of Happiness: Aptitude, Attitude, Altitude
The Lazy Way to Success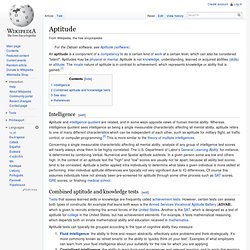 Aptitude
An aptitude is a component of a competency to do a certain kind of work at a certain level, which can also be considered "talent". Aptitudes may be physical or mental . Aptitude is not knowledge , understanding, learned or acquired abilities ( skills ) or attitude .
.:: Les Brown - The World's Leading Motivational Speaker ::.