2D
Tyler Edlin Art
Welcome to the online portfolio of Tyler Edlin: illustrator and concept artist. He offers a variety of creative services such as game illustration, book cover design, and pre-vis concept art. Specializing in environment art, he creates vast worlds filled with epc vistas. He is available for freelance and contract positions. If you want to work together, or for any other inquiries, email him at Tyler@tyleredlinart.com
Art of Scholes
Armandeo - CGHUB
2DBean Warmups
Art of Gray
Childhood of a Circle : Landscapes - Kadavre Exquis
Charlotte Caron » Paysages
Howdy, gang! What's the happenin's? Remember the little ol' B7 animatic I had shared last year? If not you can watch it by clicking this http://vimeo.com/13687272 I had a lot of good critques from when I first posted the link, and I can't thank you enough for taking the time to watch it and speak about it.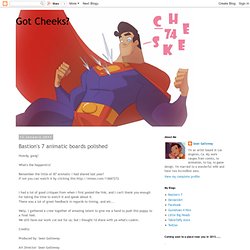 Bastion's 7 animatic boards polished
Deadly Del Mundo
Paulchadeisson
.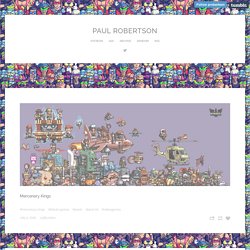 Paul Robertson
Super Time Force Vs Mercenary Kings Mercenary Kings tiling backgrounds dudes girls What are we working on right now? tributegames:
redbolt
aymrc
vertfluo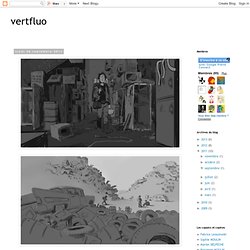 De vieille choses, ces travaux on déjà presque une année , je testais alors le potentiel de flash en terme de colo et de rendu. C'est toujours amusant de voir les différentes directions que l'on prend en fonction des périodes, je pense qu'aujourd'hui mon travail est plus simple sur la forme mais je ne désespère pas de reprendre à un moment mes activités de designer .Enfin entre nous tout ça n'est avant tout qu'un prétexte pour faire vivre ce blog...
Laro's Art Box
www.waart.net | artwork :: digital
Feng Zhu Design
::AREA-56::
autodestruct.com - The Online Operations of Paul Richards
ASHLEY WOOD GALLERY STORE
NEWS CATFISH DELUXE
Voilà, ça fait une petite éternité que vous m'avez pas vu par ici (enfin si il reste quelqu'un dans le secteur ce qui est pas dit) , mais vous pourrez me voir ce week-end en chair et en poils au Festiblog , Samedi de 11h à 13h et Dimanche de 16 à 19h... Donc pour ce qui se demandent ce que je fous de mes journées à part jouer à GTA V (bon, en fait je l'ai même pas...pas encore) et bah je bosse -un peu- sur le tome 2 de Krrpk, qui sortira que l'année prochaine, et que je commencerais à mettre en ligne début 2014 (et oui, désolé pour l'attente...) la preuve que je mitonne pas (complètement) en image: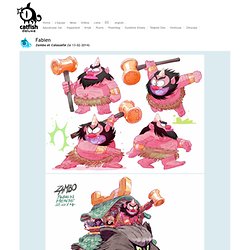 Scott Watanabe's Portfolio
M. Puncekar Illustration
Papa Nimba
::JS:: butterflies are still evil
霊雨さん設定資料集 - Ms.ReiuSetMaterialCollection
R E Y Y Y . c o m
Veronique Meignaud - Illustration
FEERIK conceptart
Indian Summer - la chambre de Chuch
DYNAMO ✮ Le blog officiel de la Grenouille Noire
Maggot Issue #4 is out on paper!!! The hardcopy of issue #4 is already available for SALE! It can be yours! To get your copy now just click on the green button.www.thedynamopress.com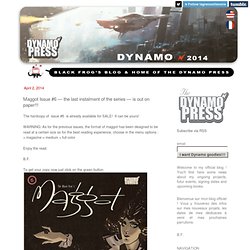 Benoit FERRIERE [Mirof] | Some pixels
Eric Deschamps Illustration