2D
Tyler Edlin Art
Welcome to the online portfolio of Tyler Edlin: illustrator and concept artist. He offers a variety of creative services such as game illustration, book cover design, and pre-vis concept art. Specializing in environment art, he creates vast worlds filled with epc vistas. He is available for freelance and contract positions. If you want to work together, or for any other inquiries, email him at Tyler@tyleredlinart.com
Art of Scholes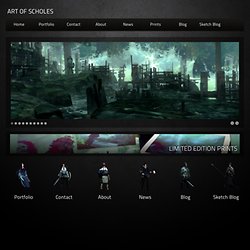 Available for Freelance Concept Art/Visual Development specializing in environments. Contact me above, or email: thomasscholes@gmail.com I'm passionate about the untapped potential of digital art and interactive entertainment, and am deeply interested in the growth of both mediums. I believe art is the best means of discovery and delivery of emotional and experiential knowledge and am constantly searching for the means to provide enrichment in these areas. I've worked on 7 different titles for 3 different studios; Microsoft's 343 Industries, NCSoft's ArenaNet, and Disney Interactive's Avalanche. Currently I'm a freelance artist and digital painting instructor at Futurepoly.
Armandeo - CGHUB
2DBean Warmups
Hmmm Good question. I cannot honestly tell you when or even if it even happened. I'm not trying to be a drama queen or self loathing. It's truly an Amorphis thing what we call a portfolio/attractive/appealing art.
Art of Gray
It's been a while since my last post with some drawings...I know Iknow...don't hit me. Since months I'm very busy, with Remember Me and all the books covers that I do, I don't have the time to update my Blog...yeah, you can say it...i'm fucking LAZY !!! But maybe now it's time to show you some stuff from the past few months. hope you will like it and thanks for watching.
Childhood of a Circle : Landscapes - Kadavre Exquis
Charlotte Caron » Paysages
Howdy, gang! What's the happenin's? Remember the little ol' B7 animatic I had shared last year? If not you can watch it by clicking this http://vimeo.com/13687272 I had a lot of good critques from when I first posted the link, and I can't thank you enough for taking the time to watch it and speak about it.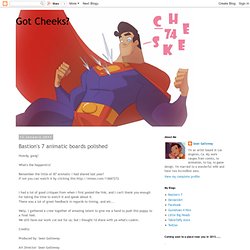 Bastion's 7 animatic boards polished
My post today is the second half of my entry from two weeks ago. If you didn't read that post, or would like to refer back to it, here is the link - Process to the People: Part 1. My goal in the first half was the show how the predominant artistic tradition over the last several centuries and through the Golden Age of Illustration followed a specific process. Also, I hoped to show how changing your process can potentially improve your final results.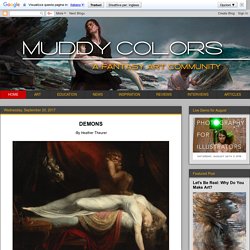 ...book(un)... Petite preview d'une série d'illustrations pour l'artbook "HOPSCOTCH" qui sera imprimé en septembre. :) J'ai, enfin, fini de realiser les 18 pages d'illustr qui seront dans cet artbook ! c'etait long maintenant j'ai juste hate d'avoir le livre entre mes ptites mains ! :)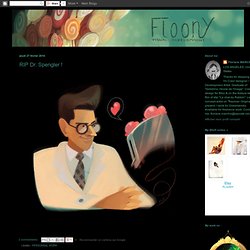 Deadly Del Mundo
Paulchadeisson
.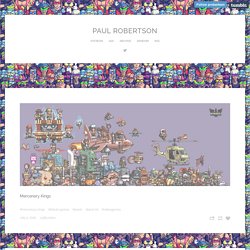 FINALLY! We at Tribute Games are extremely proud to announce that the full version of Mercenary Kings will be available to you within a few weeks!Awesome! When and where do I get it???Mercenary Kings will be available for Playstation 4 on the Playstation Store starting APRIL 1ST!Retaining it's Early Access price of $14.99 for a whole week from launch, Mercenary Kings will be deployed on Steam for PC AND MAC on MARCH 25TH!
redbolt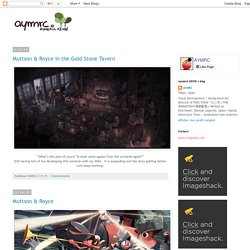 Hello Everyone! Today is a special day. Masaaki Yuasa's new project is now on Kickstarter.
aymrc
vertfluo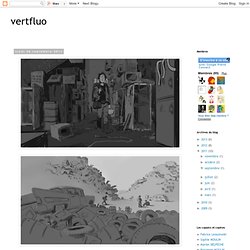 De vieille choses, ces travaux on déjà presque une année , je testais alors le potentiel de flash en terme de colo et de rendu. C'est toujours amusant de voir les différentes directions que l'on prend en fonction des périodes, je pense qu'aujourd'hui mon travail est plus simple sur la forme mais je ne désespère pas de reprendre à un moment mes activités de designer .Enfin entre nous tout ça n'est avant tout qu'un prétexte pour faire vivre ce blog...
Back in June I was asked to do a little rendition of a Skullgirls character for a guest gallery, how could I say no!? My pic of MisFortune can be seen in the Extras > Guest Gallery section in Skullgirls, although it's right below :p. If you haven't grabbed Skullgirls already and you love fighters, nab it on the Steam Store! Sorry for the lack of updates (WOAH it's been a long time huh?), been busy pouring my very existence into our game Odonata, I'd have posted this piece earlier but I've been sitting on it for 5 months or so for the public release. :)
Laro's Art Box
www.waart.net | artwork :: digital
Feng Zhu Design
::AREA-56::
ASHLEY WOOD GALLERY STORE
NEWS CATFISH DELUXE
Hand Crafted Cartoons We dig deep to make the most of every shape, line and drop of color to bring a fresh and iconic voice to any project on the horizon. A Fistful of Experience For over 15 years we've had the pleasure of working alongside the best teams in the industry to develop timeless properties. Think Inside the Box We love constraints and how creativity thrives within them.
Scott Watanabe's Portfolio
M. Puncekar Illustration
Papa Nimba
::JS:: butterflies are still evil
霊雨さん設定資料集 - Ms.ReiuSetMaterialCollection
R E Y Y Y . c o m
Veronique Meignaud - Illustration
FEERIK conceptart
Indian Summer - la chambre de Chuch
DYNAMO ✮ Le blog officiel de la Grenouille Noire
Benoit FERRIERE [Mirof] | Some pixels
Eric Deschamps Illustration