Mind Maps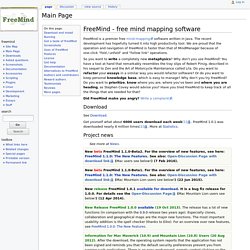 FreeMind is a premier free mind-mapping software written in Java. The recent development has hopefully turned it into high productivity tool. We are proud that the operation and navigation of FreeMind is faster than that of MindManager because of one-click "fold / unfold" and "follow link" operations. So you want to write a completely new metaphysics?
Welcome to coWonder!
By using the Cowonder Website, you expressly consent to the information handling practices described in this Policy. This Privacy Notice is incorporated into and is subject to the Cowonder Terms of Use. Your use of the Cowonder Website and any personal information you provide through the Cowonder Website are subject at all time to this Privacy Notice and the Terms of Use. 1. The Information Cowonder Collects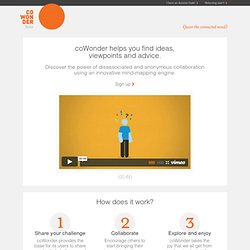 Hand-drawn and computer-drawn variations of a mind map. A mind map is a diagram used to visually outline information. A mind map is often created around a single word or text, placed in the center, to which associated ideas, words and concepts are added. Major categories radiate from a central node, and lesser categories are sub-branches of larger branches.[1] Categories can represent words, ideas, tasks, or other items related to a central key word or idea. Mind maps can be drawn by hand, either as "rough notes" during a lecture or meeting, for example, or as higher quality pictures when more time is available. An example of a rough mind map is illustrated.