Periodismo-ciudadano
Newscoop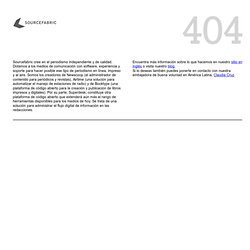 Sourcefabric cree en el periodismo independiente y de calidad. Dotamos a los medios de comunicación con software, experiencia y soporte para hacer posible ese tipo de periodismo en línea, impreso y al aire. Somos los creadores de Newscoop (el administrador de contenido para periódicos y revistas), Airtime (una solución para automatizar el manejo de estaciones de radio) y de Booktype (una plataforma de código abierto para la creación y publicación de libros impresos y digitales). Por su parte, Superdesk, constituye otra plataforma de código abierto que extenderá aún más el rango de herramientas disponibles para los medios de hoy.
Peace Channel - Welcome
Whats Next In Media
Witness y Amnistía Internacional son dos organizaciones centradas en la defensa de los derechos humanos, a nivel internacional. Con el objetivo de ayudar a todo tipo de activistas, comunidades y movimientos sociales que luchan contra los desalojos forzosos han lanzado: Forced Evictions Advocacy Toolkit. Se trata de un kit de herramientas, con numerosos recursos multimedia, creados por estas dos organizaciones para defender los derechos relacionados con la vivienda y la tierra y proteger a estas comunidades, como ya ha sucedido en países como: Brazil, Cambodia, India y Mexico.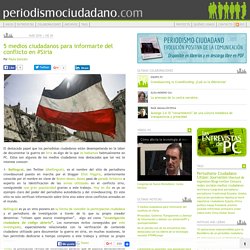 we_media_espanol.pdf (application/pdf Objeto)
International
Welcome | Dan Gillmor
Most of the smartest people don't work in journalism. There's an enormous amount of R&D going on in digital media. Most of it isn't happening inside the news industry. As Clay Shirky and others have pointed out, the low barrier to entry is fueling an enormous amount of experimentation. Most projects fail, but that's a good thing, because when so many are being tried the small percentage that work will be a relatively big number.
Media 2.0 & social media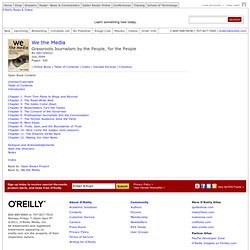 | O'Reilly Media
O'Reilly Books & Videos Learn something new today. 1-800-998-9938 / 707-827-7000 / orders@oreilly.com We the Media Grassroots Journalism by the People, for the People By Dan Gillmor July 2004 Pages: 320 | Online Book | Table of Contents | Index | Sample Excerpt | Colophon