Periodismo-ciudadano
Newscoop. Sourcefabric cree en el periodismo independiente y de calidad.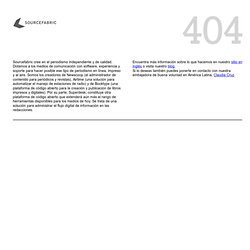 Dotamos a los medios de comunicación con software, experiencia y soporte para hacer posible ese tipo de periodismo en línea, impreso y al aire. Somos los creadores de Newscoop (el administrador de contenido para periódicos y revistas), Airtime (una solución para automatizar el manejo de estaciones de radio) y de Booktype (una plataforma de código abierto para la creación y publicación de libros impresos y digitales). Por su parte, Superdesk, constituye otra plataforma de código abierto que extenderá aún más el rango de herramientas disponibles para los medios de hoy.
Peace Channel - Welcome. Whats Next In Media. AllVoices.com - news, videos, pictures and blogs about events and people that matter. Periodismo Ciudadano. We_media_espanol.pdf (application/pdf Objeto) International. Welcome | Dan Gillmor. Global Voices Online. Media 2.0 & social media. | O'Reilly Media. O'Reilly Books & Videos Learn something new today. 1-800-998-9938 / 707-827-7000 / orders@oreilly.com We the Media Grassroots Journalism by the People, for the People By Dan Gillmor July 2004 Pages: 320 | Online Book | Table of Contents | Index | Sample Excerpt | Colophon.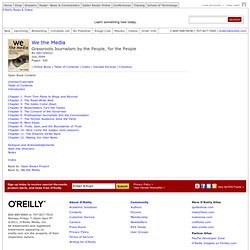 ---