Periodismo-ciudadano
Newscoop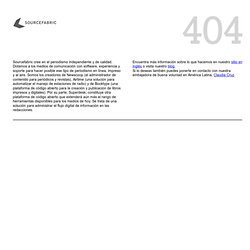 Sourcefabric cree en el periodismo independiente y de calidad. Dotamos a los medios de comunicación con software, experiencia y soporte para hacer posible ese tipo de periodismo en línea, impreso y al aire. Somos los creadores de Newscoop (el administrador de contenido para periódicos y revistas), Airtime (una solución para automatizar el manejo de estaciones de radio) y de Booktype (una plataforma de código abierto para la creación y publicación de libros impresos y digitales). Por su parte, Superdesk, constituye otra plataforma de código abierto que extenderá aún más el rango de herramientas disponibles para los medios de hoy.
Peace Channel - Welcome
Whats Next In Media
El documental es uno de los mejores géneros para radiografiar la realidad y tomar conciencia de lo que estamos viviendo en nuestro país. Para estos días, os proponemos dos estupendos ejemplos de cine documental para despertar conciencias. La Plataforma de Afectados por la Hipoteca, en colaboración con SICOM y Namuss Films, elaboró "#LaPlataforma", un interesante documental explicando su lucha en defensa del Derecho Constitucional a una Vivienda Digna.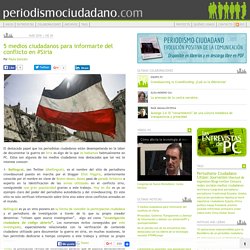 we_media_espanol.pdf (application/pdf Objeto)
International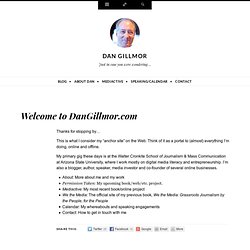 Welcome | Dan Gillmor
Thanks for stopping by… This is what I consider my "anchor site" on the Web. Think of it as a portal to (almost) everything I'm doing, online and offline. My primary gig these days is at the Walter Cronkite School of Journalism & Mass Communication at Arizona State University, where I work mostly on digital media literacy and entrepreneurship. I'm also a blogger, author, speaker, media investor and co-founder of several online businesses.
Media 2.0 & social media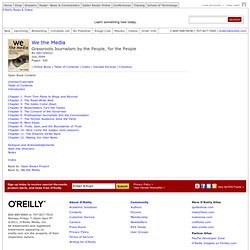 | O'Reilly Media
O'Reilly Books & Videos Learn something new today. 1-800-998-9938 / 707-827-7000 / orders@oreilly.com We the Media Grassroots Journalism by the People, for the People By Dan Gillmor July 2004 Pages: 320 | Online Book | Table of Contents | Index | Sample Excerpt | Colophon