People in Greek Myths
The following is a list of gods and other divine and semi-divine figures from Greek mythology . The list does not include creatures; for these, see List of Greek mythological creatures . Immortals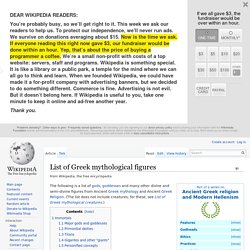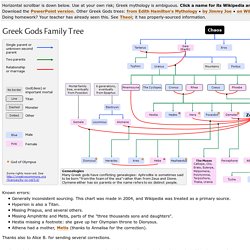 Doing homework? Your teacher has already seen this. See ; it has properly-sourced information.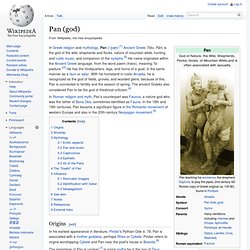 In Greek religion and mythology , Pan ( Ancient Greek : Πᾶν , Pān ) is the god of the wild, shepherds and flocks, nature of mountain wilds, hunting and rustic music , and companion of the nymphs . [ 1 ] His name originates within the Ancient Greek language, from the word paein (πάειν), meaning "to pasture." [ 2 ] He has the hindquarters, legs, and horns of a goat, in the same manner as a faun or satyr .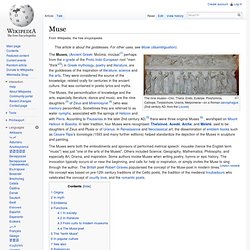 The nine muses—Clio, Thalia, Erato, Euterpe, Polyhymnia, Calliope, Terpsichore, Urania, Melpomene—on a Roman sarcophagus (2nd century AD, from the Louvre )
Muse
The Muses
The Muses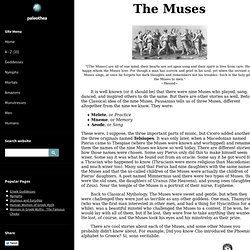 T he embodiment of the classical idea of the poetical faculty as a divine gift, these famous sisters dwelt on Mount Helicon, and drank of the fountain Hippocrene.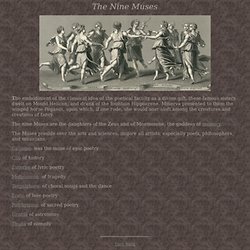 Muses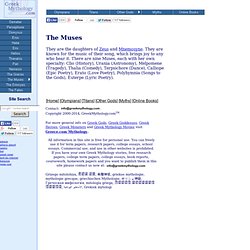 Contact: . bet Copyright 2000-2010, GreekMythology.com TM . For more Greek Mythology info visit our sister site Greek-Mythology-Gods.com
The Muses