People in Greek Myths
List of Greek mythological figures. The following is a list of gods and other divine and semi-divine figures from Greek mythology.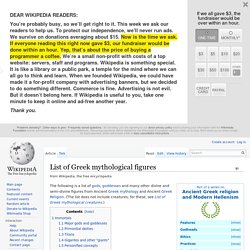 The list does not include creatures; for these, see List of Greek mythological creatures. Immortals[edit] Ancient Greece - Gods and Goddesses - The British Museum. Greek Gods Family Tree / Genealogy | ludios.org. Doing homework?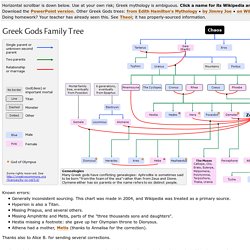 Your teacher has already seen this. See Theoi; it has properly-sourced information.
Pan (god) In Greek religion and mythology, Pan (/ˈpæn/;[1] Ancient Greek: Πᾶν, Pān) is the god of the wild, shepherds and flocks, nature of mountain wilds, hunting and rustic music, and companion of the nymphs.[2] His name originates within the Ancient Greek language, from the word paein (πάειν), meaning "to pasture.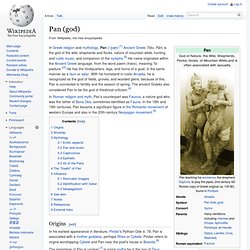 "[3] He has the hindquarters, legs, and horns of a goat, in the same manner as a faun or satyr. With his homeland in rustic Arcadia, he is recognized as the god of fields, groves, and wooded glens; because of this, Pan is connected to fertility and the season of spring. The ancient Greeks also considered Pan to be the god of theatrical criticism.[4]
Heros of Greek Myth. Muse. The nine muses—Clio, Thalia, Erato, Euterpe, Polyhymnia, Calliope, Terpsichore, Urania, Melpomene—on a Roman sarcophagus (2nd century AD, from the Louvre) The Muses, (Ancient Greek: Μοῦσαι, moũsai:[1] perhaps from the o-grade of the Proto-Indo-European root *men- "think"[2]) in Greek mythology, poetry and literature, are the goddesses of the inspiration of literature, science and the arts.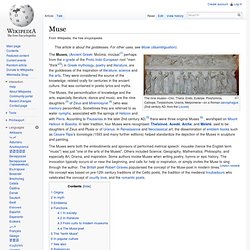 They were considered the source of the knowledge, related orally for centuries in the ancient culture, that was contained in poetic lyrics and myths. The Muses were both the embodiments and sponsors of performed metrical speech: mousike (hence the English term "music") was just "one of the arts of the Muses". Others included Science, Geography, Mathematics, Philosophy, and especially Art, Drama, and inspiration.
The Muses. The Muses "[The Muses] are all of one mind, their hearts are set upon song and their spirit is free from care.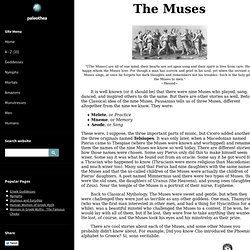 He is happy whom the Muses love. For though a man has sorrow and grief in his soul, yet when the servant of the Muses sings, at once he forgets his dark thoughts and remembers not his troubles. Muses. The embodiment of the classical idea of the poetical faculty as a divine gift, these famous sisters dwelt on Mount Helicon, and drank of the fountain Hippocrene.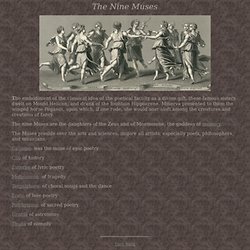 Minerva presented to them the winged horse Pegasus, upon which, if one rode, she would soar aloft among the creatures and creations of fancy. The nine Muses are the daughters of the Zeus and of Mnemosyne, the goddess of memory. The Muses preside over the arts and sciences, inspire all artists, especially poets, philosophers, and musicians. The Muses. Contact: .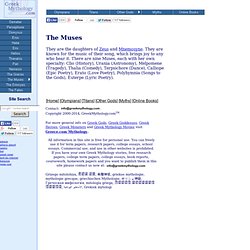 Copyright 2000-2014, GreekMythology.comTM.  Women in Greek Myths.
---