R 1
I - RapidAnalytics
Collaboration is key with RapidMiner Server. Shared repositories allow you to work with coworkers and contributors throughout your organization and beyond, using interactive dashboards you build to meet your specific needs. Assign specific tasks, pool your resources, and share information with everyone in your team at once, from anywhere in the world.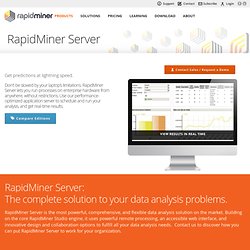 The description on the main R web page is good, and needn't be repeated here; it describes a bit about R's history and technical capabilities. Some things you might want to know about R if you're encountering it for the first time: R is (according to the description linked above) "a language and environment for statistical computing and graphics"; you can think of it as a combination of a statistics package and a programming language. R is completely free; you don't have to pay for it, and you can make any modifications you want to it R runs on Windows, MacOS, Linux, and many Unix variants R is not supported by any commercial enterprise, but it has a very active development community, and there are companies that offer training courses etc..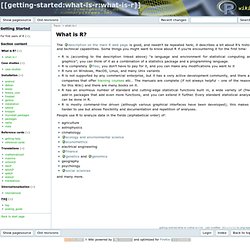 getting-started:what-is-r:what-is-r [R Wiki]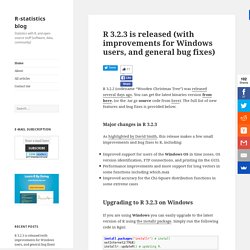 R 3.1.0 (codename "Spring Dance") was released today! You can get the source code from http://cran.r-project.org/src/base/R-3/R-3.1.0.tar.gz or wait for it to be mirrored at a CRAN site nearer to you. Binaries for various platforms will appear in due course. The full list of new features and bug fixes is provided below. Upgrading to R 3.1.0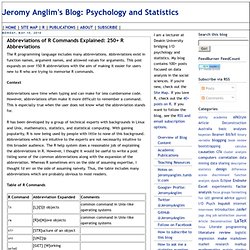 The R programming language includes many abbreviations. Abbreviations exist in function names, argument names, and allowed values for arguments. This post expands on over 150 R abbreviations with the aim of making it easier for users new to R who are trying to memorise R commands. Context Abbreviations save time when typing and can make for less cumbersome code.
150+ R Abbreviations
start [R-Node]
Writing /var/www/r-node/data/cache/2/2d54f1d82cf67432cd4c82a000527112.i failed Unable to save cache file. Hint: disk full; file permissions; safe_mode setting. Writing /var/www/r-node/data/cache/2/2d54f1d82cf67432cd4c82a000527112.xhtml failed R-Node is a web front-end to the statistical analysis package R . Using this front-end, you can from any web browser connect to an R instance running on a remote (or local) server, and interact with it, similar to how you interact with R through the R console.
R-Node
Friday, March 7 2014 Saturday, October 19 2013 Saturday, August 10 2013 Thursday, August 1 2013 Saturday, July 13 2013 Thursday, March 28 2013
Introduction yeroon.net/ggplot2 is a web interface for Hadley Wickham's R package ggplot2. It is used as a tool for rapid prototyping, exploratory graphical analysis and education of statistics and R.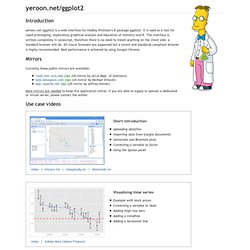 yeroon.net/ggplot2
A Practical Guide to Geostatistical Mapping | by Tomislav Hengl | 291 p. | ISBN 978-90-9024981-0
ggplot2 is a plotting system for R, based on the grammar of graphics, which tries to take the good parts of base and lattice graphics and none of the bad parts. It takes care of many of the fiddly details that make plotting a hassle (like drawing legends) as well as providing a powerful model of graphics that makes it easy to produce complex multi-layered graphics. Documentation ggplot2 documentation is now available at docs.ggplot2.org. Mailing list You are welcome to ask ggplot2 questions on R-help, but if you'd like to participate in a more focussed mailing list, please sign up for the ggplot2 mailing list: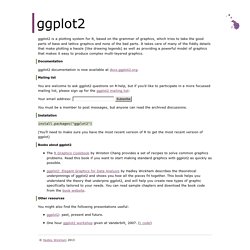 Feb 02 2010 Information graphics, or infographics, are visual representations of information, data or knowledge. The graphics are used where complex information needs to be explained quickly and clearly, such as on signs and maps and in journalism, technical writing and education.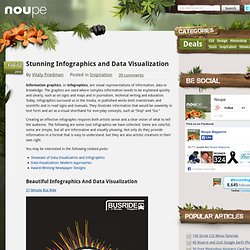 Incanter: Statistical Computing and Graphics Environment for Clojure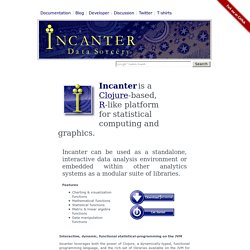 Interactive, dynamic, functional statistical-programming on the JVM Incanter leverages both the power of Clojure, a dynamically-typed, functional programming language, and the rich set of libraries available on the JVM for accessing, processing, and visualizing data. At its core are the Parallel Colt numerics library, a multithreaded version of Colt, the JFreeChart charting library, the Processing visualization library, as well as several other Java and Clojure libraries. Clojure's seamless integration with Java makes leveraging these libraries much simpler than is possible in R, and Incanter's R-like semantics and interactive shell makes statistical programming much simpler than is possible in pure Java.
Features Examines R as the medium for scientific computation Demonstrates simple mathematical tools in the context of stochastic modeling
CRC Press Online - Book: Introduction to Scientific Programming and Simulation Using R
Features Shows how to obtain informative graphical output using R Provides R code so readers can perform their own analyses Emphasizes the practical application and interpretation of results rather than focusing on the theory behind the analyses
CRC Press Online - Book: A Handbook of Statistical Analyses Using R, Second Edition
Talks
R and Big Data Invited Panel Presentation, Big Data Summit, Research Park, University of Illinois at Urbana-Champaign. Champaign, IL, December 6, 2013 Pdf version of presentation slides Seamless R and C++ Integration with Rcpp: Introduction and Examples Invited Colloqium, Center for Research Methods and Data Analysis, University of Kansas, Lawrence, KS, November 16, 2013 Pdf version of presentation slides part 1: Rcpp Intro, part 2: RcppArmadillo Examples, part 3: RcppZiggurat.
Welcome to version 3.0 of the Free Statistics Calculators website! These statistics calculators are free to be used by anyone in the research community at large. They are offered humbly in the hope that they will contribute in some small way to the advancement of science and the betterment of mankind. I hope you find them useful! The statistics calculators are organized into the 29 categories shown below.
This Sample Size Calculator is presented as a public service of Creative Research Systems survey software. You can use it to determine how many people you need to interview in order to get results that reflect the target population as precisely as needed. You can also find the level of precision you have in an existing sample. Before using the sample size calculator, there are two terms that you need to know. These are: confidence interval and confidence level.
SOFA Statistics Open For All - Home Page
IDE/Script Editors
rpad - Google Code
Welcome
Homepage
Professor Rob J Hyndman
Dataplot
SOCR: Statistics Online Computational Resource
SOCR: Statistics Online Computational Resource
R Commander
MacAnova Home Page
Resources to help you learn and use SPSS
[R-sig-teaching] R Equivalent of SPSS "Split File" and "AutoRecode"
Introduction to Statistical Computing in R
R: Statistical Software for Psychology Research
crush-tools - Google Code
Free-SA
Scruffy Graphs for Ruby People.
Website Optimizer - Adwords - Google
An Introduction to R - a tutorial for new users of R
The R Users Group at University of Arizona