Emergency
Autoridade Nacional de Protecção Civil
O CNPCE participou na reunião plenária do Civil Emergency Planning Committee (CEPC) da NATO que decorreu em Bruxelas, no Quartel-General da Aliança, a 17 e 18 de Novembro de 2011. Na primeira fase, a 17 de Novembro, os trabalhos decorreram em formato EAPC (Euro-Atlantic Partnership Council), reunindo assim, para além das nações aliadas, as nações parceiras, num total de representantes de 50 países, para além de representantes de diversas sub-estruturas da NATO e de outras organizações internacionais (e.g. ONU).
CNPCE - Conselho Nacional Planeamento Civil de Emergência
Home Page - The Open ISES Project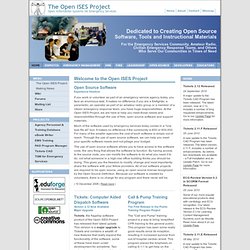 If you work or volunteer as part of an emergency service agency today, you face an enormous task. It makes no difference if you are a firefighter, a paramedic, an operator as part of an amateur radio group or a member of a citizen emergency response team, you have huge responsibilities. At the Open ISES Project, we are here to help you meet those needs and responsibilities through the use of free, open source software and support materials. Much of the software used by emergency services today comes in a "one size fits all" box. It makes no difference if the community is 600 or 600,000.