Media Centers
You'll be the envy of your friends and your media collection will thank you for it. Organize your media with the Plex Media Server Grab the Plex Media Server and add all your videos, photos, and music. Windows Windows XP SP3 or later.
Get Plex!
XBMC4XBOX
Raspbmc – the XBMC distribution for Raspberry Pi « Stm Labs
on RaspBerry Pi. Our first ARM device supported! | OpenELEC - The living room PC for everyone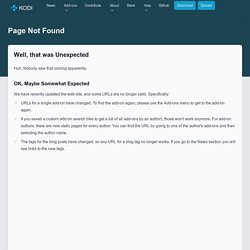 XBMC For Android
We have been keeping a little secret.. the kind that is so much fun to share when the time comes. Today we announce XBMC for Android. Not a remote, not a thin client; the real deal. No root or jailbreak required. XBMC can be launched as an application on your set-top-box, tablet, phone, or wherever else Android may be found.
XBMC for Android Alpha Build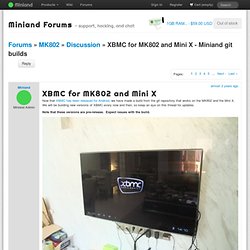 Miniand Miniand Admin Now that XBMC has been released for Android , we have made a build from the git repository that works on the MK802 and the Mini X. We will be building new versions of XBMC every now and then, so keep an eye on this thread for updates.
XBMCHUB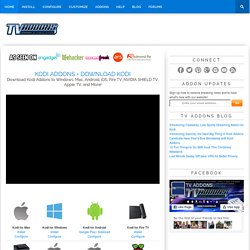 Easy Addon Installation for XBMC
The process of installing addons to your XBMC setup is now easier than ever using Fusion, the Easy Addon Installer for XBMC. No longer will you need to download and upload addon files or anything else of the sort. You'll now be able to add as many addons as you'd like directly from your television screen, no technical knowledge required. The Fusion Installer will be constantly updated, so once you've added it to your XBMC, you'll be able to get the latest addon repositories on the fly as they are released. Step 1 : Launch XBMC Software.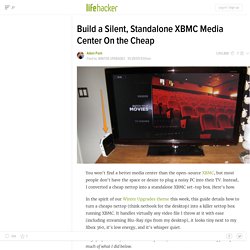 You won't find a better media center than the open-source XBMC , but most people don't have the space or desire to plug a noisy PC into their TV. Instead, I converted a cheap nettop into a standalone XBMC set-top box.
How to Synchronize Your XBMC Media Center Between Every Room in the House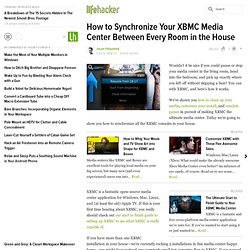 Wouldn't it be nice if you could pause or stop your media center in the living room, head into the bedroom, and pick up exactly where you left off without skipping a beat? You can with XBMC, and here's how it works. We've shown you how to clean up your media , customize your install , and emulate games in pursuit of making XBMC the ultimate media center.
How to Sync Your Media Across Your Entire House with XBMC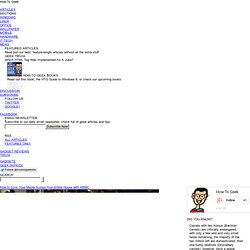 XBMC is an awesome media center solution but when you're using it all over your house your library updates and watched-media lists get out of sync. Read on as we show how to keep all your media centers on the same page. Note: This how-to guide was originally published in September of 2011 and detailed how to set up whole-house media syncing for XBMC "Dharma" 10.0. We've updated the guide for the newer, more user-friendly MySQL integration included in XBMC "Eden" 11.0. Why Should I Care and Who Is This Guide For?
From XBMC
Unofficial add-on repositories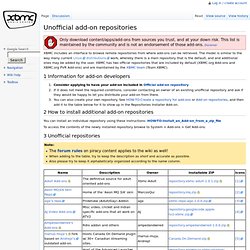 xbmc us
EventGhost
EventGhost for Android