Mars explorations
Mars Mobile
Images of Mars from NASA's Spirit & Opportunity Exploration Rovers | Latest Photos from the Red Planet, Mars Rovers
SPIRIT UPDATE: Spirit Remains Silent at Troy More than 1,300 commands were radiated to Spirit as part of the recovery effort in an attempt to elicit a response from the rover. No communication has been received from Spirit since Sol 2210 (March 22, 2010). The project concluded the Spirit recovery efforts on May 25, 2011.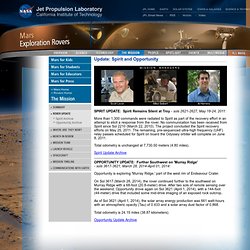 Mars Exploration Rover Mission: The Mission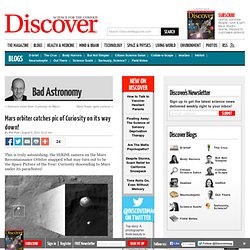 This is truly astonishing: the HiRISE camera on the Mars Reconnaissance Orbiter snapped what may turn out to be the Space Picture of the Year: Curiosity descending to Mars under its parachutes! Holy. Haleakala.
Mars orbiter catches pic of Curiosity on its way down!
PCMAG.COM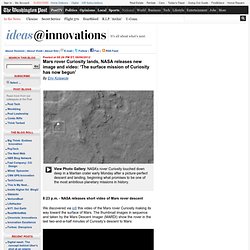 8:23 p.m. - NASA releases short video of Mars rover descent We discovered via io9 this video of the Mars rover Curiosity making its way toward the surface of Mars. The thumbnail images in sequence and taken by the Mars Descent Imager (MARDI) show the rover in the last two-and-a-half minutes of Curiosity's descent to Mars:
Mars rover Curiosity lands, NASA releases new image and video: 'The surface mission of Curiosity has now begun' - Ideas@Innovations
Mars Exploration Rover Mission: Home