Astrology @ Horoscope
♇. Angel Wisdom Card of the Day. Lunarium: Discover the Mysteries of the Moon. Chinese Horoscope. Moontracks Astrology Calendars. Astrology - Reference Menu - by Astroscoped. HomeLessonsDailyWeeklyMonthlyYearlyResourcesAdd Your SitePrivacy Policy Updated 04/14/2014 Today's DateSun, April 13, 2014Total Visits: 1523443Today's Visits: 405 Site engineering by:fifth-house.orgweb management Astroscoped Horoscopes is dedicated to providing you with easy to use astrology information about the history of astrology, natal charts descriptions & transits.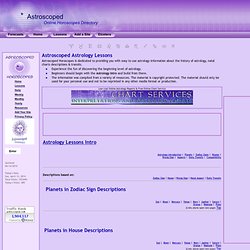 Experience the fun of discovering the beginning level of astrology.Beginners should begin with the Astrology Intro and build from there.The information was compiled from a variety of resources. Mercury Retrograde. MERCURY RETROGRADE: The purpose of Mercury retrograde is to review and revise our life and our connection with reality.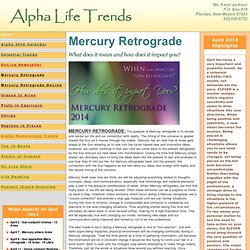 The timing of this universe is geared toward the Sun as it moves through the zodiac. Mercury has an orbit that at times gets ahead of the Sun allowing us to look into the future toward new and innovative ideas.
---