SOCIAL NETWORKS
Digg. Log in on Netlog. Secure Social Learning Network for Teachers and Students. Diigo - Web Highlighter and Sticky Notes, Online Bookmarking and Annotation, Personal Learning Network. Everyone's library. Care2 - largest online community for healthy and green living, human rights and animal welfare. Business Exchange. :: BuddyMarks :: Breaking News, Current Events, Latest News and World Events at allvoices.com. BlinkList.com - Discover, Blink & Share.
Www.bebo.com. Public marks. Bookmarks. Reality Sandwich | Evolving consciousness, bite by bite. Orion Grassroots Network. TRIBE. Transition California. TRANSITION USA. LIVING MANDALA - HUB. GAIA. Shift Network.
Linked In. Facebook. WaccoBB. SHTYLE. WiserEarth. Earth Action Mentor. Click here to find out member benefits and a sneak preview More Than Just a Website Earth Action Mentor is working in local communities to promote regenerative local living economies centered around the values of Earth Care, People Care and Fair Share!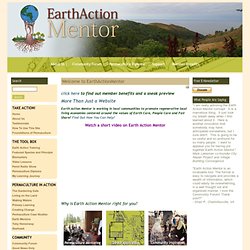 Find Out How You Can Help! Watch a short video on Earth Action Mentor.
---