Literature
This pearltree has so far been a compilation of recommended reading lists of multiple genres. Enjoy! rhombus09 Jan 3
After scouring book reviews and Wikipedia, a list of the Top Ten Best Apocalyptic Novels was born. The books on this list take you down the darkest paths in uncivilized worlds, from cannibalistic gangs to vampire infected corpses. If this list doesn't get you thinking on the quickest way stock your basement full of water, canned goods and rifles, I don't know what will! Enjoy!
I have a feeling that many of these are favourite books rather than life-changing. Certainly I love "The Hitch-hikers Guide ...", "Ender" and "Dune" but I don't think they have changed my life.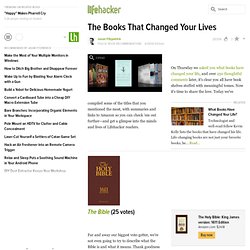 Image by Jane Mount, Courtesy 20x200 Yes, we read Freedom this year and yes, it was good. As Esquire put it, it "was one great slab of a book, at a time when most books have given up on greatness." But there were other books in 2010, books that had to compete for our ever more challenged attention spans and won.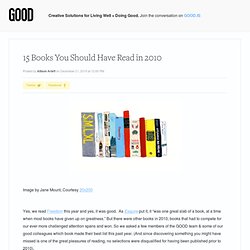 In compiling the books on this list, the editors at SuperScholar have tried to provide a window into the culture of the last 50 years. Ideally, if you read every book on this list, you will know how we got to where we are today. Not all the books on this list are "great." The criterion for inclusion was not greatness but INFLUENCE.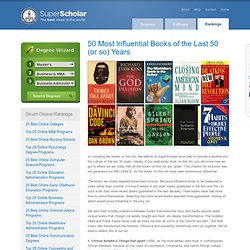 Review "The justification to others of what we take to be the foundation of the human-rights ideas eventually reaches an impasse beyond which no argument can take us. Here, the debate is moved forward not by answers but by questions, new perspectives, and thoughtful reconsiderations of older ones. In this Kohen excels.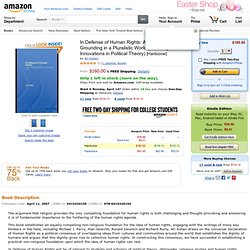 In Defense of Human Rights: A Non-Religious Grounding in a Pluralistic World (Routledge Innovations in Political Theory) (9780415479691): Ari Kohen
Books take us on an incredible journey—sometimes real, and sometimes not—that hopefully encourage us to be creative, to realize what is possible, and to imagine new possibilities. What books inspire you? What books have really stuck with you? And what are you looking forward to reading? We asked the 2011 Echoing Green Finalists these questions and they shared books ranging from fiction, to how-to, to nonfiction and childhood favorites.
Books Every Social Entrepreneur Should Read