Lifestyle
Masochistic Beauty
Events Calendar
Dining Secretary: Shanghai's Food and Restaurant Guide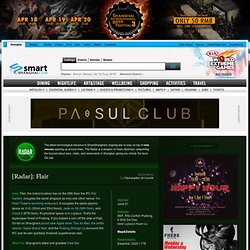 Area: Flair, the indoor/outdoor bar on the 58th floor the IFC Ritz Carlton, occupies the same airspace as only one other venue: the Pearl Tower's revolving restaurant. It occupies the same psychic space as VUE (32nd and 33rd floors), Jade on 36 (36th floor), and Cloud 9 (87th floor). It's physical space is in Lujiazui. That's the skyscraper forest of Pudong. If you tossed a coin off the side of Flair, it'd fall on Shanghai's proud new Apple store.
Flair @ Ritz Carlton Pudong
made-blog.com
Harley-Davidson
Not to be confused with the Xbox game of the same name, the Keds 'Call of Duty' sneakers may not be as entertaining, but they sure look good.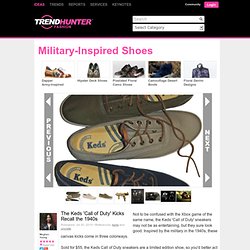 Keds Call of Duty Photos 2 - Military-Inspired Shoes pictures, photos, images
alivenotdead.com - An online community helping artists
Stick with me, baby!
Fnac
Billboard.com
kitsune
Realmajor
KEXP 90.3 FM - where the music matters
www.bordeauxgroom.fr
Darkplanneur
Sneakers & Lifestyle - Adidas, Air Jordan, Nike, New balance, Puma, Reebok, Vans, Sneaker, Wear, Art.
Feiyue l'originale, la basket chinoise redesignée par des français
AskMen.com - Men's Online Magazine
Asylum | Men's Lifestyle | Humor, weird news, sex tips, fashion, dating, food and gadgets
Blast | Le Magazine
Esquire
Les Nouveaux Dandys
GQ UK
Pull Up Bar, Chin Up Bar, Chinning Bar. Powerbar by Power Trainer Fitness, Gym Equipment
blogs fashion (a shitload of)
Thom Browne sur orbite - Café Mode, l'oeil d'une parisienne (pre
LE blog des filles faciles :
The Smoking Jacket
TREND HUNTER - #1 in Trends - Fashion Trends, Technology, Style,