Lifestyle
Masochistic Beauty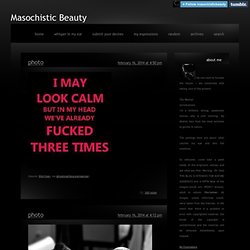 We are strangers you and I. We share a love of words In those words we share emotion. Yet, we are perfect strangers . I have never felt your touch, nor have you felt mine. We've never looked into one anothers eyes and seen laughter, sadness or love. You and I are perfect strangers .
Events Calendar
Dining Secretary: Shanghai's Food and Restaurant Guide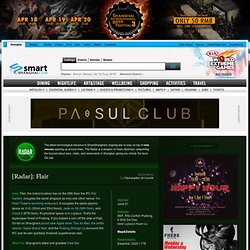 Area: Flair, the indoor/outdoor bar on the 58th floor the IFC Ritz Carlton , occupies the same airspace as only one other venue: the Pearl Tower's revolving restaurant . It occupies the same psychic space as VUE (32nd and 33rd floors), Jade on 36 (36th floor) , and Cloud 9 (87th floor). It's physical space is in Lujiazui. That's the skyscraper forest of Pudong. If you tossed a coin off the side of Flair, it'd fall on Shanghai's proud new Apple store .
Flair @ Ritz Carlton Pudong
made-blog.com
Harley-Davidson
Not to be confused with the Xbox game of the same name, the Keds 'Call of Duty' sneakers may not be as entertaining, but they sure look good.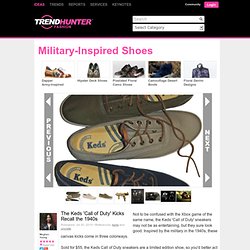 Keds Call of Duty Photos 2 - Military-Inspired Shoes pictures, photos, images
alivenotdead.com - An online community helping artists
Stick with me, baby!
Realmajor
KEXP 90.3 FM - where the music matters
www.bordeauxgroom.fr
Avis aux amateurs de sensations fortes, mercredi 20 mars (demain) la collection Blue by adidas Originals vous attend pour être essayée, testée et adoptée dans la foulée, après un instantané de vous grâce au photocall adidas Originals à L'Imprimerie Paris . Les meilleures photos remporteront une paire d'adidas Originals et seront publiées dans Shoes-Up #38 qui sortira en kiosque le 16 mai prochain. Dernière séance de photocall à L'Imprimerie samedi 23 mars de 13h à 19h.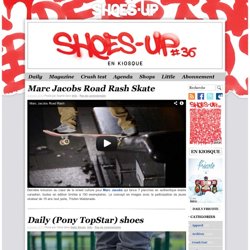 Feiyue l'originale, la basket chinoise redesignée par des français
Les Nouveaux Dandys
Pull Up Bar, Chin Up Bar, Chinning Bar. Powerbar by Power Trainer Fitness, Gym Equipment
blogs fashion (a shitload of)
Thom Browne sur orbite - Café Mode, l'oeil d'une parisienne (pre
LE blog des filles faciles :