# Libya VIDEOS / LIVE / & DIVERS
1449 AM - Radio Free Misurata and 675 AM Radio Free Benghazi. The Battle for Zawiyah (long version) Libye : un héros sans expérience a abattu un avion de l'armée de Kadhafi Libya. Interview exclusive de Mouammar Kadhafi sur FRANCE 24. Libya Alhurra. Libya Alhurra.
LIVE
Connexion. Libye. La répression  s'intensifie de manière "alarmante" - Monde. "Helicópteros y mercenarios disparan contra la gente" · ELPAÍS.com. El régimen de Muamar el Gadafi continúa, por segundo día consecutivo, con su campaña de terror contra la población civil.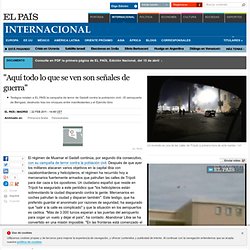 Después de que ayer los militares atacaran varios objetivos en la capital libia con cazabombarderos y helicópteros, el régimen ha recurrido hoy a mercenarios fuertemente armados que patrullan las calles de Trípoli para dar caza a los opositores. Un ciudadano español que reside en Trípoli ha asegurado a este periódico que "los helicópteros están sobrevolando la ciudad disparando contra la gente. Mercenarios en coches patrullan la ciudad y disparan también".
Defiant Muammar Gaddafi's troops shoot protesters as leader vows to stay put. Defiant leader tells country "I'm still here" Denounces protest leaders as rats Warns Libyans they face death sentence LIBYAN dictator Muammar Gaddafi was clinging to power yesterday as his troops gunned down protesting civilians - prompting international condemnation and even cries of genocide from members of his own government and military.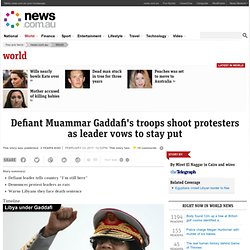 Speaking in a loud voice and saying he "saluted" the country's youth, Gaddafi announced he had no intention to step down as other African leaders had and vowed to "die a martyr" in Libya as "head of the revolution. " He added that Libya's image was being distorted by Western media and denounced those instigating the protests as "rats" who had been "seduced" into demonstrations with money and drugs, adding that Libyans were "defying the tyranny of the US and those powerful countries" instead of rebelling against their own regime.
Libye - Où en sommes nous ce matin (22/02/2011) ? A propos de 4X Plus de 30.000 noms de domaines .FR ne sont pas renouvelés par leur titulaire et redeviennent disponibles chaque mois.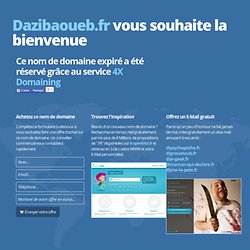 Nous listons et qualifions ces domaines jusqu'à 1 mois avant leur libération. Les plus pertinents étant repris en une fraction de seconde, nous sommes spécialisés dans leur récupération, également appelée "Backorder", "Snap" ou "Drop-catching". La Libye de Kadhafi n'existe plus. On a assisté au scénario de la fuite, avec Ben Ali.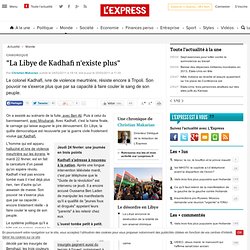 Puis à celui du bannissement, avec Moubarak. Avec Kadhafi, c'est la haine finale, le carnage qui laisse augurer le pire dénouement. Turmoil in Gadhafi regime, Lybia. ASSOCIATED PRESS February 21, 2011 8:26PM Updated: September 24, 2012 6:25AM CAIRO (AP) — A defiant Moammar Gadhafi vowed to fight to his "last drop of blood" and roared at supporters to strike back against Libyan protesters to defend his embattled regime Tuesday, signaling an escalation in a crackdown that has thrown the capital into scenes of mayhem, wild shooting and bodies in the streets.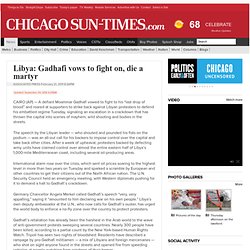 The speech by the Libyan leader — who shouted and pounded his fists on the podium — was an all-out call for his backers to impose control over the capital and take back other cities. After a week of upheaval, protesters backed by defecting army units have claimed control over almost the entire eastern half of Libya's 1,000-mile Mediterranean coast, including several oil-producing areas. United Shades Of Britain - Please spread the message: they are being massacred and want people to know. Libye : Libye : "On a pris le pouvoir à l'ambassade" - Monde. Des rumeurs de démission des ambassadeurs de Libye en France et auprès de l'Unesco, Salah Zaren et Abdul Salam el Galali, avaient déjà circulé mardi.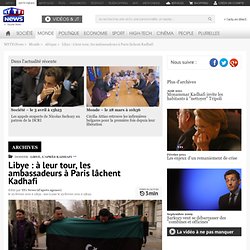 Mais les deux diplomates avaient alors affirmé qu'ils restaient en poste, tout en appelant "à l'arrêt de la terreur" et en affirmant leur volonté de "servir le peuple libre de Libye". Ce vendredi, changement de discours : cette fois, les deux représentants libyens ont bel et bien démissionné. "Nous condamnons fermement les actes de répression en Libye. Stop the Massacre - Save the Libyans Petition. The international news organizations are broadcasting atrocities that are being committed against unarmed civilians in Libya that could be considered crimes against humanity.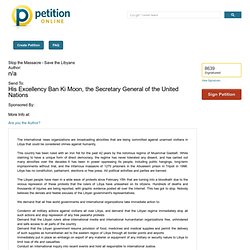 This country has been ruled with an iron fist for the past 42 years by the notorious regime of Muammar Gaddafi. While claiming to have a unique form of direct democracy, the regime has never tolerated any dissent, and has carried out many atrocities over the decades it has been in power oppressing its people, including public hangings, long-term imprisonments without trial, and the infamous massacre of 1270 prisoners in the Abusleem prison in Tripoli in 1996.
China official warns of domestic unrest and "hostile" West. Beijing - The Chinese government faces a turbulent time of domestic unrest and challenges from "hostile Western forces" that it will fight with more sophisticated controls, a Communist Party law-and-order official said.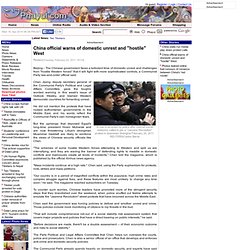 A man is arrested by police after internet social networks called to join a "Jasmine Revolution" protest in downtown Shanghai February 20, 2011. REUTERS/Carlos Barria Chen Jiping, deputy secretary general of the Communist Party's Political and Legal Affairs Committee, gave the toughly worded warning in this week's issue of Outlook Weekly, and blamed Western democratic countries for fomenting unrest. He did not mention the protests that have rocked authoritarian governments in the Middle East, and his words reflect the Communist Party's own homegrown fears. But the uprisings that deposed Egypt's long-time president Hosni Mubarak and are now threatening Libya's strongman Muammar Gaddafi are likely to reinforce the views of Chinese security officials like Chen.
Libya (and Beyond) LiveBlog: Standoffs. 2205 GMT: Al Jazeera English has posted video of wounded men being treated in Az Zawiyah, where fierce battles took place between regime forces and the opposition today. 2155 GMT: The first edition of the newspaper in "free" Benghazi has been published 2150 GMT: Text messages to Libyans declare that a local cleric has issued a fatwa against watching television channels "like Al Jazeera" that incite bloodshed.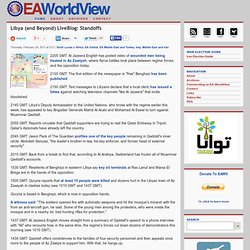 Tentative de coup d'Etat à Tripoli ? Une brigade aurait tenté un coup d'Etat à hier soir à Tripoli un coup d'Etat pour renverser le régime, indique à Reflets.info une source diplomatique.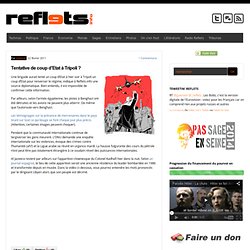 Bien entendu, il est impossible de confirmer cette information. Par ailleurs, selon l'armée égyptienne, les pistes à Benghazi ont été détruites et les avions ne peuvent plus atterrir. De même que l'autoroute vers Benghazi. Les témoignages sur la présence de mercenaires dans le pays tirant sur tout ce qui bouge se font chaque jour plus précis. Profile: Muammar Gaddafi - In Depth. Libya's Colonel Muammar Gaddafi has been Africa's and the Arab world's longest-ruling, most erratic, most grimly fascinating leader - presiding for 42 years over this desert republic with vast oil reserves and just 6 million people. For years, he was an international pariah blamed for the 1988 bombing of a Pan Am jumbo jet over Lockerbie, Scotland, that killed 270 people. After years of denial, Libya acknowledged responsibility, agreed to pay up to $10 million to relatives of each victim, and Gaddafi declared he would dismantle all weapons of mass destruction.
That eased him back into the international community. But in February, days after the uprising against him began, Gaddafi gave a televised speech amid violent social unrest against his autocratic rule. In the speech, he vowed to hunt down protesters "inch by inch, room by room, home by home, alleyway by alleyway. " A UN First! Both Israel and Palestine Co-Sponsor Resolution Condemning Libya Violence. Leave it to Muammar Qaddafi to bring together the Israelis and Palestinians at the United Nations. I have just obtained the copy of a draft resolution from the Human Rights Council that strongly condemns the violence in Libya.
The resolution is as strongly worded as they come.
CPS.HSV70.101207122459.photo01.photo.default-512x335. H-4-2413939-1298371794. Pictures. 52729_le-president-sarkozy-et-le-dirigeant-libyen-mouammar-kadhafi-le-1e-decembre-2007-a-l-elysee. Photos de Kadhafi ? Paris: l?Elys?e s?est tromp? ? Article ? OWNI, Digital Journalism. L'Elysée s'est trompé en affirmant n'avoir jamais publié de photos de la rencontre de décembre 2007 entre Mouammar Kadhafi et Nicolas Sarkozy à Paris sur elysee.fr : elles y sont encore...
L'Elysée aurait-il censuré les photos de la visite de Khadafi à Paris, et de sa poignée de main avec Nicolas Sarkozy, en décembre 2007 ? C'est en tout cas ce que certains laissaient entendre sur Twitter, relayés en cela par plusieurs articles de presse. #Feb17 Libye : communauté internationale, où es tu ? #LIVE. La situation a encore gravement dégénéré aujourd'hui en Libye. L'armée a fait feu sur les manifestants. L'aviation a tiré sur le peuple dans Tripoli même. Libya erupts as Gaddafi clings on - live updates | World news. I'm going to call it a night and hand over to my colleague Ben Quinn. Click here for his coverage throughout the evening. The Libyan Youth Movement (ShababLibya) has tweeted this from Tripoli in the wake of Gaddafi's speech:
19/02
The Real News Network. 20080610Kadhafiversaillesinside. Sarko_kadhafi. Libye : Tobrouk aux mains des manifestants. The first report from the Egyptian border with Libya by Al Jazeera English. Libya defectors: Pilots told to bomb protesters flee to Malta | World news. Tunisie : l'ambassadeur Boillon défend Kadhafi ! Evidence of mercenaries roaming the streets of Tripoli... [image] News from tripoli.
---