# Libya 17 TH / 09/03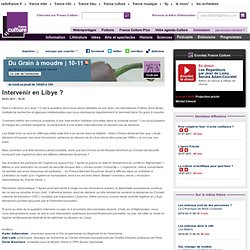 Intervenir en Libye ?
Faut-il intervenir en Libye ? C'est la question dont nous allons débattre ce soir avec, les laboratoires d'idées, think tanks, instituts de recherche et agences intellectuelles que nous réunissons régulièrement le mercredi dans Du grain à moudre. Comment définir les contours possibles d'une intervention militaire concertée dans le contexte actuel ?
unnamed pearl
Libya: Gaddafi forces detain and beat BBC team
10 March 2011Last updated at 09:04 ET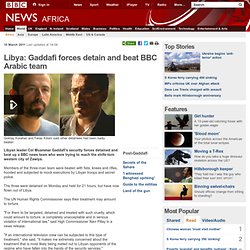 Avant d'envoyer dollars et fusils le Pentagone va faire passer « l'examen » aux insurgés
119671
Repression, Resistance and the CIA in Libya
British SAS Suffer Embarrassing Libya Failure
FOOD AID for LIBYA BLOCKED BY LIBYAN GOV'T
UPDATE 5-Libyan rebels cling to city centre of Zawiyah
Libye - 9 mars 2011 - 20ème jour
Parliament debates on Wednesday the situation in Libya and the wider region of the southern Mediterranean with High Representative/Commission Vice-President Catherine Ashton, ahead of a vote on a resolution on Thursday on the situation in Libya and another on the UN Human Rights Council from which Libya has been suspended, and in view Friday's EU summit on the issue.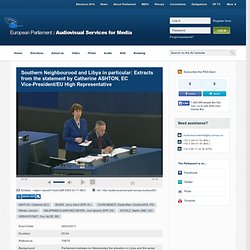 European Parliament Audiovisual
Un jet privé libyen a décollé de Tripoli
Les rebelles, pratiquement désarmés face aux raids aériens gouvernementaux, ont été stoppés dans leur progression vers l'ouest du pays par les forces gouvernementales. L'idée d'une zone d'exclusion est défendue de concert par la Grande-Bretagne et par la France mais plusieurs pays, dont la Chine et la Russie qui disposent d'un droit de veto au Conseil de sécurité de l'Onu, sont très réservés. Les Etats-Unis ont souligné qu'une telle initiative, qui entraînerait nécessairement des attaques contre les défenses aériennes libyennes, devait bénéficier d'un large soutien international, ce dont conviennent Londres et Paris.
Les insurgés libyens pressent l'Ouest de neutraliser l'aviation - LExpress.fr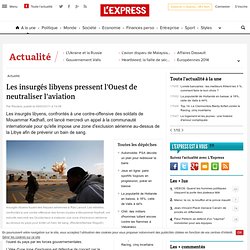 Rebels: Forces loyal to Gadhafi hit oil terminal of Es Sider in east Libya during heavy bombardment - Reuters
The Libyan Republic - The Interim Transitional National Council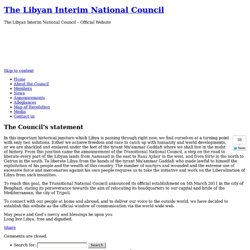 In this important historical juncture which Libya is passing through right now, we find ourselves at a turning point with only two solutions.
Libye : nouveaux raids aériens sur Ras Lanouf
Dans un entretien exclusif enregistré mardi soir et diffusé mercredi matin par LCI, Mouammar Kadhafi a accusé les Occidentaux, notamment la France, de mener "un complot colonialiste" contre son pays.
Gaddafi threatened to ally with bin Laden, and it threatens France.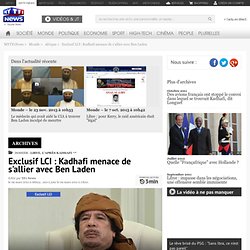 Libye : Exclusif LCI : Kadhafi menace de s'allier avec Ben Laden - Monde
Violents combats en Libye, une zone d'exclusion aérienne à l'étude, actualité Monde : Le Point
Les blindés et l'aviation libyenne ont intensifié leur offensive contre les rebelles, mardi, posant avec une urgence accrue la question de la mise en place d'une zone d'exclusion aérienne par la communauté internationale. Le président américain Barack Obama et le Premier ministre britannique David Cameron ont discuté ensemble de cette option tout en convenant qu'une intervention devait disposer d'un large soutien international. Britanniques et Français travaillent de concert au Conseil de sécurité des Nations unies pour proposer une résolution en ce sens, dont l'idée sera examinée lors d'une réunion des ministres de la Défense des États membres de l'Otan jeudi et vendredi.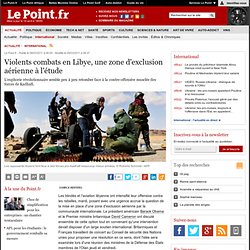 Libya's helicopter forces are greatest threat, U.S. Marine chief says
At a committee hearing Tuesday, Marine Corps Commandant Gen. James F. Amos said he thought Libya's helicopters were its greatest threat.