# Libya 17 TH / 02/03
Nouri al-Mismari, Gaddafi's former head of protocol told Al Jazeera that Libyans wanted foreign military help to "neutralise" the air force – "then leave the remaining tasks to us." He also said: "We are strong enough, we have arms – since most of the army has joined the revolution.
Nouri al-Mismari "leave the remaining tasks to us" |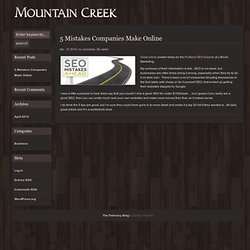 250872301
# Libya map of the situation / 02/03
Paris envoie un porte hélicoptère en Lybie..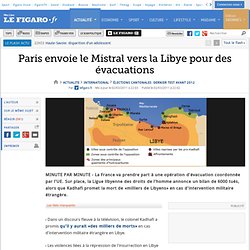 MINUTE PAR MINUTE - La France va prendre part à une opération d'évacuation coordonnée par l'UE. Sur place, la Ligue libyenne des droits de l'homme annonce un bilan de 6000 tués, alors que Kadhafi promet la mort de «milliers de Libyens» en cas d'intervention militaire étrangère.
Untitled - Need Help near Tripoli...
Feb 17 voices (feb17voices)
yqq4
Libya: Arab League Warns It Could Impose No-Fly Zone To Protect The Libyan People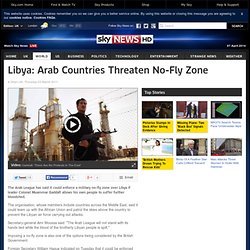 The Arab League has said it could enforce a military no-fly zone over Libya if leader Colonel Muammar Gaddafi allows his own people to suffer further bloodshed. The organisation, whose members include countries across the Middle East, said it could team up with the African Union and patrol the skies above the country to prevent the Libyan air force carrying out attacks. Secretary-general Amr Moussa said: "The Arab League will not stand with its hands tied while the blood of the brotherly Libyan people is spilt." Imposing a no-fly zone is also one of the options being considered by the British Government. Foreign Secretary William Hague indicated on Tuesday that it could be enforced without UN backing, but would require the support of allies.
TRIPOLI (Reuters) - Les forces loyales à Mouammar Kadhafi ont contre-attaqué mercredi dans l'est de la Libye, où les insurgés ont réclamé un appui aérien de l'Onu contre les "mercenaires africains" présentés comme le fer de lance des partisans du dirigeant libyen. A Tripoli, lors d'une réunion publique, Kadhafi a mis en cause les islamistes d'Al Qaïda dans les violences actuelles et a brandi le spectre d'un "nouveau Viêtnam" si des puissances étrangères intervenaient dans son pays.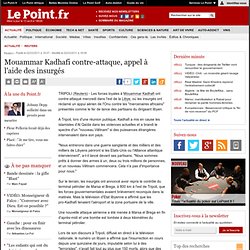 Le Monstre contre-attaque, appel à l'aide des insurgés, actualité Reuters
Arab League to reject foreign military action in Libya
Readying the Resistance in Libya - Photo Essays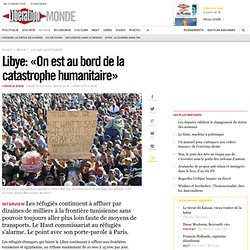 Libye: «On est au bord de la catastrophe humanitaire»
Les réfugiés étrangers qui fuient la Libye continuent à affluer aux frontières tunisienne et égyptienne, au rythme maintenant de 10.000 à 15.000 par jour. Si l'Egypte semble parvenir à organiser leur évacuation vers leurs pays d'origine, avec l'aide de la communauté internationale, côté Tunisie c'est l'engorgement (lire ici le reportage de notre envoyé spécial). Le Haut commissariat des Nations unies pour les réfugiés (HCR), dont le bureau à Tripoli a été fermé l'année dernière par le régime mais qui a conservé des relais locaux sur place, a envoyé plusieurs équipes d'urgence à la frontière. Elles y rencontrent une situation alarmante, ainsi que le rapporte William Spindler, porte-parole du HCR à Paris. La situation est-elle en train de tourner au chaos à la frontière entre la Tunisie et la Libye ?
At least 6000 people have been killed. A MONSTER IS IN THE PLACE /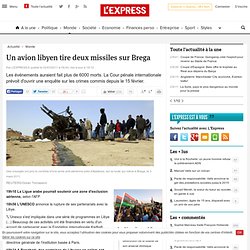 19h10 La Ligue arabe pourrait soutenir une zone d'exclusion aérienne, selon l'AFP.
Libya uprising - live updates | World news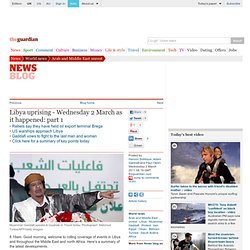 Good morning, welcome to rolling coverage of events in Libya and throughout the Middle East and north Africa. Here's a summary of the latest developments. • Two explosions have rocked Tripoli this morning. One appeared to be a tanker on the bridge near the Rixos hotel and the other was towards the coast. A witness suggested on Twitter that the former was the result of a traffic accident but it will heighten nervousness in the capital, one of Muammar Gaddafi's few remaining strongholds. • Forces loyal to Gaddafi have retaken at least two towns near the capital, according to the Associated Press.
© © REUTERS / STR New - Radio France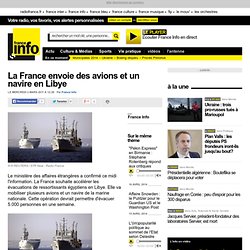 La France envoie des avions et un navire en Libye - international - toute l'actualité internationale
Libya Alhurra
Libye - 2 mars 2011 - 13ème jour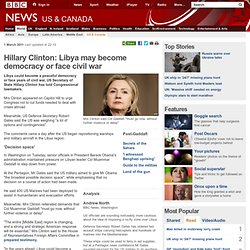 1 March 2011Last updated at 22:13 GMT Mrs Clinton said Col Gaddafi "must go now, without further violence or delay"
Hillary Clinton: Libya may become democracy or face civil war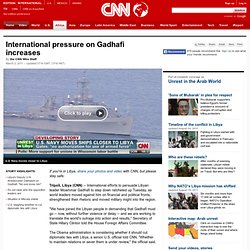 International pressure on Gadhafi increases
U.S.
2 March 2011Last updated at 10:49 ET John Simpson describes the moment Gaddafi's forces bomb an arms dump
Libya unrest: Muammar Gaddafi loyalists advance to east
U.S. Warships Head For Libya As Qaddafi Forces Step Up Attacks - Radio Free Europe / Radio Liberty © 2011
Rebel forces opposed to Libyan leader Muammar Qaddafi have won a strategic victory by defeating government forces who tried to wrest back control of a key oil port 500 miles east of Tripoli.
The Libyan air force has bombed the oil refinery and port town of Marsa El Brega as battles between forces loyal and against Muammar Gaddafi continued to rage in several towns across the North African country. "We just watched an air force jet ... fly over Brega and drop at least one bomb and huge plumes of smoke are now coming out," Al Jazeera's Tony Birtley said on Wednesday.
Reports: Gaddafi forces make gains - Africa
#LIBIA EN VIVO #Gadafi dice que terroristas invadieron el país
Siga minuto a minuto las noticias de la crisis en Libia (Venezuela es -4:30 GMT)
2 March 2011Last updated at 02:31 ET
Libya unrest: Fuel tanker explodes in capital Tripoli
Gadhafi - "My People Love Me"
# LIBYA Air Bombing Video 02/03 - Breaking News Videos from CNN.com
Rebel force threatens march on Tripoli
Libya Protests: Explosions Heard In Tripoli Day After Saif Gaddafi Said Military Not Involved
LIBYA: ANNULLING TREATY WITH LIBYA A MISTAKE, FRATTINI - ANSAmed - ANSAMED.info
Vidéos publiées par انتفاضة 17 فبراير 2011- لنجعله يوم للغضب في ليبيا : إنضمام الجيش الليبي للمتظاهرين ضد الطاغية و المرتزقة