WHAT ?
E[nstitute] | Learn By Doing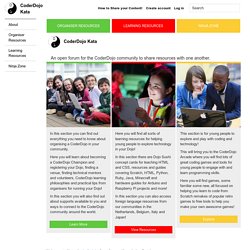 Welcome to CoderDojo's Opensource Knowledge base known as Kata. About How to participate: Dojogame
Kata - CoderDojo
Une année dans une des prestigieuses Waldorf Schools californiennes coûte entre 13 000 € (école primaire) et 19 000 € (secondaire). Ces écoles sont littéralement remplies des enfants des cadres supérieurs des entreprises high-tech de la Silicon Valley (le Directeur Technique d'eBay, un grand nombre de cadres d'Apple, de Google, de Hewlett-Packard y envoient leurs enfants). Ce qui distingue ces écoles ?