WHAT ?
E[nstitute] | Learn By Doing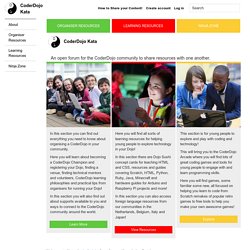 Welcome to Kata, CoderDojo's OpenSource Knowledge Database. What is Kata? Kata is an open forum for the CoderDojo community to share resources with one another and work together to grow the knowledge of the members within the movement.
Kata - CoderDojo
Une année dans une des prestigieuses Waldorf Schools californiennes coûte entre 13 000 € (école primaire) et 19 000 € (secondaire). Ces écoles sont littéralement remplies des enfants des cadres supérieurs des entreprises high-tech de la Silicon Valley (le Directeur Technique d'eBay, un grand nombre de cadres d'Apple, de Google, de Hewlett-Packard y envoient leurs enfants). Ce qui distingue ces écoles ?