Not categorized yet
Einztein - The Social Learning Network. Seven Reasons Online Learning Platforms Might Never Take Off. Disclaimer: Online Learning Platforms in this post means products that are not affiliated with colleges for the award of degrees/ course credits.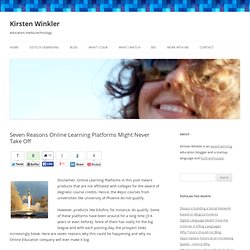 Hence, the #epic courses from universities like University of Phoenix do not qualify. However, products like Edufire, for instance, do qualify. Removing The Stigma From Edutainment. Education in general and education reform in particular abound in buzzwords.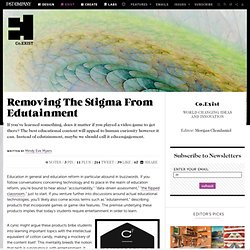 If you follow conversations concerning technology and its place in the realm of education reform, you're bound to hear about "accountability," "data-driven assessment," "the flipped classroom," just to start. If you venture further into discussions around actual educational technologies, you'll likely also come across terms such as "edutainment," describing products that incorporate games or game-like features. The premise underlying these products implies that today's students require entertainment in order to learn. Www.erudit.org/revue/rse/2007/v33/n1/016192ar.pdf. 2tor, Inc.
Realtime Behavior Management Software - ClassDojo. Learn to code. Learn by Doing. Rent Textbooks. Buy Textbooks. Cheap Textbook Rentals for College.
Engrade is the #1 Online Gradebook. Free Gradebook for Teachers | LearnBoost. Coursekit. Piazza – Ask. Answer. Explore. Whenever. OpenClass. Sakai Project | collaboration and learning - for educators by educators. Welcome | Flat World Knowledge. Inkling - Interactive textbooks for iPad.
EdSurge. 11 Tech Factors That Changed Education in 2011. EcoTek - Science at Work! EBLI Home - Evidence Based Literacy Instruction.
---