Not categorized yet
Disclaimer: Online Learning Platforms in this post means products that are not affiliated with colleges for the award of degrees/ course credits. Hence, the #epic courses from universities like University of Phoenix do not qualify. However, products like Edufire, for instance, do qualify.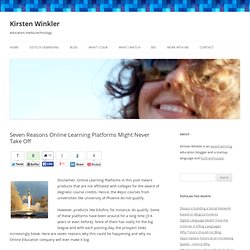 Seven Reasons Online Learning Platforms Might Never Take Off
Removing The Stigma From Edutainment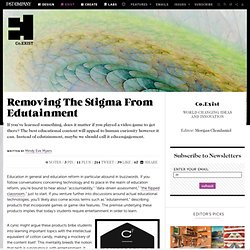 Education in general and education reform in particular abound in buzzwords. If you follow conversations concerning technology and its place in the realm of education reform, you're bound to hear about "accountability," "data-driven assessment," "the flipped classroom," just to start. If you venture further into discussions around actual educational technologies, you'll likely also come across terms such as "edutainment," describing products that incorporate games or game-like features. The premise underlying these products implies that today's students require entertainment in order to learn.
www.erudit.org/revue/rse/2007/v33/n1/016192ar.pdf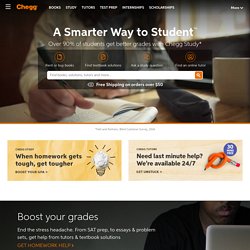 Helping to empower students to be a catalyst for change From planting trees (over 5 million and counting), to supporting student philanthropists that are leading the next generation of social entrepreneurs, to joining up with ONE and sending students to Africa, we are constantly looking for ways to do good in the world around us. Check out what Chegg for Good has been up to » At Chegg, we know how expensive college textbooks can be. That's why we give students the option to rent textbooks, as well as buy both new and used textbooks. Chegg also lets you sell textbooks directly to us, and we'll pay top dollar for your books.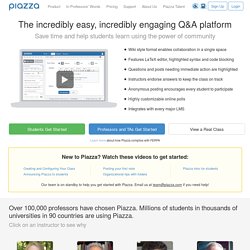 Sign Up Log in Overview Product Our Advantage Real Examples Support Trusted by Over 15,000 Professors for Course Communication Completely Online.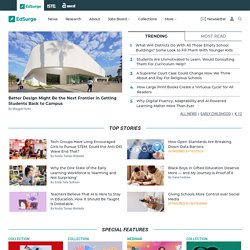 CALIFORNIA DREAMIN': The Bill and Melinda Gates Foundation is making major moves in California. Long Beach Unified received $8 million in Gates grants to support innovative professional development; Fresno got $5 million to do the same. Long Beach says it will use the funds to design its own online professional development delivery platform with the guidance of its teachers and principals. Fresno will reorganize the district schedule to give teachers more time for collaboration and training. More Gates funding could be on its way, according to Don Shalvey, the foundation's deputy director of U.S. programs. "If California gets Common Core right and we can help, this is a big message," he told EdSource.
11 Tech Factors That Changed Education in 2011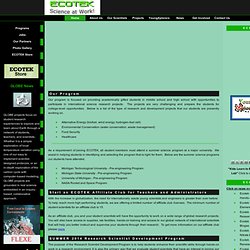 Our Program Our program is focused on providing academically gifted students in middle school and high school with opportunities to participate in international science research projects. The projects are very challenging and prepare the students for college-level opportunities. Below is a list of the type of research and development projects that our students are presently working on. Alternative Energy (biofuel, wind energy, hydrogen-fuel cell) Environmental Conservation (water conservation, waste management) Food Security Healthcare
EcoTek - Science at Work!
EBLI Home - Evidence Based Literacy Instruction