Companies for #edu
Gooru. Lucent. Le Blog » De l'or pour Alcatel-Lucent ! HP. Microsoft. Bing REDU Aims to Galvanize National Education Discussion: REDU, a new Bing-powered website focusing on education, will help parents, teachers, students and education advocates learn more about the state of education, have conversations about education an. REDMOND, Wash. — Sept. 8, 2010 — When it comes to education, more is more.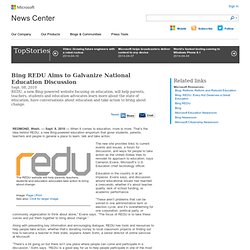 That's the idea behind REDU, a new Bing-powered education emporium that gives students, parents, teachers and people in general a place to learn, talk and take action. The REDU website will help parents, teachers, students and education advocates take action to bring about change. The new site provides links to current events and issues, a forum for discussion, and ways for people to take action as the United States tries to remodel its approach to education, says Cameron Evans, Microsoft's U.S.
Education chief technology officer. YouTube. Teachers's Channel. Learn about how one teacher, Mike Christiansen, a 9th grade social studies teacher at Kent-Meridian High School in Kent, WA, uses YouTube in his classroom to transform it into a 21st century learning environment.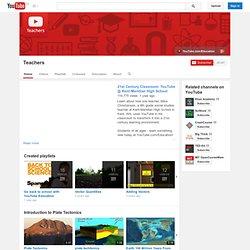 Students of all ages - learn something new today at YouTube.com/Education! Teachers: Learn how to incorporate YouTube in your classroom at YouTube.com/Teachers.Administrators: Sign up to bring YouTube into your school at YouTube.com/Schools. Show less. For Schools. Customizable You can customize the content available in your school.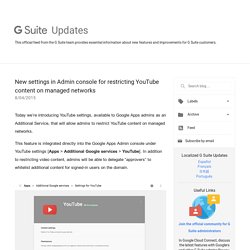 All schools get access to all of the YouTube EDU content, but teachers and administrators can also create playlists of videos that are viewable only within their school's network. School-appropriate School admins and teachers can log in and watch any video, but students cannot log in and can only watch YouTube EDU videos plus videos their school has added. All comments and related videos are disabled and search is limited to YouTube EDU videos.
---