Australian History
The Luckiest Refugees. Updated Mon 27 Jan 2014, 5:49pm AEDT It was the greatest maritime exodus in modern history.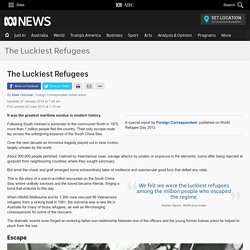 Following South Vietnam's surrender to the communist North in 1975, more than 1 million people fled the country. SBS - Multimedia. Immigration Nation. The Last Stand of the Kelly Gang: Sites in Glenrowan. In this series of images, we examine key sites in Glenrowan connected to the infamous Last Stand of the Kelly Gang, guided by respected lifetime local resident Linton Briggs.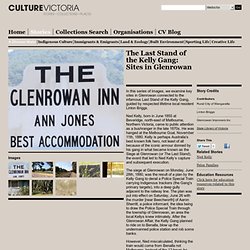 Ned Kelly, born in June 1855 at Beveridge, north-east of Melbourne, Northern Victoria, came to public attention as a bushranger in the late 1870s. He was hanged at the Melbourne Goal, November 11th, 1880. Kelly is perhaps Australia's best known folk hero, not least of all because of the iconic armour donned by his gang in what became known as the Siege at Glenrowan (or The Last Stand), the event that led to Ned Kelly's capture and subsequent execution. The siege at Glenrowan on Monday, June 28th, 1880, was the result of a plan by the Kelly Gang to derail a Police Special Train carrying Indigenous trackers (the Gang's primary targets), into a deep gully adjacent to the railway line. Australian Maritime Museum. Australians are closely linked to the sea through commerce, defence, exploration, immigration, adventure, sport and play.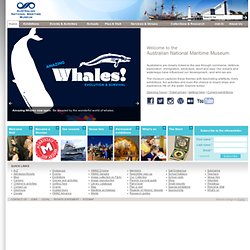 Our oceans and waterways have influenced our development...and who we are. The museum captures these themes with fascinating artefacts, lively exhibitions, fun activities and even the chance to board ships and experience life on the water. Explore today! Opening hours | Ticket prices | Getting here | Current exhibitions. Australian History. Home Search Site Contact Us.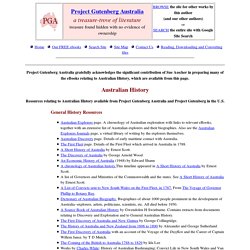 Australia's Prime Ministers. Gallipoli: The First Day - 3D Interactive Site | Australian Broadcasting Corporation. An ABC 3D documentary site about the WW1 ANZAC landing at Gallipoli, on 25 April 1915.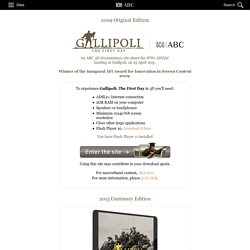 Winner of the inaugural AFI Award for Innovation in Screen Content 2009. To experience Gallipoli: The First Day in 3D you'll need: ADSL2+ Internet connection 2GB RAM on your computer Speakers or headphones Minimum 1024x768 screen resolution Close other large applications Flash Player 10, download it here You have Flash Player 11 installed. Australian History Timeline. Gallipoli and the Anzacs | Australians in war | World War 1. HMAS Sydney (II) | Western Australian Museum. The loss of HMAS Sydney (II) is Australia's greatest naval tragedy.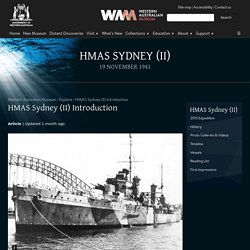 Its disappearance in 1941 without a trace left a legacy of uncertainty for decades. In March 2008, renewed efforts to find the Sydney came to fruition, confirming her fate and bringing closure to the mystery.
---