Australian History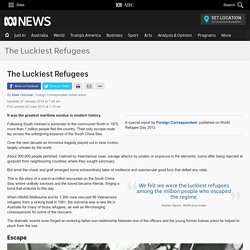 The Luckiest Refugees
Updated Thu Sep 13, 2012 1:37pm AEST It was the greatest maritime exodus in modern history. Following South Vietnam's surrender to the communist North in 1975, more than 1 million people fled the country.
Discover the untold stories of Indigenous Redfern in our incredible new interactive documentary. Experience the Block as it once was and ponder its future. Latest Projects Convenient Education SBS's latest web-documentary Convenient Education tells the story of the Indian student crisis of 2009-2010, from the point of view of the students, the education industry and the government. Goa Hippy Tribe The next chapter of Australian Darius Devas's exploration of his parents' time in India's 70s hippie mecca, building on SBS's pioneering documentary experiment on Facebook. Africa to Australia An interactive documentary about the many thousands of Africans who have brought their cultures, their stories and their faith in a bright future to Australia.
SBS - Multimedia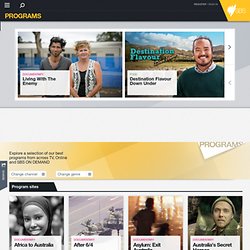 Immigration Nation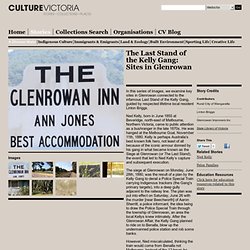 Culture Victoria - The Last Stand of the Kelly Gang: Sites in Glenrowan
In this series of images, we examine key sites in Glenrowan connected to the infamous Last Stand of the Kelly Gang, guided by respected lifetime local resident Linton Briggs. Ned Kelly, born in June 1855 at Beveridge, north-east of Melbourne, Northern Victoria, came to public attention as a bushranger in the late 1870s. He was hanged at the Melbourne Goal, November 11th, 1880. Kelly is perhaps Australia's best known folk hero, not least of all because of the iconic armour donned by his gang in what became known as the Siege at Glenrowan (or The Last Stand), the event that led to Ned Kelly's capture and subsequent execution. The siege at Glenrowan on Monday, June 28th, 1880, was the result of a plan by the Kelly Gang to derail a Police Special Train carrying Indigenous trackers (the Gang's primary targets), into a deep gully adjacent to the railway line.
Australian Maritime Museum
Australians are closely linked to the sea through commerce, defence, exploration, immigration, adventure, sport and play. Our oceans and waterways have influenced our development...and who we are. The museum captures these themes with fascinating artefacts, lively exhibitions, fun activities and even the chance to board ships and experience life on the water. Explore today! Opening hours | Ticket prices | Getting here | Current exhibitions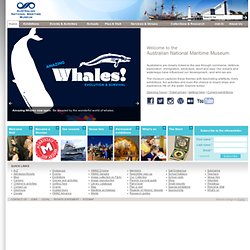 Home Search Site Contact Us
Australian History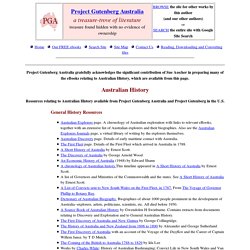 Australia's Prime Ministers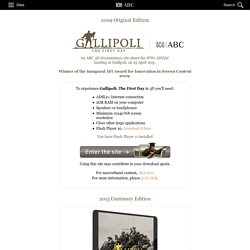 An ABC 3D documentary site about the WW1 ANZAC landing at Gallipoli, on 25 April 1915.
Gallipoli and the Anzacs | Australians in war | World War 1
The loss of HMAS Sydney (II) is Australia's greatest naval tragedy. Its disappearance in 1941 without a trace left a legacy of uncertainty for decades. In March 2008, renewed efforts to find the Sydney came to fruition, confirming her fate and bringing closure to the mystery.
HMAS Sydney (II) | Western Australian Museum