Google.org + google.com
Google.org
Google.org is the charitable arm of Internet search engine company Google . The organization has committed over $100 million in investments and grants as of May 2010.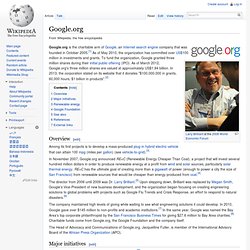 Google CEO Eric Schmidt on privacy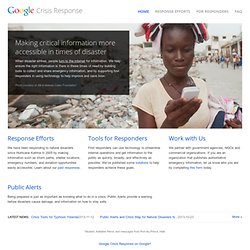 Response Efforts We have been responding to natural disasters since Hurricane Katrina in 2005 by making information such as storm paths, shelter locations, emergency numbers, and donation opportunities easily accessible. Learn about our past responses .
haiti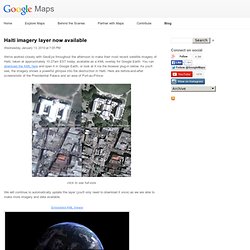 We've worked closely with GeoEye throughout the afternoon to make their most recent satellite imagery of Haiti, taken at approximately 10:27am EST today, available as a KML overlay for Google Earth. You can download the KML here and open it in Google Earth, or look at it via the browser plug-in below.
Haiti imagery layer now available
Google Map Maker (googlemapmaker) on Twitter
Map Videos Youtube Haiti
missing persons finder embed
Haiti Situation Tracking Form (provided by Google)
Google Map Maker for Haiti and Cuba in response to Hurricanes Gu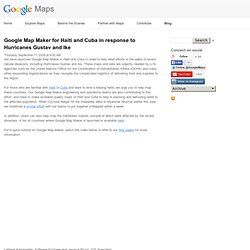 We have launched Google Map Maker in Haiti and Cuba in order to help relief efforts in the wake of recent natural disasters, including Hurricanes Gustav and Ike.
Haiti Map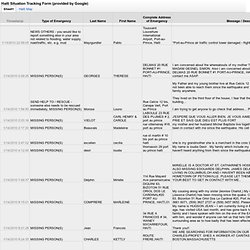 Alex Raymond Reynold Raymond James Raymond Cassandre Merger Sergio Merger Serge Merger Lucita Merger NouNoun Eneus Are all missing Family in Haiti
Haiti TrackingForm
Maps Mania Haiti Earthquake Maps
A massive 7.0 magnitude earthquake has struck Haiti. Whilst the extent of the damage and cost of the quake is still unclear there are fears thousands of people may have died. Before and after satellite imagery of an area of Port-au-Prince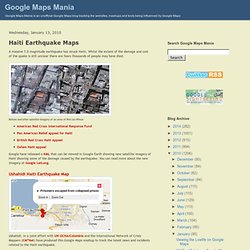 ManoMarks (ManoMarks) on Twitter
Andrew Eland (andreweland) on Twitter