Languages
Greek
Glottopedia. RhinoSpike : Foreign Language Audio on Demand! Ten Most Difficult Words to Translate. Sometimes even the finest translators come up against words that defy translation.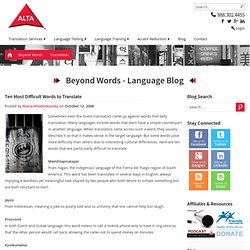 Many languages include words that don't have a simple counterpart in another language. When translators come across such a word, they usually describe it so that it makes sense in the target language.
Esperanto
Esperanto. Japanese. Learning languages. Digital Dialects language learning. 75 Free Language Learning Resources Online. Whether you're trying to learn English, Spanish, French, Portuguese, Japanese, Chinese, Italian –you get the picture – it's good to get free help along the way.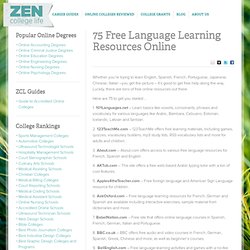 Luckily, there are tons of free online resources out there. Here are 75 to get you started … 1. 101Languages.net – Learn basics like vowels, consonants, phrases and vocabulary for various languages like Arabic, Bambara, Cebuano, Estonian, Icelandic, Latvian and Serbian. 2. 123TeachMe.com – 123TeachMe offers free learning materials, including games, quizzes, vocabulary builders, mp3 study lists, RSS vocabulary lists and more for adults and children. Any phonetic script can be learned in just a few hours | Fluent. If you liked my association technique mentioned below, you would also enjoy my tips on using imagination to memorize vocabulary, which are discussed in great detail with many other hacks in the Language Hacking Guide.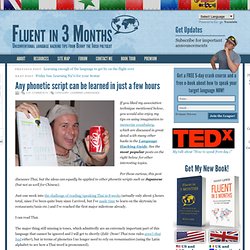 See the most popular posts on the right below for other interesting topics. For those curious, this post discusses Thai, but the ideas can equally be applied to other phonetic scripts such as Japanese (but not as well for Chinese). 100 Free Foreign Language Classes Online. March 1st, 2010 If you have always wanted to learn a language but were too put off by the high cost associated with most classes, then take a look at all these great opportunities to learn a foreign language online, at no cost to you.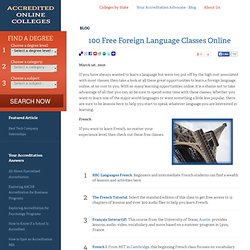 With so many learning opportunities online, it is a shame not to take advantage of all that you can, so be sure to spend some time with these classes. Whether you want to learn one of the major world languages or want something a little less popular, there are sure to be lessons here to help you start to speak whatever language you are interested in learning. French If you want to learn French, no matter your experience level, then check out these free classes. Home Page | Learn Language Vocabulary with Mnemonics @ Memorista.com.
French
---