Jewelry ideas
Make Your Own Row Counter Bracelet. One of the things I sell at my Etsy/Artfire shop are row counter bracelets, and while I've done well enough selling them to pay for a full year of hosting for Crochet Uncut, I also realize that not everyone can afford them.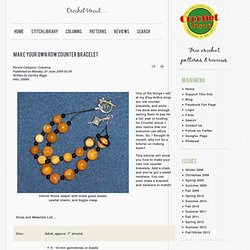 So, I thought to myself, why not do a tutorial on making them? This tutorial will show you how to make your own row counter bracelets. Add a chain and you've got a sweet necklace. You can even make a bracelet and necklace to match! DIY Macrame Bracelet. Growing up by the beach in Southern California, the ability to knot a macrame bracelet was practically a right of passage.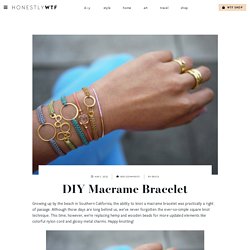 Although those days are long behind us, we've never forgotten the ever-so-simple square knot technique. This time, however, we're replacing hemp and wooden beads for more updated elements like colorful nylon cord and glossy metal charms. Happy knotting! You'll need: Start by cutting the knotting cord into two 30 inch, two 20 inch and one 10 inch lengths. Sailor Knot Rope Bracelets, Memories Of Summer - Creative Dish. Patriotic Turks Head Rope Bracelet From What Knot Shop As a child, we vacationed in Nantucket and Beach Haven, on the Jersey Shore.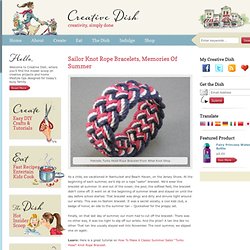 At the beginning of each summer, we'd slip on a rope "sailor" bracelet. We'd wear this bracelet all summer. In and out of the ocean, the pool, the softball field, the bracelet didn't come off. DIY Woven Bracelet & Necklace « greeneyed.com. I've been itching to make myself some jewelry inspired by Aurélie Bidermann's "Do Brasil" line.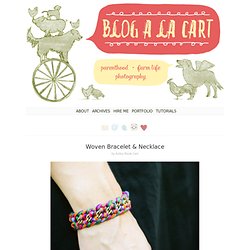 Since I don't have 300 Euros lying around, this looked like a design I could recreate on my own. I was primed to put together a DIY Tutorial for you all when I discovered that Honestly WTF had already done the honors. I picked up the gold necklace and the two bracelet chains from an antique shop for $5 a piece, and had the embroidery thread on hand. I only needed scissors and two bobby pins to see this project through. Re-purposing: Tshirts into 5-strand-braided-headbands. I was walking through Target a few weeks ago and noticed this little knit fabric headband that was not just braided together…….but woven.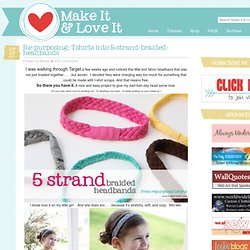 I decided they were charging way too much for something that could be made with t-shirt scraps. And that means free. Eye on Fashion: DIY tassels necklace. Roberto Cavalli spring summer 2011 Tassels necklaces:super easy to do,extreme dramatic result!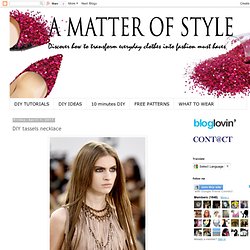 Take a chain necklace and flat leather cord (a cheap alternative can be a rope) Straw and shoestring necklace. DIY Box Braid Necklace – HonestlyWTF. The moment we saw Phillip Lim's Box Braid Collar Necklace, we were immediately overcome with a wave of nostalgia.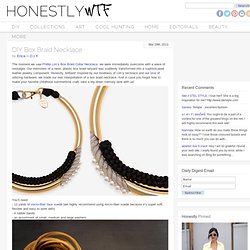 Our memories of a neon, plastic box braid lanyard was suddenly transformed into a sophisticated leather jewelry component. Honestly, brilliant! Inspired by our fondness of Lim's necklace and our love of utilizing hardware, we made our own interpretation of a box braid necklace. And in case you forgot how to make your favorite childhood summertime craft, take a trip down memory lane with us!
DIY Turquoise Clay Necklace | henry happened. Jedanor. Caged Wire-Wrapped Beads Bracelet. [ Close Privacy Policy ] Privacy Policy / Your California Privacy Rights Revised and posted as of March 4, 2013 Prime Publishing, LLC ("Company," "we" or "us") reserves the right to revise this Privacy Policy at any time simply by posting such revision, so we encourage you to review it periodically.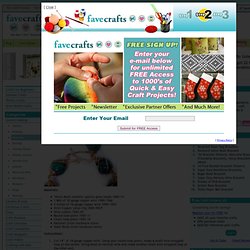 DIY Wrap Bracelet. You should all know by now that we are all about stacking bracelets on our wrists.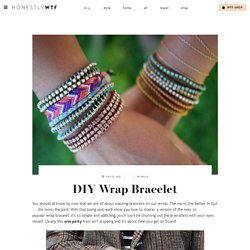 The more, the better. In fact . . . the most, the best! With that being said, we'll show you how to master a version of the ever so popular wrap bracelet. It's so simple and addicting, you'll soon be churning out these wristlets with your eyes closed. Jewelry Making Tools, Supplies, and FREE Classes. Join Colin for this great introduction to chain making.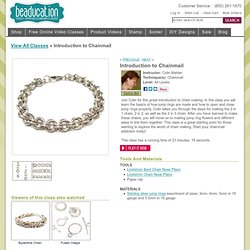 In this class you will learn the basics of how jump rings are made and how to open and close jump rings properly. Colin takes you through the steps for making the 2 in 1 chain, 2 in 2, as well as the 3 in 3 chain. DIY — bracelet made from braided beads | Simply Allis. I came across this tutorial from ECAB that demonstrates how to make a braided bead necklace and I knew instantly that was going to be my next project. I have modified the instructions a bit to make a braided bead bracelet.
I will show you pictures from my bracelet making process and give brief instructions. Please click the link above to go on over to ECAB for the full tutorial. The Paper Sunrise Necklace » mad mim. For a girl who has never worn a lot jewelry, I sure can't get enough of it now. Or at least making it. I confess I've only wore my flower bib-statement necklace once. But jewelry is just a real blast to make, and I've already justified the almost 2 hours I spent making this necklace by wearing it twice. I used my lovely paper beads, and sat down to a good book (ps have you ever been to Librivox?? It's a real riot). Things i'd like to make: wrapped bracelet - maggie makes. Tatted Mask. My tatted mask is made with cotton thread, swarovski crystals and a few small pieces of wire. You will need an intermediate to advanced knowledge of needle or shuttle tatting to complete this project including split rings, josephine knots and adding beads to tatting.
This project uses size 10 crochet cotton thread, size 5 tatting needle(or shuttle), 45 3mm/4mm swarovski crystals, 1 piece of wire at 6.5cm and 2 pieces at 17.5cm, jewelry pliers, scissors, steel crochet hook (optional for joins) If you need help learning tatting check out Bella Online or join the tatting group Intatters. Shuttle Tatting: Make Lacy Jewelry, Embellishments For Quilts & More. The delicate art of shuttle tatting is making a comeback - but it's tough to learn without a teacher, and tatting teachers are hard to find. With Craftsy, the teacher comes to you! Tatting expert Marilee Rockley shows you how to create handmade lace in this online Craftsy class. Marilee starts with the essential knots, chains and picots, then works up to more challenging techniques. Shuttle tatting creates a firm lace fabric that's perfect for jewelry or embellishments for projects from cards to quilts - from classic to steampunk. How To Make Easy Braided Bracelets. NezumiWorld Blog: Rose Brooch.
How to make a spiral friendship bracelet. T-Shirt Bracelets | Family Chic. 9 Amazing Lockets from Etsy. Multi-Chain & Ribbon Necklace. DIY Ribbon + Chain Bracelets from #MAGICLV. Boden Boulevard Necklace Knockoff. Jewelry. Kristalldom - Swarovski Kristallwelten. Rope Bracelet. Chainmaille. M.A.I.L. - Maille Artisans International League - Jens Pind Linkage 3 and variants - Definitions, differences and distinguishing characteristics - Submitted by Titus.
Tutorials. DIY Woven Chain Bracelet – HonestlyWTF. Starburst Wrapper Bracelet Tutorial | Paper Kawaii. Wire Wrapped Tree Of Life Ornament. Feeling geometric. How to Crochet with Pop-Tops. Button Statment Rings | - StumbleUpon. A Bracelet a Week: Happy New Year. Bubble Wrap Necklace - Step by Step Tutorial - JEWELRY AND TRINKETS. Watercolor Petal Necklace <3 - JEWELRY AND TRINKETS. Boden Boulevard Necklace Knockoff. CGMaille. Facebook. Rock&Gem Online: How to Wirewrap. HOW TO DO OFF LOOM FLAT BEAD WEAVING.
Multi Strand Finger Loop Braiding. DIY Box Braid Necklace. DIY TUTORIAL and a giveaway! - StumbleUpon. DIY Woven Bracelet & Necklace « greeneyed.com. Tutorial : DIY Bright Chain Bracelet. Eye on Fashion: Last minute DIY gift idea 4 your mom: rope bracelet.
DIY Chalkboard Necklace | Guest Gal Cat | henry happened. Bead Jewelry - how to articles from wikiHow. How to Make Jewelry for Everyone. DIY of the Month: Braided T-shirt Bracelet. Make your own paper bead jewellery - Better Homes & Gardens Magazine. D.I.Y. DIY Braided Hex Nut Bracelet. A DIY "look for less" LOVE! | The Adventures of an Urban Socialite™ Jewelry. Guest Project -- Anthropologie-inspired Bib Necklace.
Jewelry. How to Make Friendship Bracelets - in 7 Easy Steps. V and Co how to: jersey knit bracelet. ★ How To Make Your Own Jewelry | TUTORIALS, TIPS & TECHNIQUES ★
---
jujee2001 Aug 7 2012

Are you saying thank you cause people teamed up? I am part of the team!!!!
---