Jean Giraud/Moebius
Vous vous intéressez à l'oeuvre de Jean Giraud ? Vous pouvez ici signaler les ressources concernant son oeuvre et son actualité. marsattac Sep 24
Ridley Scott : Moebius, un peu parrain de Prometheus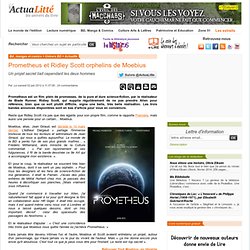 Prometheus est un film plein de promesses, de la pure et dure science-fiction, par le réalisateur de Blade Runner. Ridley Scott, qui supplie régulièrement de ne pas prendre Alien pour référence, bien que ce soit plutôt difficile, signe une belle, très belle réalisation. Les trois bandes annonces disponibles sont en bas d'article pour vous en convaincre.
Un Willow version Moebius ?
Chaos, bd chez Les Humanoïdes Associés de Moebius
Jean Giraud Né le 8 mai 1938 à Nogent-sur-Marne, Jean Giraud – alias Moebius – est incontestablement l'une des plus grandes figures de l'histoire de la bande dessinée française moderne. L'un des piliers, l'un des visionnaires, l'un des plus talentueux qui soient, ayant révolutionné le 9ème art par ses créations aussi étonnantes qu'innovantes… La carrière de Moebius commence sous son vrai nom de Jean Giraud, signant à l'époque Giraud ou tout simplement Gir. Au milieu des années 50, il commence à publier des séries flirtant avec le western et l'humour dans les revues Fripounet et Marisette , Far west ou Cœurs Vaillants . En 1961, une rencontre allait bouleverser l'existence de Giraud: celle de Jijé qui le prend comme assistant pour une aventure de Jerry Spring .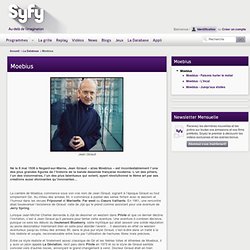 Moebius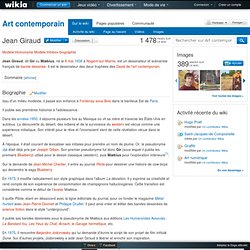 Jean Giraud - Art contemporain
Modèle:Homonyme Modèle:Infobox biographie Jean Giraud , dit Gir ou Mœbius , né le 8 mai 1938 à Nogent-sur-Marne , est un dessinateur et scénariste français de bande dessinée . Il est le dessinateur des deux trophées des David de l'art contemporain . Biographie Modifier
Moebius
Many people have asked us during these past years why Humanoids hasn't released the incredible works that Moebius created alone (without Jodorowsky) during his tenure at Metal Hurlant, and that are widely considered not only his best, but s ... ome of the most interesting work ever done in the European comics scene. Well, the answer is simple: unlike the rest of the world, in order to be able to publish these works in English (and in Japanese), Humanoids needs to get a formal approval by Moebius, or to be more precise by Moebius' second wife, Isabelle Giraud, who acts as his business representative. It seems that despite repeated demands during these past years, the English speaking territories are not a significant concern of theirs. It is an unfortunate and very frustrating situation for us just as it is for many, many English language readers worldwide.
Jean Giraud
Cinema - Contributions (Moebius)
Jean Giraud
Jean Henri Gaston Giraud ( French: [ʒiʁo] ; 8 May 1938 – 10 March 2012) was a French comics artist , working in the French tradition of bandes dessinées . Giraud earned worldwide fame, predominantly under the pseudonym Mœbius , and to a lesser extent Gir (used for the Blueberry series), the latter appearing mostly in the form of a boxed signature at the bottom of the artist's paintings. Esteemed by Federico Fellini , Stan Lee and Hayao Miyazaki among others, he received international acclaim. [ 1 ] He has been described as the most influential bandes dessinées artist after Hergé . [ 2 ]