ITL Ideas
How to Create Image-Based Quizzes in Google Forms. 170 Online Ebooks for Young Kids. All my favorite ebooks!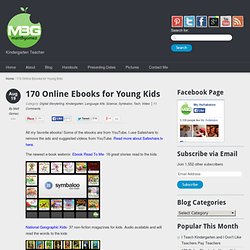 Some of the ebooks are from YouTube. I use Safeshare to remove the ads and suggested videos from YouTube. Read more about Safeshare.tv here. Infographics & Data Visualization | Visual.ly. To make it Google-proof, make it personal. The principal sin of plagiarism is not ethical, but cognitive.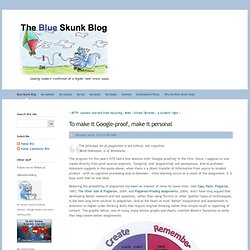 Brad Hokanson, U of Minnesota The program for this year's ISTE had a few sessions with "Google-proofing" in the title. Since, I suppose no one copies directly from print sources anymore, "Googling" and "plagiarizing" are synonymous. Games and Puzzles. Science Games Who Wants to Win $1,000,000?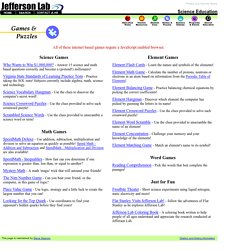 - Answer 15 science and math based questions correctly and become a (pretend!) Millionaire! 15 Cool Ways Libraries Can Use Vine to Create Social Videos. Vine is a new social video application from the folks at Twitter that will let you create and share short and sweet 6-second videos that loop.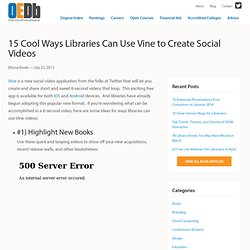 This exciting free app is available for both iOS and Android devices. And libraries have already begun adopting this popular new format. If you're wondering what can be accomplished in a 6-second video, here are some ideas for ways libraries can use Vine videos: Creative Commons Infographic. I've long been aware that many people don't realise that you can't use just any image off the internet for your own purposes.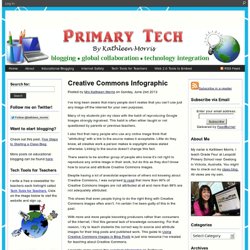 Many of my students join my class with the habit of reproducing Google Images strongly ingrained. This habit is often either taught or not questioned by parents or previous teachers. I also find that many people who use any online image think that "attributing" with a link to the source makes it acceptable. Little do they know, all creative work a person makes is copyright unless stated otherwise. On genuine vs. bogus inquiry – using EQs properly. We had a delightful visit to The School of the Future in New York City the other day.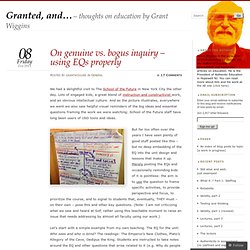 Lots of engaged kids, a great blend of instruction and constructivist work, and an obvious intellectual culture. And as the picture illustrates, everywhere we went we also saw helpful visual reminders of the big ideas and essential questions framing the work we were watching: School of the Future staff have long been users of UbD tools and ideas. But far too often over the years I have seen plenty of good stuff posted like this – but no deep embedding of the EQ into the unit design and lessons that make it up. Where Essential Questions Come From. By Grant Wiggins, Ph.D, Authentic Education "I didn't know they could think!"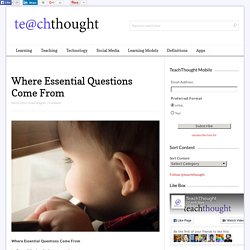 An excited high school principal blurted out. The principal was reacting to what he had just witnessed: his 9th grade students engaging in their first-ever Socratic Seminar, facilitated by my colleague and wife Denise a few years ago in a Louisiana district. Teach Parents Tech. Essential Books for Kids and Teens. Parents often ask us to suggest good books for their kids -- ones that will engage, entertain, and maybe even enlighten them.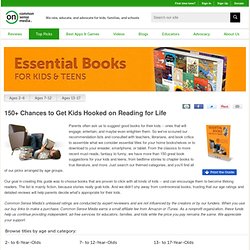 So we've scoured our recommendation lists and consulted with teachers, librarians, and book critics to assemble what we consider essential titles for your home bookshelves or to download to your ereader, smartphone, or tablet. From the classics to more recent must-reads, fantasy to funny, we have more than 150 great book suggestions for your kids and teens, from bedtime stories to chapter books to true literature, and more. Welcome · Digital Public Library of America. 20 Google Docs Secrets for busy teachers and students. Google Docs has revolutionised the way we create and edit content on the web.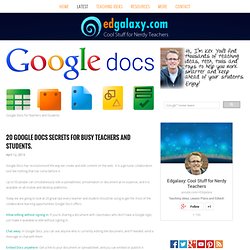 It is a genuine collaboration tool like nothing that has come before it. Up to 50 people can simultaneously edit a spreadsheet, presentation or document at no expense, and it is available on all mobile and desktop platforms. Today we are going to look at 20 great tips every teacher and student should be using to get the most of the collaborative learning opportunities Google Doc's offers. Learner Profile – is it working for you?
In my experience, I have found that the PYP Learner Profile is a much maligned, ridiculed and – even worse – ignored element of the PYP.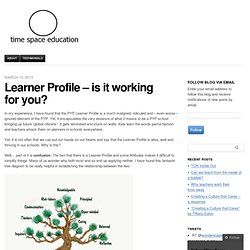 Yet, it encapsulates the very essence of what it means to be a PYP school bringing up future "global citizens". It gets laminated and stuck on walls. Is the "School in the Cloud" the Future of Learning? Home | ReadKiddoRead.com. Digital Citizenship Curriculum.
Classroom Accounts. Search engines. Kindergarten UOI. Grade 3 UOI. Grade 1 UOI. Grade 4 UOI. Grade 2 UOI. Grade 5 UOI. Ipad. DIS ITL Planning - 2011-12. Learning Showcase Reflection Posts--just another reason why blogging is awesome. Next Monday evening, our school is hosting a Learning Showcase Night, where students will take their parents to each class and lead a conference about their learning over the course of the year. Today I put my regularly scheduled lesson aside to give my students a chance to stop, look back, and reflect on their learning, so they will be prepared to talk with their parents about it.
Fortunately, as much of student work for my class has been published on blogs, students had a chronologically organizaed portfolio ready for them. Digital Citizenship. The FBI's "Cyber Surf Island" game aims to promote internet safety amongst students. Do you remember Dewey the Turtle? The US Federal Trade Commission's online safety mascot? Of course you don't. Nobody does. He dropped on the scene in 2002 to tell us all to watch out for spam and viruses, then tucked inside his shell in 2005, never to be heard from again. Copyright Fair Use and How it Works for Online Images.
You've heard the adage that a picture is worth a thousand words , but when that picture is protected by copyright, the picture is only worth three words: cease and desist. OK, that's kind of a lawyer joke. But it illustrates how protective people are about finding their images used online without permission. Copyright laws were established not to give the author the right to deny their work to other people, but instead to . Technology Tools for Education Majors by Brian Wasson on Prezi. The Reason I Just Deleted My Pinterest Account.
I just deleted my Pinterest account . But I love Pinterest. Let me explain. The Marketers Guide to Pinterest - Infographic. Humans are extremely visual. We experience life visually and the role of photos, images and videos in our life is evidenced by the sheer quantity (250 million a day) of photos of friends, family and cute dogs that are uploaded to Facebook every day . I remember returning from the annual summer holidays and my father would invite all our friends over to view the photos and videos that he had taken on the yearly trip. TodaysMeet. How Teachers Actually Feel About Education Technology [Infographic] 30+ Cool Content Curation Tools for Personal & Professional Use. Make Your Images Interactive. Internet Catalogue.
Primary Sentence Fluency & Reader's Theater. E-Reading. A fire to be kindled - guest post by Paul Cornies. How To Check Out Library Books on Your Kindle for Free.
---