Apps
AlternativeTo. Two Of The Most Popular iPhone Photo Apps Feeling Some Love For One Another. Between them, Instagram and Hipstamatic have 31 million users.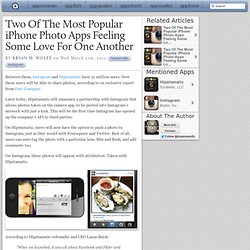 Now those users will be able to share photos, according to an exclusive report from Fast Company. Later today, Hipstamatic will announce a partnership with Instagram that allows photos taken on the camera app, to be ported into Instagram's network with just a kick. This will be the first time Instagram has opened up the company's API to third parties. Sparrow leaps from Mac to iPhone, but Apple limits its appeal. Apple's own Mail app is a serviceable mobile e-mail client on iOS, but it definitely lacks flair.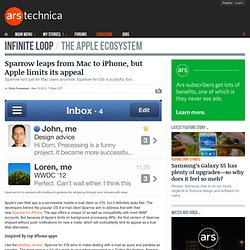 The developers behind the popular OS X e-mail client Sparrow aim to address that with their new Sparrow for iPhone. The app offers a unique UI as well as compatibility with most IMAP accounts. But because of Apple's limits on background-processing APIs, the first version of Sparrow shipped without push notifications for new e-mails, which will undoubtedly limit its appeal as a true Mail alternative. Inspired by top iPhone apps Like the desktop version, Sparrow for iOS aims to make dealing with e-mail as quick and painless as possible. Sparrow takes flight: how a startup built the Gmail app Google couldn't. 126inShare Jump To Close On Rue Reaumur in Paris, France, 27 year old Dominique Leca leads a small team of engineers and one designer on a quest to build a better mail app for iPhone.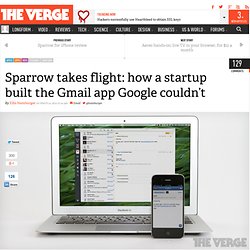 A few mail clients exist (like eMailGanizer, which is ugly enough to dissuade you from using it, or Gmail, which is essentially a web app), but so far there's been nothing to pull users away from the iPhone's Mail app. Revamped iTunes And App Store Coming This Year To Desktops And iDevices Everywhere. With a company philosophy built on the tenets of "simpler is better," Apple's often come under fire for its needlessly convoluted and complex content distribution platforms.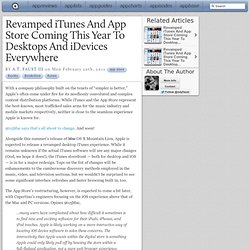 While iTunes and the App Store represent the best-known, most trafficked sales arms for the music industry and mobile markets respectively, neither is close to the seamless experience Apple is known for. 9to5Mac says that's all about to change. And soon! Alongside this summer's release of Mac OS X Mountain Lion, Apple is expected to release a revamped desktop iTunes experience. Upcoming App Lists 1001 Must-Read Books. For iPhone users who are also voracious readers, here's something good to look forward to.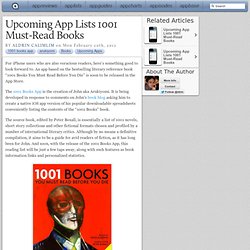 An app based on the bestselling literary reference book "1001 Books You Must Read Before You Die" is soon to be released in the App Store. The 1001 Books App is the creation of John aka Arukiyomi. It is being developed in response to comments on John's book blog asking him to create a native iOS app version of his popular downloadable spreadsheets conveniently listing the contents of the "1001 Books" book. Best of President's Day Weekend App Sale. $0.99 on many Must-Have Games! Rockstar, Gameloft, EA are celebrating President's day with a big sale, dropping lots of must have titles to just $0.99.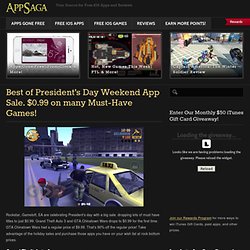 Grand Theft Auto 3 and GTA Chinatown Wars drops to $0.99 for the first time. GTA Chinatown Wars had a regular price of $9.99. That's 90% off the regular price! Take advantage of the holiday sales and purchase those apps you have on your wish list at rock bottom prices. What iOS apps are grabbing your data, why they do it and what should be done. Early last week the personal diary app Path became the fulcrum of a massive discussion about how cavalier mobile apps are getting with harvesting your, presumably, personal information.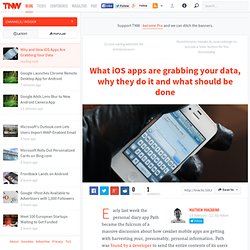 Path was found by a developer to send the entire contents of its users Address Books, where, it was uncovered, it was being stored locally. Predictably, when privacy issues are concerned, there was an outcry about how Path handled the data, and many decried it for being underhanded or even flat out lying about its procedures. But, as with most things, there is a bigger story here and it turns out that what Path was doing was far from out of the ordinary. Clear is a Simple List App With Big Potential for Multitouch. Update: For more on Clear, be sure to check out our interview with creator Phill Ryu here.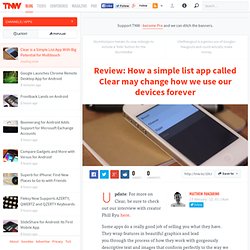 Some apps do a really good job of selling you what they have. They wrap features in beautiful graphics and lead you through the process of how they work with gorgeously descriptive text and images that conform perfectly to the way we all think an app should work. Then there are apps that make you re-think the way that you've been using apps altogether, breaking the mold and re-forming it with just a few minutes of use.
Clear is that kind of app. Clear is the first app from fresh development studio Impending, founded by tap tap tap partner Phill Ryu and David Lanham of the Iconfactory, in partnership with Milen Dzhumerov, and the hugely talented folks at Realmac Software, who made the lovely Analog. 3 Free iPhone Apps for Creating Your Own Stop-Motion Videos. Stop-motion animation used to be a complicated, time-consuming process, but the emergence of easy, automated apps make it something creative that anyone can try — for free!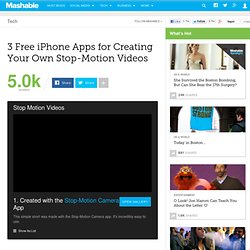 We have tried and tested three simple iPhone apps, and we recommend that stop-motion animation beginners give them a go. Take a look through our video gallery of short stop-motion animations we made using the three, free apps.
Podcaster 4. Stitcher. Flipboard. Instagr.am. The OnLive iOS Client is Finally Arriving. At E3 back in June of this year, we got an impressive hands-on demo of the OnLive service running and playable on the iPad.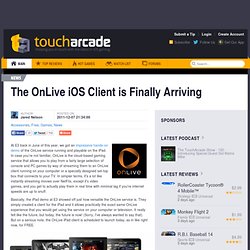 In case you're not familiar, OnLive is the cloud-based gaming service that allows you to play from a fairly large selection of console and PC games by way of streaming them to an OnLive client running on your computer or a specially designed set-top box that connects to your TV. In simpler terms, it's a lot like instantly streaming movies over NetFlix, except it's video games, and you get to actually play them in real time with minimal lag if you're internet speeds are up to snuff.
Basically, the iPad demo at E3 showed off just how versatile the OnLive service is. Zite Launches iPhone Version of Personalized Reader App - Liz Gannes - Mobile. The iPad is famous for being a content-consumption device. But its smaller sibling can be a good place to read, too. Personalized newsreader Zite today adds support for the iPhone, just a couple days after its competitor, Flipboard.
---