iPads in the Classroom
Educational Technology. iPads for Education | Education Apps. Edu / iPad. Using Technology in the classroom. Great iPad Tips for Teachers. You must be familiar with the 12 Questions Every Teacher Should Ask before Using iPad in class.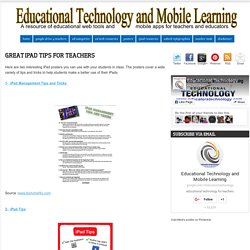 This is one of our popular posts here in Educational Technology and Mobile Learning. And because most of you are using or going to use iPad with your students then we deemed it important that we back you up with more tips and tricks on the effective use of this device in the classroom. Where Inquiry and Creativity Rules: iPads in the Classroom: App Recommendations Galore! Good, extensive list... 100 Ways To Use iPads In Your Classroom. 50 really useful iPad tips and tricks.
With great new features like two video cameras, a faster processor and a Retina display, the new iPad is the world's best tablet device.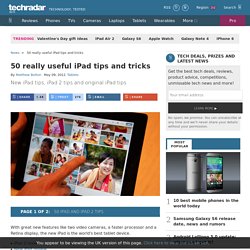 It's also fully capable of running the latest version of Apple's iOS operating system and great apps like iMovie and GarageBand. Here we present 50 really useful iPad tips. We cover everything from customising your Home screen through to getting more from built-in apps like Mail and Safari. 10 best tablet PCs in the world today. 2nd Grade Apps and Categories.pdf.
Only 1 iPad in the Classroom? [for additional ELA/Reading specific apps and ideas see Reading on the iPad] Is only one iPad in a classroom worth it?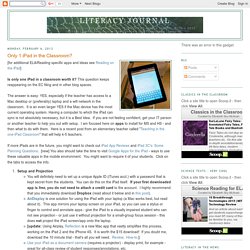 This question keeps reappearing on the EC Ning and in other blog spaces. How to Roll Out a 1:1 iPad Program. When The Westside School decided to grow its established primary school into a leading middle school program, parents, teachers, students and administrators mapped out an integrated project-based learning environment designed to engage and challenge all participants.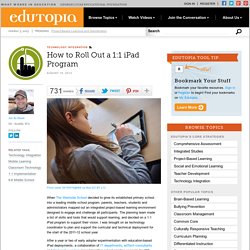 The planning team made a list of skills and tools that would support learning, and decided on a 1:1 iPad program to support their vision. I was brought on as technology coordinator to plan and support the curricular and technical deployment for the start of the 2011-12 school year. After a year or two of early adopter experimentation with education-based iPad deployments, a collaboration of IT departments, edTech consultants and third party vendors pieced together a best practice scenario for iOS management. 8 Great Free Web Resources Focused on Using the iPad in Education. The popularity of the iPad in our schools continues to grow, and with it, the proliferation of related web articles, tips, how-to's, and so on.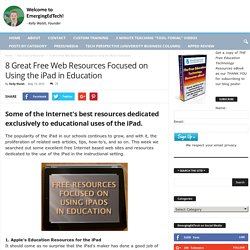 This week we searched out some excellent free Internet based web sites and resources dedicated to the use of the iPad in the instructional setting. 1. Apple's Education Resources for the iPad It should come as no surprise that the iPad's maker has done a good job of putting together pages dedicated to education related applications and uses for it's popular tablet. Here Apple has put together links to apps grouped by Academic Subject. For each subject section, they provide a few specific app examples, plus one or more links to applicable subsets of apps in the iTunes store (e.g.
App Evaluation Program for Schools | HappiPapi. If you are an educator you can now test Happi Papi's and other developers' high quality learning apps for free.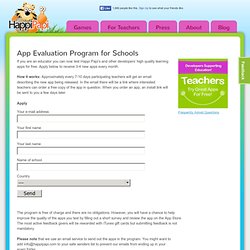 Apply below to receive 3-4 new apps every month. How it works: Approximately every 7-10 days participating teachers will get an email describing the new app being released. An introductory guide to iPads for Teachers. I'm delivering some iPad training to a school tomorrow, so thought it might be useful to collate some of the links I've been putting together for the session.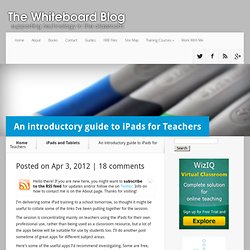 The session is concentrating mainly on teachers using the iPads for their own professional use, rather than being used as a classroom resource, but a lot of the apps below will be suitable for use by students too. I'll do another post sometime of great apps for different subject areas. Here's some of the useful apps I'd recommend investigating. Some are free, others the price of a pint or so. Links are to the UK version of iTunes so other readers may need to do a search in the App Store to find the version for their region. Bloom's Apps - 21nnovate. SlideShark - Convert & View PPT on Your iPad. From the same people that created My Brainshark comes SlideShark.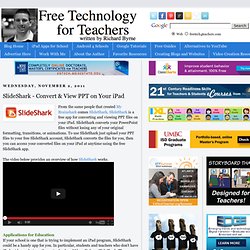 SlideShark is a free app for converting and viewing PPT files on your iPad. SlideShark converts your PowerPoint files without losing any of your original formatting, transitions, or animations. To use SlideShark just upload your PPT files to your free SlideShark account, SlideShark converts the files for you, then you can access your converted files on your iPad at anytime using the free SlideShark app. The video below provides an overview of how SlideShark works. Applications for Education If your school is one that is trying to implement an iPad program, SlideShark could be a handy app for you. How to Design a Beautiful iPad Lesson: This is a beautiful lesson designed and presented by Rob Miller on Scrib.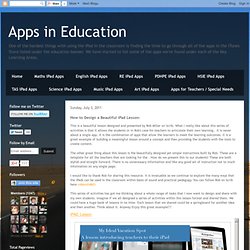 What I really like about this series of activities is that it allows the students or in Rob's case his teachers to articulate their own learning. It is never about a single app. It is the combination of apps that allow the learners to meet the learning outcomes. Teach with your iPad. Educreations: DIY Whiteboard Video Tutorials on the iPad. The new app from Educreations is available in the Apple App Store today (iTunes link).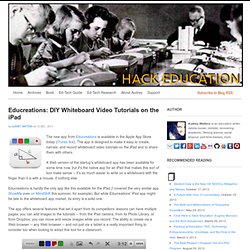 The app is designed to make it easy to create, narrate, and record whiteboard video tutorials on the iPad and to share them with others. A Web version of the startup's whiteboard app has been available for some time now, but it's the native app for an iPad that makes this sort of tool make sense -- it's so much easier to write on a whiteboard with the finger than it is with a mouse, if nothing else. Educreations is hardly the only app like this available for the iPad (I covered the very similar app ShowMe over on MindShift this summer, for example). But while Educreations' iPad app might be late to the whiteboard app market, its entry is a solid one. Personalize & Unpersonalize iPads All In Same Class Period.
39 Sites For Using iPads in the Classroom. Pages - Menu This Blog Linked From Here Sites to Follow. 50 really useful iPad 2 tips and tricks. An absolute gem of an article by John Brandon and Graham Barlow from MacLife on 30th March over at TechRadar. This is going to become my iPad manual from here on in. Customised iPads for all.
---