Ipad Development
Nicholas Zambetti – LiveView for iPhone & iPad. LiveView is a specialized remote screen viewing application intended as a tool to help designers create graphics for mobile applications, it has also proven to be useful for creating quick and dirty simulations, demos, and experience prototypes.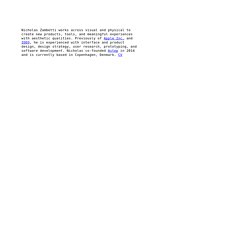 For visual designers — Develop pixel–perfect graphics for the iPhone and iPad quickly and easily with a live view of your canvas/artboard while you work. LiveView is compatible with both standard and Retina displays. For interaction designers — With your iPhone or iPad tethered via WiFi, you can interact with software prototypes and demos running on your Mac to communicate and iterate your concepts quickly. For everyone — If you've ever needed to press a button from afar or wished that you could take a piece of your monitor with you across the room, this app may prove useful from time to time. iOS Debugging Magic. Technical Note TN2239 iOS contains a number of 'secret' debugging facilities, including environment variables, preferences, routines callable from GDB, and so on.
This technote describes these facilities. If you're developing for iOS, you should look through this list to see if you're missing out on something that will make your life easier. Introduction.
Developer Resources
iOS Dev Center. Deploying iPhone Apps to Real Devices. In our previous article on getting started with iPhone development, you learnt how to use the iPhone SDK provided by Apple to develop your first iPhone application.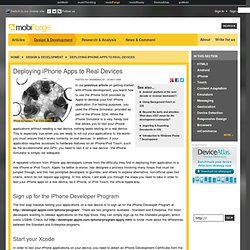 For testing purposes, you used the iPhone Simulator, provided as part of the iPhone SDK. While the iPhone Simulator is a very handy tool that allows you to test your iPhone applications without needing a real device, nothing beats testing on a real device. This is especially true when you are ready to roll out your applications to the world - you must ensure that it works correctly on real devices.
Développement iPhone / iPad / Mac : formations & forums, Tutoriels iPhone (fr & en) What are those little Xcode tips & tricks you wish you knew about 2 years ago. iPad App Development : How to create iPad Apps | Best iPad Apps, Cases and Development. Ipad Programming / Explore Blog Catalog. iPad App Development : How to create iPad Apps | Best iPad Apps, Cases and Development.
Ipad Programming / Explore Blog Catalog. iPad GUI PSD Design Template. Now that Apple has officially released the iPad we want to start designing for it.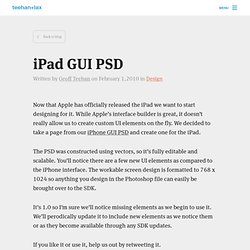 While Apple's interface builder is great, it doesn't really allow us to create custom UI elements on the fly. We decided to take a page from our iPhone GUI PSD and create one for the iPad. The PSD was constructed using vectors, so it's fully editable and scalable. You'll notice there are a few new UI elements as compared to the iPhone interface. The workable screen design is formatted to 768 x 1024 so anything you design in the Photoshop file can easily be brought over to the SDK. iPad Human Interface Guidelines: Introduction. Rory Lewis, KDD, iPhone and iPad Apps, Epilepsy Prediction, Bachelor of Innovation, Zbigniew Ras, Andrzej Skowron, Immanuel Kant, Rough Set Theory, Fuzzy Logic, Genetic Algorithms, iphone and iPad Apps for Absolute Beginners, Sex, Religion, God and Music.
Cocos2d-iphone - Project Hosting on Google Code. Donate SOURCE CODE MOVED TO GITHUB: About cocos2d for iPhone is a framework for building 2D games, demos, and other graphical/interactive applications.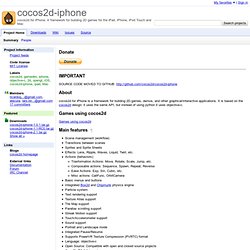 It is based on the cocos2d design: it uses the same API, but instead of using python it uses objective-c. Games using cocos2d. OpenFeint - The coolest thing since sliced awesome. Three20.info. Glyphish – Great icons for great iPhone & iPad applications. AppsAmuck iPhone Development Tutorials and Examples. Contact Netvibes to boost your Widget Marketing Strategy. iPad Application Design » Matt Legend Gemmell. I held a 6-hour workshop at NSConference in both the UK and USA recently, focusing on software design and user experience.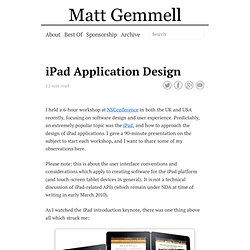 Predictably, an extremely popular topic was the iPad, and how to approach the design of iPad applications. I gave a 90-minute presentation on the subject to start each workshop, and I want to share some of my observations here. Please note: this is about the user interface conventions and considerations which apply to creating software for the iPad platform (and touch-screen tablet devices in general).
---