Ipad Development
LiveView is a specialized remote screen viewing application intended as a tool to help designers create graphics for mobile applications, it has also proven to be useful for creating quick and dirty simulations, demos, and experience prototypes.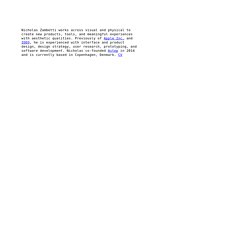 Nicholas Zambetti – LiveView for iPhone & iPad
iOS Debugging Magic
Deploying iPhone Apps to Real Devices
Posted by weimenglee 3 years 44 weeks ago
Développement iPhone / iPad / Mac : formations & forums, Tutoriels iPhone (fr & en)
What are those little Xcode tips & tricks you wish you knew about 2 years ago
Ipad Programming / Explore Blog Catalog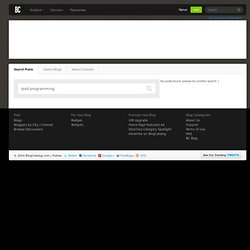 Building a Hangman iPad App with Flash - Programming Gameplay
Développer pour l'iPhone et l'iPad | À propos
Ipad Programming / Explore Blog Catalog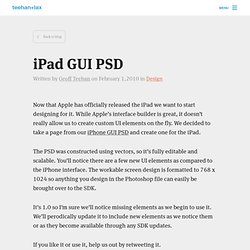 Now that Apple has officially released the iPad we want to start designing for it. While Apple's interface builder is great, it doesn't really allow us to create custom UI elements on the fly.
iPad Human Interface Guidelines: Introduction
Rory Lewis, KDD, iPhone and iPad Apps, Epilepsy Prediction, Bachelor of Innovation, Zbigniew Ras, Andrzej Skowron, Immanuel Kant, Rough Set Theory, Fuzzy Logic, Genetic Algorithms, iphone and iPad Apps for Absolute Beginners, Sex, Religion, God and Music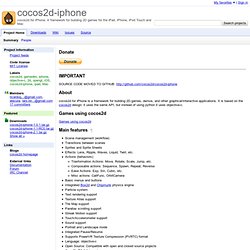 Donate SOURCE CODE MOVED TO GITHUB: http://github.com/cocos2d/cocos2d-iphone
cocos2d-iphone - Project Hosting on Google Code
AppsAmuck iPhone Development Tutorials and Examples
Blog Archive » 10 Incredibly Useful (and Free) Resources Every iPad Developer Should Know About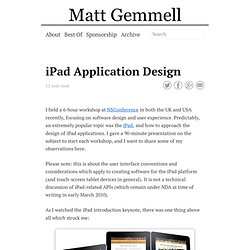 I held a 6-hour workshop at NSConference in both the UK and USA recently, focusing on software design and user experience.