iPad apps
The Hobbit FREE lesson plans and links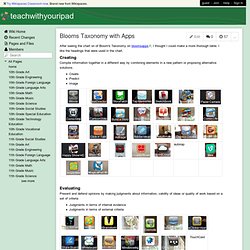 After seeing the chart on of Bloom's Taxonomy on bloomsapps , I thought I could make a more thorough table. I like the headings that were used in the chart. Creating
Dexteria | Home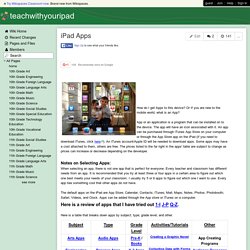 How do I get Apps to this device? Or If you are new to the mobile world, what is an App? App or an application is a program that can be installed on to the device. The app will have an icon associated with it. An app can be purchased through iTunes App Store on your computer or through the App Store app on the iPad (If you need to download iTunes, click here ).
Posted on Wednesday June 15, 2011 by Staff Writers The iPad has found its way into hospitals, retail stores and homes across the nation, but it's also making a big splash in the classroom, even with some of the best online colleges . With a great selection of apps focused on everything from word processing to keeping in touch with classmates, the tablet computer can be an invaluable tool for learning — no matter your age. Online science students haven't been left out, of course, and there are a wide range of applications offering help with chemistry, biology, astronomy and even the math that comes along with certain fields. If you're a college student looking to supplement your science studies, these apps are some of the best for learning, sharing, researching and just plain having fun. Chemistry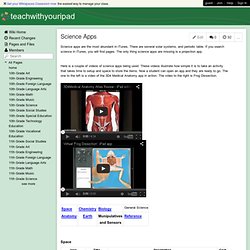 Science apps are the most abundant in iTunes. There are several solar systems, and periodic table. If you search science in iTunes, you will find pages. The only thing science apps are missing is a projection app. Here is a couple of videos of science apps being used.
Description This is a standard periodic table of the elements - a necessity for anyone interested in or even exposed chemistry. However, the version differs in that instead of cramming all the information for an element into one little square, you can select a chemical attribute and have the entire chart color coded to plainly show how the different elements vary with regard to the selected trait. You can select 1. Atomic Number 2. Chemical Family 3.
Periodic Table of the Elements for iPad on the iTunes App Store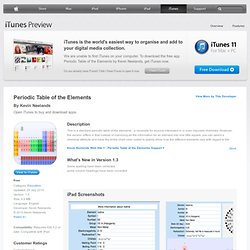 Using the iPad with Middle School Students | iPad in Schools
How might students use the iPad? The following reflections come from a middle school teacher in a blog post he made (after giving his iPad to some students and getting their input/opinion). In his previous post he was commenting about how the iPad had changed his life and wondered: So now I wonder, if this has really changed my game, how might it change the game for a student who is able to go through the school day with it? One-to-one initiatives are popping up all over (finally), and the iPad may be one solution for students. An iPad is a consumption device more than a creation device (we still need laptops or desktops), but the types of input and resources available make it a real possibility for student use.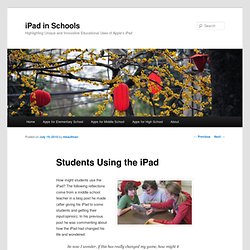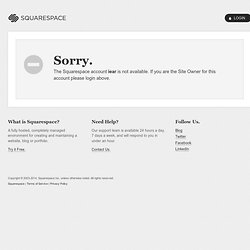 (Click on any image on this post to see it full size.) This is a cross post that I started on my blog as a plan for using 12 iPads in the Fall of the 2010-11 school year with my middle school Science classes. I teach three 6th grade classes and two 8th grade classes. Here's what I'm planning to use on the 12 iPads. On the bottom dock of the main screen, next to the Safari, Mail and iPod links, I've placed a link to my 6th grade Moodle page , a link to my 8th grade Moodle page and a link to our classblogmeister blogs. Students can access my Moodle documents and links and resources as well as their blog accounts.
iPads in Science - by Al Gonzalez
30 Excellent iPad App Interfaces
iPad, often called a revolutionary device, came to the design industry with new possibilities for designers to show off what they can create for this modern gadget. There are no doubts that apps for Apple iPad look beautiful and stunning. Multi-touch and other modern technologies allow users to actually feel the designs.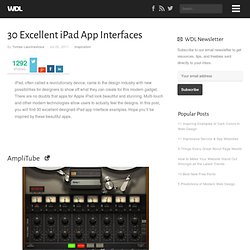 It's time for holiday road trips and you know what that means: driving, flying, cranky kids, and… teaching opportunities! What's that, you say? Well, there is so much downtime during the holidays where kids and adults spend hours just passing the time… why not try out some new apps on your phone? Many of these apps were found by The Teaching Palette , be sure to check out their fantastic site for more helpful resources! From learning the ABCs to doodling, there's plenty of terrific apps out there that will pass the time but also educate. If you have other apps you want added to this list, just add them in the comments.