Platforms
Nanode Kit with FREE 1 Year Pachube Pro Account [NANODE-KIT] - £18.33. Nanode is an open source Arduino-like board that has in-built web connectivity.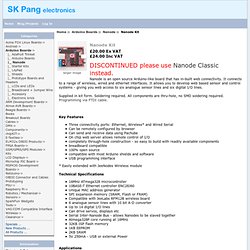 It connects to a range of wireless, wired and ethernet interfaces. It allows you to develop web based sensor and control systems - giving you web access to six analogue sensor lines and six digital I/O lines. Key Features Three connectivity ports: Ethernet, Wireless* and Wired SerialCan be remotely configured by browserCan send and receive data using PachubeOn chip web server allows remote control of I/Ocompletely through-hole construction - so easy to build with readily available componentsbreadboard compatible100% open sourcecompatible with most Arduino shields and softwareUSB programming interface* Easily extended with JeeNodes Wireless module. Why Apple could help kick-start NFC next year.
The market for NFC (near field communication) enabled phones is still quite small, but it's expected to blossom next year as Apple and Microsoft could join the party, launching NFC-equipped iPhones and Windows Phone 7 devices.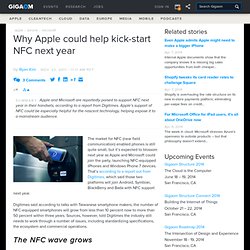 That's according to a report out from Digitimes, which said those two platforms will join Android, Symbian, BlackBerry and Bada with NFC support next year. Digitimes said according to talks with Taiwanese smartphone makers, the number of NFC-equipped smartphones will grow from less than 10 percent now to more than 50 percent within three years. Sources, however, told Digitimes the industry still needs to work through a number of issues, including standardizing specifications, the ecosystem and commercial operations. The NFC wave grows. Lelylan | reThink your house.
iDigi Device Cloud. Feel, Act, Make sense • Sen.se. Internet of Things Application Platform - ioBridge. Paraimpu. ThingWorx – The 1st Application Platform for the Connected World. Pachube.
---