Recherche avancée.
Trends. Soople. Gmail Advanced Search - Ultimate Guide. One of the main reason why most of us love Gmail is because of its generous offering in terms of storage space.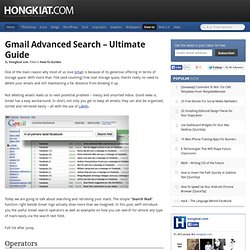 With more than 7Gb (and counting) free mail storage space, there's really no need to delete your emails and still maintaining a far distance from blowing it up. Not deleting emails leads us to next potential problem – messy and unsorted inbox. Good news is, Gmail has a easy workaround. Astuces. Recherche Google: Principes de base mot1 mot2 mot3 Retourne les pages contenant tous les mots spécifiés.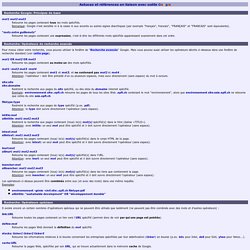 Google Search Operators. The following table lists the search operators that work with each Google search service.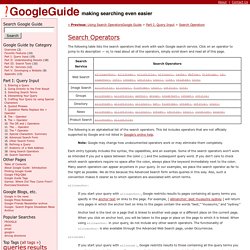 Click on an operator to jump to its description — or, to read about all of the operators, simply scroll down and read all of this page. The following is an alphabetical list of the search operators. This list includes operators that are not officially supported by Google and not listed in Google's online help. Master the Google Operands. The internet, a network spanning the globe.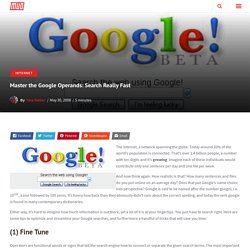 Today around 20% of the world's population is connected. That's over 1.4 billion people, a number with ten digits and it's growing. Imagine each of these individuals would contribute only one sentence per day and one file per week. And now think again. How realistic is that? Recherche avancée sur Google. Unofficial Google Advanced Search. The JWebNet.net main page > Unofficial Google Advanced Search Google Search Box Table of Contents Back to the table of contents 1.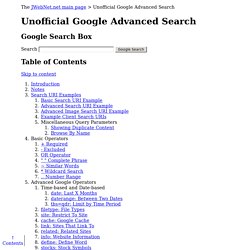 Introduction. Les commandes de Google. En bref...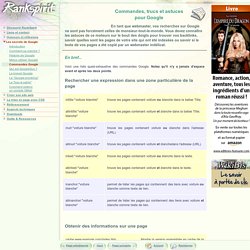 Voici une liste quasi-exhaustive des commandes Google. Notez qu'il n'y a jamais d'espace avant et après les deux points. Using research advanced. Utilisation de la recherche avancée. Les opérateurs de recherche avancée sont des termes ou des symboles permettant d'effectuer des actions spécifiques lors des recherches dans Gmail.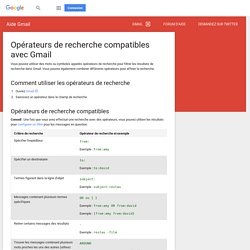 Ils vous permettent de trouver rapidement et avec précision les éléments que vous recherchez. Vous pouvez également les utiliser pour définir des filtres de façon à organiser automatiquement votre boîte de réception.
---