The issue of Take Down Notice
The Failure of the DMCA Notice and Takedown System
Lessig's video take down by Liberation Nusic
Italian Court Orders ISPs to Block Several Major Torrent Sites
Copyright Erosion: How DMCA Misuse Became A Multimillion Dollar
Google logs record 21.5M URL takedown requests in September
Infringing Copyright? Think Twice Before Removing the Copyright Notice--It Could be Deemed "Copyright Management Information" Under the DMCA | New Media and Technology Law Blog
A simple copyright notice (e.g., "© [Year of First Publication] [Owner]") on a website can imply an assertion of ownership in individual elements of the website and constitute "copyright management information" under the Digital Millennium Copyright Act (DMCA), a Texas district court held. A Texas investment company learned this lesson the hard way when it removed the copyright notice from an image, used the modified image on its website without authorization, and was subsequently ordered by the court to pay enhanced damages for willful copyright infringement and statutory damages for violating the DMCA. The original image at issue, a graphic juxtaposing two road signs, was created by a graphics company in Texas and federally registered with the U.S. Copyright Office. In 2012, the graphics company discovered an unauthorized copy of the image on the investment company's website.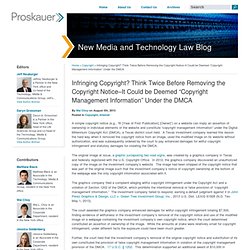 Google's copyright notice and takedown process: a model report?
Newest YouTube user to fight a takedown is copyright guru Lawren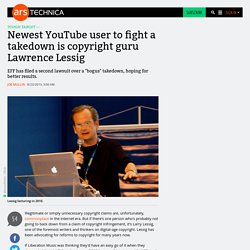 Newest YouTube user to fight a takedown is copyright guru Lawrence Lessig
Illegitimate or simply unnecessary copyright claims are, unfortunately, commonplace in the Internet era. But if there's one person who's probably not going to back down from a claim of copyright infringement, it's probably Larry Lessig, one of the foremost writers and thinkers on digital-age copyright. Lessig has been advocating for reforms to copyright for many years now.
The RIAA Talks DMCA and Why it's Not Working for Content Creator
Google has relaxed its DMCA restrictions allowing for more taked
When Google released its new Copyright Transparency Report on takedown requests of its Search results, we got new insights into the massive number of complaints the search giant receives. We also saw that there are many requests that don't seem to meet the standard of a "good faith belief" of infringement. Google said in the report that it refuses to comply with requests that are obviously inaccurate or intentionally abusive , which accounts for about 3% of the total. While Google deserves to be commended for that example of good citizenship , they can't catch everything. The following list shows the Top 10 takedowns that stood out as looking like misuse of the DMCA. It's by no means exhaustive, and compiled simply by looking through some of the listings that caught our eye.
Top 10 Takedowns in Google's Copyright Transparency Report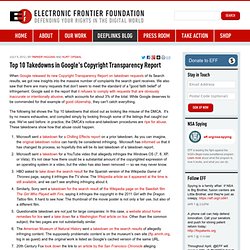 5 Absurd Copyright Takedowns That Make The Law Look Outdated – ReadWrite
NOTE: This story has been updated from its original version to clarify some points about the "Birdsong" takedown in the second item. No matter where you stand on copyright issues, it's hard to argue that the current system is working. In few places are the flaws of modern copyright law more apparent than when it comes to Digital Millennium Copyright Act (DMCA) takedown requests.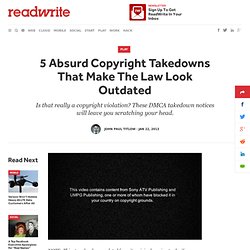 Google transparecy requests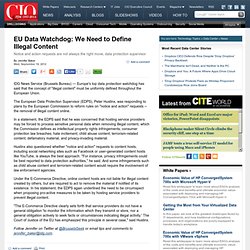 IDG News Service (Brussels Bureau) — Europe's top data protection watchdog has said that the concept of "illegal content" must be uniformly defined throughout the European Union. The European Data Protection Supervisor (EDPS), Peter Hustinx, was responding to plans by the European Commission to reform rules on "notice and action" requests -- the removal of illegal content online. In a statement, the EDPS said that he was concerned that hosting service providers may be forced to process sensitive personal data when removing illegal content, which the Commission defines as intellectual property rights infringements; consumer protection law breaches; hate incitement; child abuse content; terrorism-related content; defamatory material, and privacy-invading material.
EU Data Watchdog: We Need to Define Illegal Content CIO.com
14 Aug 2012 France: The Court of Cassation puts an end to the Notice and Stay Down Rule Lower courts have shifted from a notice and take down rule (provided by the e-commerce Directive and the LCEN) to a notice and stay down rule (created by the judges). This interpretation was confirmed in 2011 by the Paris Court of Appeal. However, on 12 July 2012, the Court of Cassation put an end to this judge-made law by issuing its eagerly awaited position on that issue. July has been a busy month for the French Supreme Court.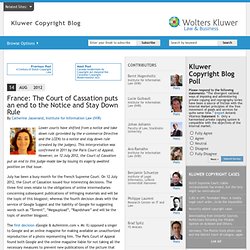 France: The Court of Cassation puts an end to the Notice and Stay Down Rule | Kluwer Copyright Blog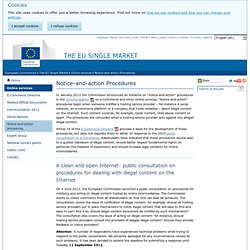 Notice-and-action Procedures - Online services - European Commission
On 4 June 2012, the European Commission launched a public consultation on procedures for notifying and acting on illegal content hosted by online intermediaries. The Commission wants to collect comments from all stakeholders on how this can best be achieved. The consultation covers the issue of notification of illegal content: for example, should all hosting service providers put in place mechanisms to notify illegal content that are easy to find and easy to use? And if so, should illegal content exclusively be notified by such mechanisms? The consultation also covers the issue of acting on illegal content: for instance, should hosting service providers consult the providers of alleged illegal content? Should they provide feedback to notice providers?
live YouTube de M Obama blocked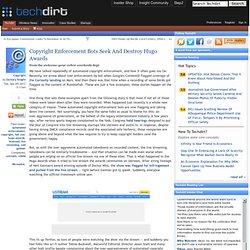 Copyright Enforcement Bots Seek And Destroy Hugo Awards
We have talked repeatedly of automated copyright enforcement, and how it often goes too far. Recently, we wrote about over enforcement-by-bot when Google's ContentID flagged coverage of the Curiosity landing on Mars. And then there was that time when a recording of some birds got flagged as the content of Rumblefish.
TV catch-up service UKNova has just announced that further to receiving a cease and desist letter from the Federation Against Copyright Theft (FACT), it will be taking down all links or access to television content. UKNova sent the following message to its members: " To the members of UKNova.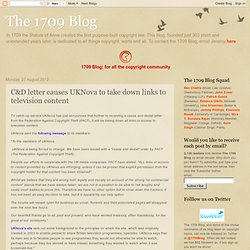 C&D letter causes UKNova to take down links to television content
NASA's livestream coverage of the Curiosity rover's landing on Mars was practically as flawless as the landing itself, a refreshing alternative to all that troubled Olympics coverage . The broadcast – full of suspense, lucky peanut-eating, and ecstatic congratulations – was slow and hard to reach at times, but NASA servers never failed. Along with burnishing its online publicity credentials , NASA had prepared for a global audience of millions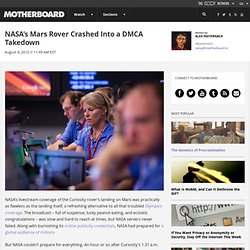 NASA's Mars Rover Crashed Into a DMCA Takedown
Google handing data to Gov
A "targeted public consultation" will be launched later this year to obtain views on how the procedures can be improved, the Commission said. Under the EU's E-Commerce Directive internet service providers (ISPs) and website hosts are generally not liable for illegal content communicated by others, but are required to act to remove the material under certain circumstances. Respondents to a 2010 consultation on e-commerce issues had complained the rules on the notice and takedown process were unclear, causing illegal content to stay online too long, legal uncertainty for companies and individuals' rights to be ignored. "The Commission will analyse how notice-and-action [N&A] procedures can work in a way to best address these concerns," a statement from the Commission said. "For this purpose, it seeks answers to questions such as: how exactly should an intermediary be notified?
EU Commission will clarify website notice and takedown procedures
MARKT-2011-80072-02-00-EN-TRA-00 (FR)
Technology & Marketing Law Blog « March 2011 | Main | May 2011 » April 30, 2011 Cease & Desist Letter to iTunes Isn't Covered by 17 USC 512(f)--Red Rock v. UMG
April 2011 Archives
The Mutatuli Project-Bits of Freedom
osce
The Notice and Take Down Provisions of the DMCA
Under the provisions of the Digital Millennium Copyright Act (DMCA), copyright owners have an opportunity to leverage their rights to protect their content by notifying a service provider about conduct which is alleged to be an infringement and making demand that such content be removed.
Take-Down Guide | ISPA
Note: you can also request a Take-down .
When Is a Takedown Notice Not a Takedown Notice?
Last week, the file-distribution site Megaupload launched a $3 million music video . It features the likes of Kanye West, Snoop Dogg, Kim Kardashian, and many others offering testimonials to Megaupload, set to a moderately catchy tune.