Marketing Blogs
How sharing disrupts media. I'm at DLD in Munich, where David Karp of Tumblr and Samir Arora of Glam Media helped me understand the way that media and publishing are evolving these days, and the way in which creating, editing, and publishing are increasingly separate things which interact with each other in fertile and unpredictable ways.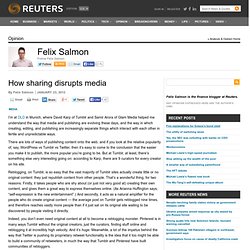 There are lots of ways of publishing content onto the web, and if you look at the relative popularity of, say, WordPress vs Tumblr vs Twitter, then it's easy to come to the conclusion that the easier you make it to publish, the more popular you're going to be. But at Tumblr, at least, there's something else very interesting going on: according to Karp, there are 9 curators for every creator on his site. Why is Content Good for SEO [Inforgraphic] Why is Content Good for SEO Inforgraphic Search engine optimization (SEO) is the process of improving the visibility of a website or a web page in search engines via the "natural" or un-paid ("organic" or "algorithmic") search results.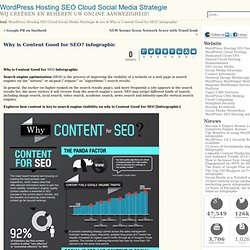 In general, the earlier (or higher ranked on the search results page), and more frequently a site appears in the search results list, the more visitors it will receive from the search engine's users. SEO may target different kinds of search, including image search, local search, video search, academic search, news search and industry-specific vertical search engines.
Explores how content is key to search engine visibility on why is Content Good for SEO [Inforgraphic] Content Marketing and Copywriting Articles. Report: Content and the New Marketing Equation. InShare318 Rebecca Lieb, my colleague at Altimeter Group released a new report, "Content: The New Marketing Equation Why Organizations Must Rebalance."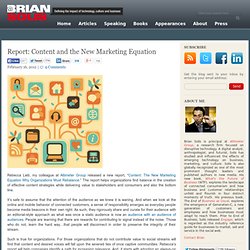 The report helps organizations find balance in the creation of effective content strategies while delivering value to stakeholders and consumers and also the bottom line. The 5 Minute Guide To Cheap Startup Advertising. The following is a guest post by Rob Walling.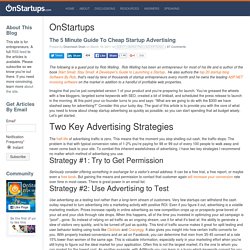 Rob Walling has been an entrepreneur for most of his life and is author of the book Start Small, Stay Small: A Developer's Guide to Launching a Startup. He also authors the top 20 startup blog Software By Rob, that's read by tens of thousands of startup entrepreneurs every month and he owns the leading ASP.NET invoicing software on the market in addition to a handful of profitable web properties. Imagine that you've just completed version 1 of your product and you're preparing for launch. Social Media and Beer Event Craziness. As alluded to previously in these pages (is that what they are?)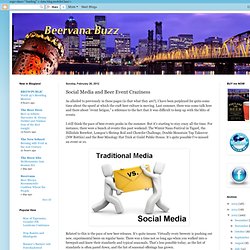 , I have been perplexed for quite some time about the speed at which the craft beer culture is moving. Last summer, there was some talk here and there about "event fatigue," a reference to the fact that it was difficult to keep up with the blitz of events. Designing a good advert. For the purposes of this article, 'advertising' covers all one way communications with the consumer.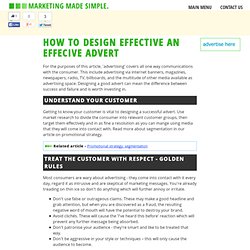 This include advertising via internet banners, magazines, newspapers, radio, TV, billboards, and the multitude of other media available as advertising space. Designing a good advert can mean the difference between success and failure and is worth investing in. Understand your customer Getting to know your customer is vital to designing a successful advert. Use market research to divide the consumer into relevant customer groups, then target them effectively and in as fine a resolution as you can mange using media that they will come into contact with.
Bizshifts is All About Trends in Business that bring Big Results. 10 cool Twitter visualisation tools. You might think of Twitter as a way to chat with your friends, keep up with news or to hassle minor celebrities.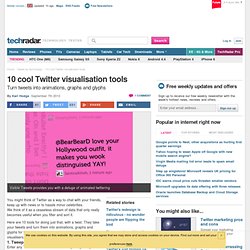 We think of it as a ceaseless stream of data that only really becomes useful when you filter and sort it. Here are 10 tools for doing just that, with a twist.
---