LA
Everything Means A Lot To Me | Intrepid Teacher
iPad Apps That Support Literacy - Google Docs
DEN LIVE!
Blog Viewer - International Reading Association
Kids Book Reviews - Book Reviews and Ratings by Kids at DOGO Books
mslcblevins: I love using @Wonderopolis
The resources in this kit will help you implement the exciting process of digital storytelling with your students. Right- or ctrl-click to download each file below or download a single PDF on the right. Articles

Digital Storytelling Kit - Thank you! | Tech4Learning
Mobile Learning | Feature Apps and Ideas for Literature Circles on iPads By Margo Pierce 05/08/12 Technology is sliding a power cord, app, or some other innovation into every aspect of education, even elementary reading classes.
Apps and Ideas for Literature Circles on iPads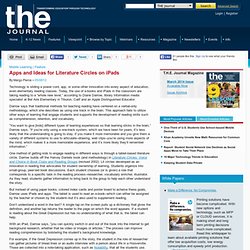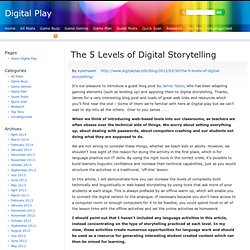 By kylemawer http://www.digitalplay.info/blog/2012/03/30/the-5-levels-of-digital-storytelling/ It's our pleasure to introduce a guest blog post by James Taylor , who has been adapting gaming elements (such as leveling up) and applying them to digital storytelling. Thanks, James for a very interesting blog post and loads of great web links and resources which you'll find near the end – Some of them we're familiar with here at Digital play but we can't wait to dip into all the others. Over to you James . . .
Wonderopolis Mini-grants: Can't Get Enough of Wonderopolis
ROE Library - home
Digital Poetry
The best definition I've heard for poetry is that it's "the extraordinary perception of the ordinary." Being a kind of art, poetry eludes strict definitions. The very nature of art is to challenge thinking. Trying to define something artistic simply opens up new ground for exploration by those hoping to challenge convention. Digital poetry (1) is a part of that conversation. While poetry has been long limited to physical media -- from tablets and parchment to books and magazines -- digital publishing platforms have obliterated such constraints, adding the modalities of light and sound to the traditional combination of words and white space to this medium of human expression.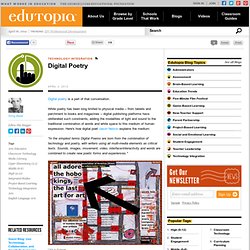 Educational-Blogging - How To Teach Commenting Skills
An Author in Every Classroom: Kids connecting with authors via Skype. It's the next best thing to being there.