LA
Figment: Write yourself in. Write In Private: Free Online Diary And Personal Journal | Penzu. iPad Apps That Support Literacy. DEN LIVE! Literacy in the Digital Age. Historical Tweets. Blog Viewer - International Reading Association. Kids Book Reviews - Book Reviews and Ratings by Kids at DOGO Books. Mslcblevins: I love using @Wonderopolis... 60second Recap® Video Notes. Everything you need to wow your English teacher! Digital Storytelling Kit - Thank you! The resources in this kit will help you implement the exciting process of digital storytelling with your students.

Right- or ctrl-click to download each file below or download a single PDF on the right. Articles. Apps and Ideas for Literature Circles on iPads. Mobile Learning | Feature Apps and Ideas for Literature Circles on iPads By Margo Pierce05/08/12 Technology is sliding a power cord, app, or some other innovation into every aspect of education, even elementary reading classes.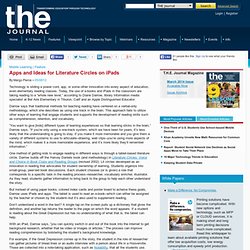 The 5 Levels of Digital Storytelling. By kylemawer It's our pleasure to introduce a guest blog post by James Taylor, who has been adapting gaming elements (such as leveling up) and applying them to digital storytelling.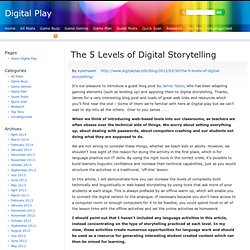 Thanks, James for a very interesting blog post and loads of great web links and resources which you'll find near the end – Some of them we're familiar with here at Digital play but we can't wait to dip into all the others. Over to you James . . . Wonderopolis Mini-grants: Can't Get Enough of Wonderopolis. Digital Poetry. Digital poetry is a part of that conversation.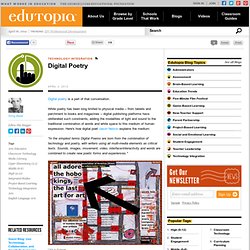 While poetry has been long limited to physical media -- from tablets and parchment to books and magazines -- digital publishing platforms have obliterated such constraints, adding the modalities of light and sound to the traditional combination of words and white space to this medium of human expression. Here's how digital poet Jason Nelson explains the medium: "In the simplest terms Digital Poems are born from the combination of technology and poetry, with writers using all multi-media elements as critical texts. Sounds, images, movement, video, interface/interactivity and words are combined to create new poetic forms and experiences. " Click to Enlarge. Educational-Blogging - How To Teach Commenting Skills. An Author in Every Classroom: Kids connecting with authors via Skype. It's the next best thing to being there. Sorry, but the article or page you're looking was not found.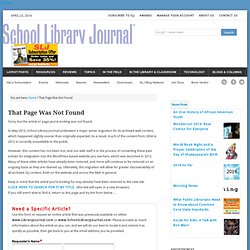 In May 2013, School Library Journal underwent a major server migration for its archived web content, which happened slightly sooner than originally expected. As a result, much of the content from 2004 to 2012 is currently unavailable to the public. However, this content has not been lost, and our web staff is in the process of converting these past articles for integration into the WordPress-based website you see here, which was launched in 2012. Many of these older articles have already been restored, and more will continue to be restored on an ongoing basis as they are cleaned up. Ultimately, this migration will allow for greater discoverability of all archived SLJ content, both on the website and across the Web in general.
---