Alfred Stieglitz
Equivalents
Web.mnstate.edu/gracyk/courses/phil of art/printer-friendly/Stieglitz_1899_TWO_COLUMNS.pdf. Alfred Stieglitz - American Artist Photographer and Editor - Photography Quotes. Alfred Stieglitz. Alfred Stieglitz (1864–1946) and American Photography | Thematic Essay. Born in Hoboken, New Jersey, in 1864, and schooled as an engineer in Germany, Alfred Stieglitz returned to New York in 1890 determined to prove that photography was a medium as capable of artistic expression as painting or sculpture.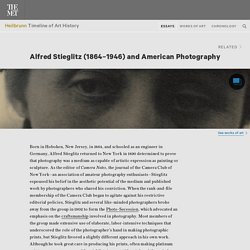 As the editor of Camera Notes, the journal of the Camera Club of New York—an association of amateur photography enthusiasts—Stieglitz espoused his belief in the aesthetic potential of the medium and published work by photographers who shared his conviction. When the rank-and-file membership of the Camera Club began to agitate against his restrictive editorial policies, Stieglitz and several like-minded photographers broke away from the group in 1902 to form the Photo-Secession, which advocated an emphasis on the craftsmanship involved in photography. Alfred Stieglitz. Alfred Stieglitz (January 1, 1864 – July 13, 1946) was an American photographer and modern art promoter who was instrumental over his fifty-year career in making photography an accepted art form.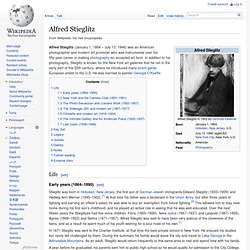 In addition to his photography, Stieglitz is known for the New York art galleries that he ran in the early part of the 20th century, where he introduced many avant-garde European artists to the U.S. He was married to painter Georgia O'Keeffe. Life[edit] Early years (1864–1890)[edit] Alfred Stieglitz.
---