INSPIRATIONAL AND COOL
Friday Food For Thought: Metropol Parasol as Seville's 'New Centre'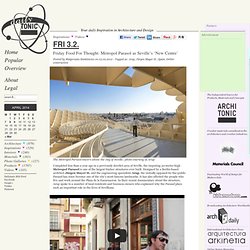 The Metropol Parasol towers above the city of Seville; photo courtesy of Arup Completed less than a year ago in a previously derelict area of Seville, the imposing 30-metre-high Metropol Parasol is one of the largest timber structures ever built. Designed by a Berlin-based architect Jürgen Mayer H. and the engineering specialists Arup, the initially-opposed-by-the-public Parasol has since become one of the city's most famous landmarks. It has also affected the people who live and work around the Plaza de la Encarnacíon. In their recent documentary about the structure, Arup spoke to a number of local residents and business owners who explained why the Parasol plays such an importnat role in the lives of Sevillians. to Arup's website
Eddyburg.it - Urbanistica, politica, società -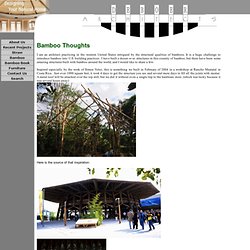 Bamboo Thoughts DeBoer Architects
Automobile bridges with spans up to 150 feet have been built of bamboo by Jorg Stamm in Colombia (see the Conbam site below for more on Jorg) photo by Jorg Stamm Bamboo has been documented with over 1,500 different uses. In the area of building, that includes fences, gates, trellises, and every part of a structure.
Centre for Environmental Acoustics (Research) - Dept. Engineering Systems
IntroductionThe Acoustics Group has a 30 year track record of acoustics research and has developed an international reputation for its research. In the Research Assessment Exercise 2008 under General Engineering the Acoustics Group was part of a submission rated as having 60% of the research rated world leading (4*) or of international excellence (3*). This is equivalent to a 5* rating under the terms of the 2001 RAE. The Acoustics Group undertakes research, consultancy and enterprise with an income for 2006-8 of £1 million. Recently, the Masters in Environmental and Architectural Acoustics has formed a 3 year agreement with telent plc to sponsor an MSc student each year.
Design Miami / Art Basel Miami Beach 2013: Daniel invited to join Luminaire's Design+World Exhibition. Focusing on work that expands the boundaries of design, the show also features projects by Tokujin Yoshioka and Patricia Urquiola. More Digital Art Festival: Daniel Widrig invited to participate in an exhibition curated by Digital Art Center Taipei, Taiwan. Opening November 15, 2013. Daniel Widrig Studio invited to exhibit at Any Tokyo (DESIGNTIDE TOKYO).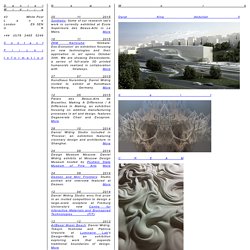 ZaP Architecture
ARPHENOTYPE