INSPIRATIONAL AND COOL
Friday Food For Thought: Metropol Parasol as Seville's 'New Centre'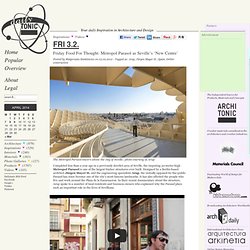 The Metropol Parasol towers above the city of Seville; photo courtesy of Arup Completed less than a year ago in a previously derelict area of Seville, the imposing 30-metre-high Metropol Parasol is one of the largest timber structures ever built.
Eddyburg.it - Urbanistica, politica, società -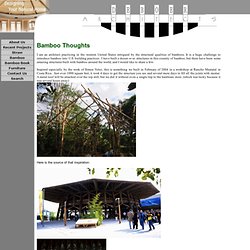 Bamboo Thoughts DeBoer Architects
Automobile bridges with spans up to 150 feet have been built of bamboo by Jorg Stamm in Colombia (see the Conbam site below for more on Jorg) photo by Jorg Stamm Bamboo has been documented with over 1,500 different uses. In the area of building, that includes fences, gates, trellises, and every part of a structure.
Centre for Environmental Acoustics (Research) - Dept. Engineering Systems
IntroductionThe Acoustics Group has a 30 year track record of acoustics research and has developed an international reputation for its research.
ZaP Architecture
ARPHENOTYPE