Inspiration
Smarthistory: a multimedia web-book about art and art history. Tutorial Magazine 300 Most Amazing Photoshop Tutorials of Summer 2009. PS: We feature new, hand-picked tutorials every day!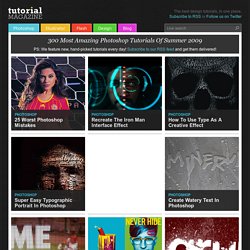 Subscribe to our RSS feed and get them delivered! Photoshop 25 Worst Photoshop mistakes See what happens when designers mess up in Photoshop, good for a laugh. | 59544 views | by tutfreakz. 50 Mind Blowing Sketches | Penny's Daybook | www.PennysDaybook.com. Critic, "I'm an artist myself and" Argument from authority – always a logical fallacy, but even worse when it's in a subjective field where there arguably can't be any authorities.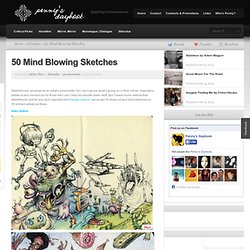 "I hate it when people who aren't artists assume anything someone puts out there is 'mind-blowing'." – incredibly condescending, don't you think? And besides, "assumes" that it is mind-blowing? If the person who posted these pieces had his mind figuratively blown by them, then how can they not be mind-blowing?
Drawing Autism. Drawing Autism is an incredible collection of artwork by people diagnosed with autism, from teenage amateurs to established artists.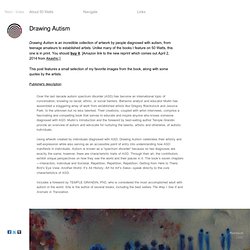 Unlike many of the books I feature on 50 Watts, this one is in print. You should buy it. [Amazon link to the new reprint which comes out April 2, 2014 from Akashic.] This post features a small selection of my favorite images from the book, along with some quotes by the artists. Publisher's description: Broad graphics. Street Art Utopia. More info.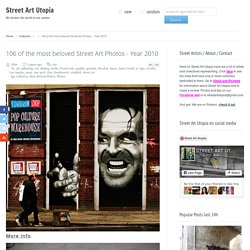 More info. More Banksy on streetartutopia.com. More info. More 3D on streetartutopia.com. More of this on streetartutopia.com. Femme Femme Femme. LINKS to ARTISTS' SKETCHBOOKS ONLINE - PAGE 1. 1000 Hours of Drawing (Taylor O) sketchbooks | sketch 1000 JOURNALS PROJECT (Someguy) 8861 miles.
'skine.art - Moleskine Art. 90 Incredible Drawings and Pencil Illustrations. Look in art. Solitude - 2010/2011 - A work in progress on the Behance Network - StumbleUpon. 50 Ultra Realistic Female Portrait Drawings - StumbleUpon. Technology brings more and more talented artists to the surface, who create astonishing digitally manipulated images on every possible theme, illustrating everything that you could possibly imagine.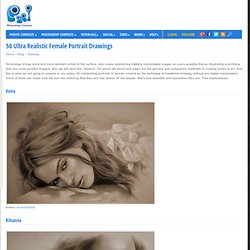 But, we still have the "classics", for whom the pencil and paper are the genuine and compulsory materials in creating works of art. And this is what we are going to present to you today. 50 outstanding portraits of women created by the technique of traditional drawing, without any digital manipulation. Some of them can easily trick the eye into believing that they are real photos of real people, that's how beautiful and expressive they are. True masterpieces. Beautiful Examples of Moleskine Art - Smashing Magazine. Advertisement More than quick sketches and drawings, Moleskine art can encompass mixed media and even digital art.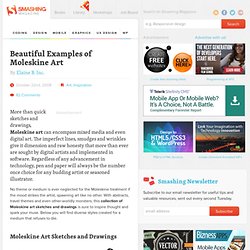 The imperfect lines, smudges and wrinkles give it dimension and raw honesty that more than ever are sought by digital artists and implemented in software. Sketching tools. Most Popular Artists - StumbleUpon. Incredible and Scary 3D Pencil Drawings by 17-year old Fredo. Realistic pencil drawings are always interesting.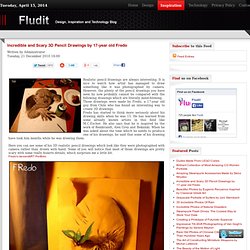 It is nice to watch how artist has managed to draw something like it was photographed by camera. However, the plenty of the pencil drawings you have seen by now probably cannot be compared with the following drawings which are literally mind-blowing.Those drawings were made by Fredo, a 17-year old guy from Chile who has found an interesting way to create 3D drawings.Fredo has started to think more seriously about his drawing skills when he was 15.
---