Inspiratie
Hirs
Compagnie LA MACHINE / Association / Diaporama
koffertje voor de eerste ontmoeting met buitenaards leven by boelaelu Feb 14
Hendrik Kerstens
Jan-Dirk van der Burg
KUNST AUFRÄUMEN
De Zwitser Ursus Wehrli houdt heel erg van orde. Hij herordent alles via Photoshop. Hij wijdde er een heel boek aan Die Kunst, Aufzuräumen.
Hij herordent ook klassieke schilderijen en creëert zo fantastisch nette versies van Magritte, Miro, Van Gogh en co. by deswerel Feb 11
Tessa Farmer
Sproojes à la Tinkelbel maar dan met haar boze nichtje. Kunstenares Tessa Farmer creëerrt met allerlei natuurlijk materiaal minisculpturen. Donker sinnister en apocalyptisch. Muzikant Amon Tobin is alvast fan. Samen hierlden ze de tentoonstelling control over nature. by deswerel Feb 11
Pawel Jaszczuk
Mannen die netjes in pak op straat een dutje doen. IN Tokio kom je ze regelmatig tegen, uitgeput van hun lange werkdagen. De Poolse fotograaf Pawel Jaszcuk raakte erdoor geïntegreerd tijdesn zijn zeven jaar lange verblijf in de Japanse hoofdstad. De manier waarop de onderbetaalde loonslaven erbij lagen, deed hem vooral denken aan hippe modefoto's. Vandaar heeft de reeks High Fashion. by deswerel Feb 11
CA7590 : Abraham Lake, Elliott Peak, Alberta, Canada : Emmanuel Coupe Photography
Photo © copyright by Emmanuel Coupe.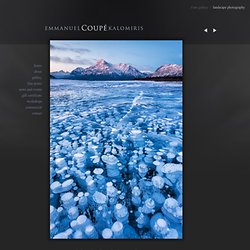 de canadien rockies is een uitgestrekt natuurgebied waar het in de winter tot min 30 graden kan vriezen. De bubbels zijn luchtbellen die hun weg naar de oppervlakte zoeken maar gevangen zitten. by deswerel Feb 11
Exploded Flowers | Thoughtful Photography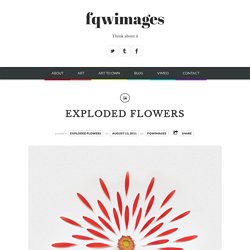 Update 17th September 2012 : 5 images in this series have been placed 2nd as a series in the 2012 IPA awards . Update 20th June 2012 : I am honoured and pleased to announce that three of my art pieces (Gerbera Exploded 01, Gerbera Exploded 02 and Pom Pom Exploded 01 are now available exclusively via Lux Archive in limited editions)
fotograaf Fon Qi Wei uit Singapore ontmanteld bloemen. by deswerel Feb 11
frauke thielking fotografie
Duitse fotografe Frauke Thielking vervangt objecten door mensen. by deswerel Feb 11
amazon
rode boom
SONS - Shoes Or No Shoes?
ARTWORKS BY INVADER
Banksy - Inside
Wim T. Schippers - Het is me wat, 1999 | Flickr : partage de photos !
LA MACHINE - Constructeurs et créateurs de spectacle vivant - Nantes - Tournefeuille
Cultuurwijs - Reis door cultuur in Nederland
Atelier | MyMachine
Etoile Mécanique ontwerpbureau voor productontwikkeling & prototype design