Addiction & use of Facebook - infographics
Quel utilisateur de Facebook êtes-vous ? Vous vous souvenez peut-être de cette infographie représentant les 27 types d'utilisateurs de Facebook.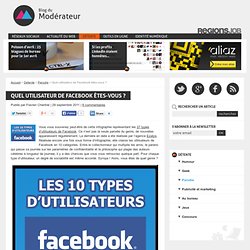 Ce n'est pas la seule parodie du genre, de nouvelles apparaissent régulièrement. La dernière en date a été réalisée par l'agence Ezalys. The Evolution of Privacy on Facebook. About Facebook is a great service.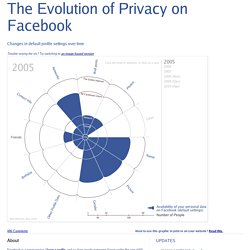 I have a profile, and so does nearly everyone I know under the age of 60. However, Facebook hasn't always managed its users' data well. 10 amis Facebook qui viennent du lycée. Il est facile de comparer les réseaux sociaux avec une cour de lycée.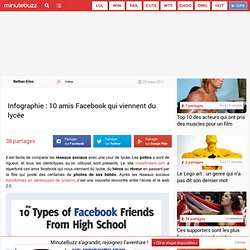 Les potins y sont de rigueur, et tous les stéréotypes qu'on côtoyait sont présents. Le site classfinders.com a répertorié ces amis facebook qui nous viennent du lycée, du héros au rêveur en passant par la fille qui poste des centaines de photos de ses bébés. Après les réseaux sociaux transformés en stéréotypes de lycéens, c'est une nouvelle rencontre entre l'école et le web 2.0. Source: Le Blog du Modérateur.
Facebook Effect on Grades. Social media has several effects on academic work — some more positive than others.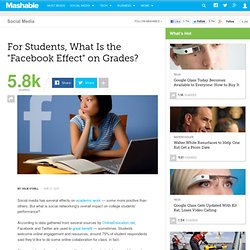 But what is social networking's overall impact on college students' performance? According to data gathered from several sources by OnlineEducation.net, Facebook and Twitter are used to great benefit — sometimes. Students welcome online engagement and resources; around 75% of student respondents said they'd like to do some online collaboration for class, in fact. Also, social media may have a positive impact on students' sense of themselves in the community. Social media-using students were twice as likely as other students to feel well-liked by their peers and to participate in extracurricular activities. [Infographie] Comment les parents utilisent Facebook pour surveiller leurs enfants. Does Facebook Hurt Relationships? [INFOGRAPHIC] Last year, more Facebook users changed their status to single than in a relationship — 24 percent versus 31 percent.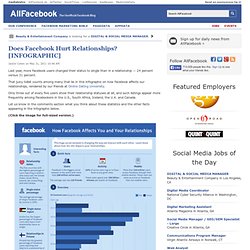 That juicy tidbit counts among many that lie in this infographic on how Facebook affects our relationships, rendered by our friends at Online Dating University. Only three out of every five users show their relationship statuses at all, and such listings appear more frequently among Facebookers in the U.S., South Africa, Iceland, the U.K. and Canada. Faebook vs Television in the UK. Qui est à la sauce Facebook en Belgique? Voici qui n'est pas courant, une infographie sur les usagés Belges de Facebook .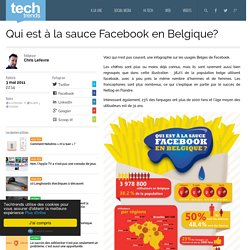 Les chiffres sont plus ou moins déjà connus, mais ils sont rarement aussi bien regroupés que dans cette illustration : 38,2% de la population belge utilisent facebook, avec à peu près le même nombre d'hommes et de femmes. Les francophones sont plus nombreux, ce qui s'explique en partie par le succès de Netlog en Flandre. Intéressant également, 23% des fanpages ont plus de 1000 fans et l'âge moyen des utilisateurs est de 31 ans. VIa Rédigé par Christophe Lefevre.
Google+ Vs. Facebook Privacy [Exclusive Infographic] These days most of us spend a lot of time on social sites like Facebook and Google+, but how often do we stop to think about privacy?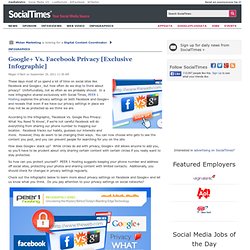 Unfortunately, not as often as we probably should. In a new infographic shared exclusively with Social Times, PEER 1 Hosting explores the privacy settings on both Facebook and Google+ and reveals that even if we have our privacy settings in place we may not be as protected as we think we are. According to the infographic, 'Facebook Vs. Google Plus Privacy: What You Need To Know', if we're not careful Facebook will do everything from sharing our phone number to mapping our location. Facebook tracks our habits, guesses our interests and more.
Facebook Addiction & use. +++ Video Infographic of the Impact of Facebook.
---