Mobile Learning Digital Storytelling Apps
Description
Fairy Tale – A fun children's story production App where I become the author to make the story for iPhone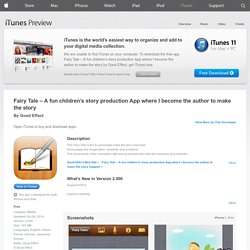 Mooklet for iPhone :: Create Animated "Photo Story Books" and Publish them!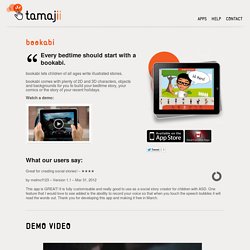 bookabi | Apps that Unleash Creativity
Great for creating social stories! – ★★★★ by melmcf123 – Version 1.1 – Mar 31, 2012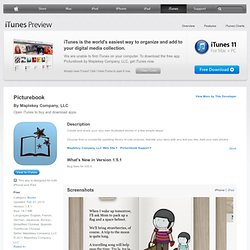 Picturebook for iPhone
Description Create and share your very own illustrated stories in a few simple steps!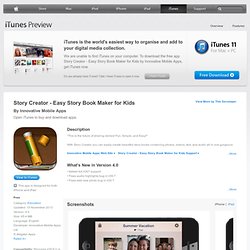 Description "This is the future of sharing stories! Fun, Simple, and Easy!"
Story Creator for iPhone 3GS, iPhone 4, iPhone 4S, iPhone 5, iPod touch (3rd generation), iPod touch (4th generation), iPod touch (5th generation) and iPad on the iTunes App Store
Description
Draw Your Stories for iPad on the iTunes App Store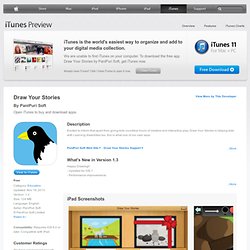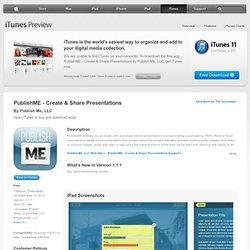 Description PublishME enables you to create, edit, and share vibrant presentations.
PublishME - Create & Share Presentations for iPad on the iTunes App Store
Zoodle Comics for iPad on the iTunes App Store
Description Create and publish your own comic strips on the iPad with Zoodle Comics! When you are done creating your comic strip, preview it using multiple layouts, then save it or share it with your friends and family.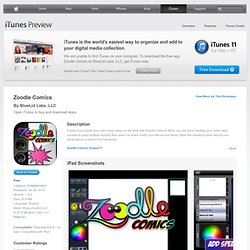 Description 30hands Mobile is a fun and innovative storytelling app that allows students, teachers and anyone with creativity to easily create stories or presentations based on photos, images or slides using an iPad, iPhone or iPod. Different from other presentation apps, 30hands Mobile focuses on the power of storytelling and ITERATIVE CREATIVITY. Like pages in a book, photos or images are dragged around the desktop into the order of the story. Next, the teacher or student records audio over each image. Easy editing allows students to take learning to a higher level and creates a better final video whether created by a student or teacher.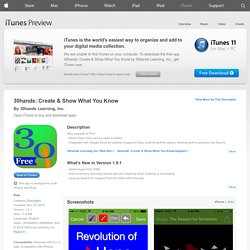 30hands for iPhone
Viovio Photo Book Designer for iPad on the iTunes App Store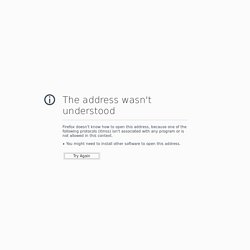 Great Books - Garbage book creator - please make it easy to create book by MTC in NJ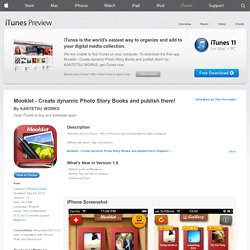 Mooklet - Create dynamic Photo Story Books and publish them! for iPhone
Description
Flying children
Mobile Photo - iPhone, iPod and Android apps - Muzy
Toontastic: FREE for iPad on the iTunes App Store
Description iTunes - App Store Hall of FameNY Times - Top 10 iPad Apps of 2011 Lights, Camera, Play! Toontastic is a creative storytelling app that enables kids to draw, animate, and share their own cartoons with friends and family around the world. With over 7 million cartoons created in 200+ countries, parents and teachers rave about the app... and kids can't stop creating!
Story Wheel Lite for iPhone
Description Pirates, Princesses, Aliens and more.
Word Mover for iPad on the iTunes App Store
Description ReadWriteThink's Word Mover mobile app is used to supplement classroom instruction, reinforce concepts taught in class, and offer increased student engagement through the use of tablet devices and their associated functionality.
StoryLines For Schools is a drawing game app with an educational component, creating appeal for kids, parents, and teachers.
StoryLines For Schools | Best Apps for Kids : reviews, news and promo codes for iPhone / iPad / iPod apps
Description Idea Sketch lets you easily draw a diagram - mind map, concept map, or flow chart - and convert it to a text outline, and vice versa. You can use Idea Sketch for anything, such as brainstorming new ideas, illustrating concepts, making lists and outlines, planning presentations, creating organizational charts, and more!
Mobile Apps
StoryLines for Schools for iPhone
bookPress for iPad on the iTunes App Store
SlideShark: View & Share Presentations for iPhone
Bookry
Write About This Free for iPad on the iTunes App Store
Write About This
Errando Se Aprende A Herrar - Our Projects
Choose Your Path Free - Apps on Android Market
Narratavius Story Engine - Interactive Fiction and Text Adventures
iVideoCamera Free for iPhone, iPod touch (4th generation), iPad 2 Wi-Fi, and iPad 2 Wi-Fi + 3G on the iTunes App Store
iTimeLapse Pro - Time Lapse videos
MindBlowing
ReelDirector
AnimeMaker
Animation Creator HD Lite for iPad on the iTunes App Store
iAnimation
Bubble and Pebble Story
MouthOff™
Silent Film Director
MouthOff Free Android App
Best Talking Animals iPhone Apps - Online Talking Animals iPhone & iPod Touch Entertainment Apps Reviews Page 1
Best Talking Animal Android Apps - Free Talking Animal Android Applications
Talking Tom Cat
ToonTube Cartoons | Toontastic | Launchpad Toys
Videolicious
Mobile
Splice: Capture, Edit and Share movies from your iPhone 4 or 3GS
MASH Pro - Apps on Android Market
MASH Game for iPhone, iPod touch and iPad - What's Your MASH Story? - iPhone Apps - Magnate Interactive
Shmuppet - The Virtual Puppet Application for iPhone, iPod touch (2nd generation), iPod touch (3rd generation), iPod touch (4th generation), and iPad on the iTunes App Store
Bunsella Bedtimes Story
Features
About Fotobabble
mlearning
Mobile Learning