Mobile Learning Digital Storytelling Apps
Animate Your Life | Tellagami. Fairy Tale – A fun children's story production App where I become the author to make the story. Description The Fairy Tale is fun to personally make the story and read.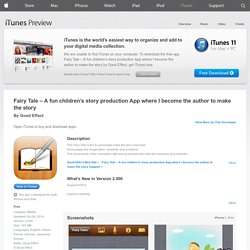 Encourages the imagination, creativity, and emotions. The movements of the characters after being touched also add the liveliness and interests. The Fairy Tale leads you to the directly made and shared world of children's stories from the only read stories. Mooklet for iPhone :: Create Animated "Photo Story Books" and Publish them! Bookabi | Apps that Unleash Creativity. Great for creating social stories!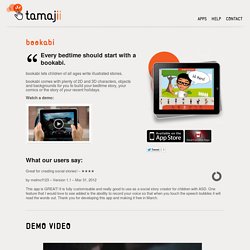 – ★★★★ by melmcf123 – Version 1.1 – Mar 31, 2012. Picturebook. Description Create and share your very own illustrated stories in a few simple steps!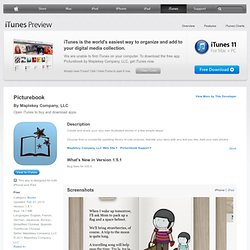 Choose from a constantly updating library of cute pictures. Narrate your story with any text you like. Add your own photos (in-app purchase upgrade). Share your story book with friends and relatives. Story Creator for iPhone 3GS, iPhone 4, iPhone 4S, iPhone 5, iPod touch (3rd generation), iPod touch (4th generation), iPod touch (5th generation) and iPad on the iTunes App Store. Description "This is the future of sharing stories!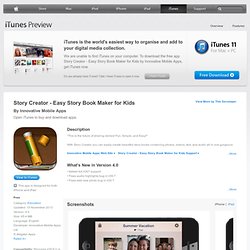 Fun, Simple, and Easy! " Draw Your Stories. Description Excited to inform that apart from giving kids countless hours of creative and interactive play, Draw Your Stories is helping kids with Learning disabilities too, this is what one of our user says: Speech Language Pathologist/ Audiologist 5 Starsby Looking for new ideas - Version 1.2 - Oct 1, 2013 It helps with visualizing the information which is a very important piece for comprehension skills It can be used for a variety of children including special educations students who have language learning deficits, reading comprehension deficits, and specific learning disability due to language weaknesses.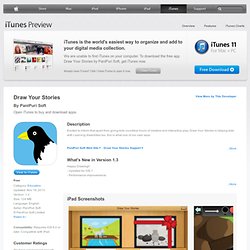 Promotes language through motor skills modality It helps with active participation skills Promotes internal motivation to keep listening and interacting in the task. PublishME - Create & Share Presentations. Description PublishME enables you to create, edit, and share vibrant presentations.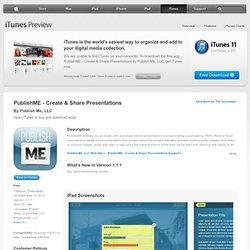 Upload existing presentations, PDFs, Word or Excel documents or create a new presentation from scratch, using the canvas. Add titles and text, existing audio, images, and video; or produce images, audio and video in-app using the native functions of the iPad. Share read-only versions with others or let them edit and track versioning. The perfect presentation app for education. Zoodle Comics. Description Create and publish your own comic strips on the iPad with Zoodle Comics!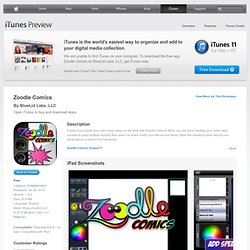 When you are done creating your comic strip, preview it using multiple layouts, then save it or share it with your friends and family. 30hands. Description 30hands Mobile is a fun, innovative storytelling app that allows students, teachers and anyone with creativity to easily create narrated stories or presentations based on photos, images, drawings using an iPad, iPhone or iPod.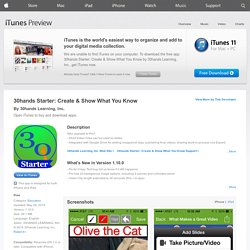 Different from other presentation apps, 30hands Mobile focuses on the power of storytelling and ITERATIVE CREATIVITY. Like pages in a book, photos or images are dragged around the desktop into the order of the story. Viovio Photo Book Designer for iPad on the iTunes App Store. Mooklet - Create dynamic Photo Story Books and publish them!
Description *Ranked 2nd in China, 10th in France in the photograph & video category!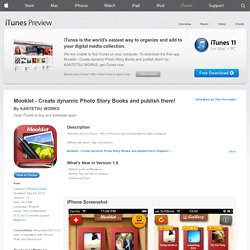 Official site here! : Video and Many samples are available!) Flying children. Mobile Photo - iPhone, iPod and Android apps - Muzy. Toontastic: FREE. Description iTunes - App Store Hall of FameNY Times - "Top 10 iPad Apps" Lights, Camera, Play!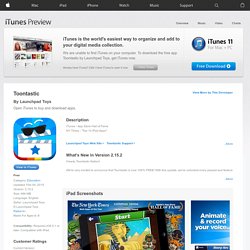 Toontastic is a creative storytelling app that enables kids to draw, animate, and share their own cartoons with friends and family around the world. With over 7 million cartoons created in 200+ countries, parents and teachers rave about the app... and kids can't stop creating! Story Wheel Lite. Description Pirates, Princesses, Aliens and more. Let your child's imagination run wild as they create their own unique story with Story Wheel! Story Wheel is an educational game that improves your child's cognitive abilities.
Story Wheel helps develop an understanding of story composition, strengthens imagination, and improves oral language skills. It is a perfect complement to your child's language arts school curriculum. Word Mover. Description ReadWriteThink's Word Mover mobile app is used to supplement classroom instruction, reinforce concepts taught in class, and offer increased student engagement through the use of tablet devices and their associated functionality. Word Mover allows children and teens to create "found poetry" by choosing from word banks and existing famous works; additionally, users can add new words to create a piece of poetry by moving/manipulating the text. FEATURES: - Multi-user poem storage- User management with the ability to delete or restore within 2 weeks- 6 poem categories, each with the ability to personalize - 12 backgrounds for stylizing poems- Helpful how-to information available throughout app - Auto-saving of poems as they are created- Viewing of finished poem for proofreading- Ability to save poem to photos- Ability to print poem on a wireless printer- Ability to send poem by e-mail.
StoryLines For Schools | Best Apps for Kids : reviews, news and promo codes for iPhone / iPad / iPod apps. StoryLines For Schools is a drawing game app with an educational component, creating appeal for kids, parents, and teachers. It is reminiscent of the old school "Telephone" game, and is sure to cause fits of giggles during play. The game allows for 3, 5, 7, or 9 players. It begins with a player typing in a phrase or choosing an option from four different categories: elementary vocabulary, intermediate vocabulary, SAT words, or quotes. This allows the game to have an educational purpose, as players then have to visualize and draw out the phrase for the next player. Idea Sketch. Description Idea Sketch lets you easily draw a diagram - mind map, concept map, or flow chart - and convert it to a text outline, and vice versa. You can use Idea Sketch for anything, such as brainstorming new ideas, illustrating concepts, making lists and outlines, planning presentations, creating organizational charts, and more!
Mobile Apps. StoryLines for Schools. BookPress. ePub Bud - Publish, Convert, Store, and Download free children's ebooks online for the iPad and nook color! SlideShark: View & Share Presentations. Bookry. Write About This Free. Write About This. Errando Se Aprende A Herrar - Our Projects. Phonecast live to the web from any phone, anywhere. VoiceThread. Choose Your Path Free - Apps on Android Market. Narratavius Story Engine - Interactive Fiction and Text Adventures. iVideoCamera Free for iPhone, iPod touch (4th generation), iPad 2 Wi-Fi, and iPad 2 Wi-Fi + 3G on the iTunes App Store. iTimeLapse Pro - Time Lapse videos. MindBlowing. ReelDirector. Woices.com - location based audioguides.
AnimeMaker. Animation Creator HD Lite. iAnimation. Bubble and Pebble Story. Moshi Monsters MouthOff™ MouthOff™ Silent Film Director. MouthOff Free Android App. Best Talking Animals iPhone Apps - Online Talking Animals iPhone & iPod Touch Entertainment Apps Reviews Page 1. Best Talking Animal Android Apps - Free Talking Animal Android Applications. Talking Tom Cat. Cartoon Studio Free. ToonTube Cartoons | Toontastic | Launchpad Toys.
Create A Comic. Videolicious. Mobile. Splice: Capture, Edit and Share movies from your iPhone 4 or 3GS. MASH Pro - Apps on Android Market. MASH Game for iPhone, iPod touch and iPad - What's Your MASH Story? - iPhone Apps - Magnate Interactive. Puppet Pals HD. Shmuppet - The Virtual Puppet Application for iPhone, iPod touch (2nd generation), iPod touch (3rd generation), iPod touch (4th generation), and iPad on the iTunes App Store. Bunsella Bedtimes Story. Audioboo. Features. About Fotobabble. StoryKit. Mlearning. Mobile Learning.
---