HTML 5 & CSS 3
The W3C Markup Validation Service. CSS. CSS (Cascading Style Sheets) allows web authors to apply styles to their web pages.
More importantly, CSS enables them to do this independently of the HTML that makes up each web page. Therefore, as a web author, you can code your HTML without having to be concerned with what each HTML element is going to look like. You can change the look later using CSS. You'll find a wealth of information about CSS right here on Quackit. Read the CSS Tutorial, learn all the CSS properties that you can use, or just go straight to the code for some good old "cut & paste"! HTML5. Latest Published Version: Latest Editor's Draft: Previous Versions: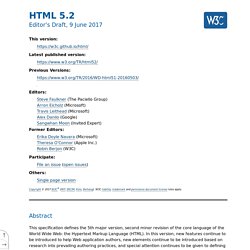 HTML 4.01 / XHTML 1.0 Reference. HTML Codes - Free. HTML Tags. HTML tags (otherwise known as "HTML elements"), and their respective attributes are used to create HTML documents so that you can view them in browsers and other user agents.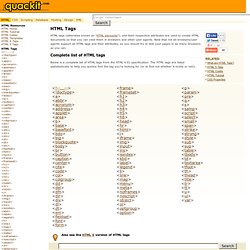 Note that not all browsers/user agents support all HTML tags and their attributes, so you should try to test your pages in as many browsers as you can. Complete list of HTML tags Below is a complete list of HTML tags from the HTML 4.01 specification. Exercises | Learning HTML5. 30 Days to Learn HTML & CSS - Free Tuts+ Premium Course. Software training online-tutorials for Adobe, Microsoft, Apple & more.
---